Friday, 31. August 2007, Nevada, USA.
A model sailplain. Next to our site at the outer circle of Black Rock City, as the festival area is also called, the tent free desert begins. Temperature at 10 in the morning: 39°C (102°F).
Ein Modellsegelflugzeug. Direkt hinter unserem Standplatz am äußeren Rand der Zeltstadt beginnt die zeltfreie Wüste. Temperatur gegen 10 Uhr morgens: 39°C.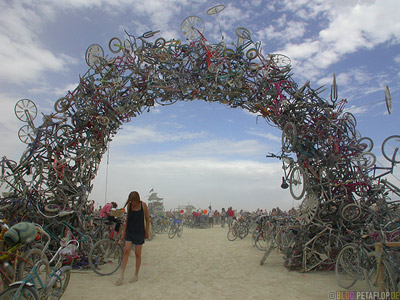 Center camp gate made of bicycles, one of the most important things you need at Burning Man. The festival area is so big, you nearly walk an hour to cross it. Normal cars may not drive around. A donor from Gerlach gave 5,000 bikes for the festival visitors, but we never saw any at the drop offs for unused bikes. They were all in use.
Eingangstor zum Center Camp aus Fahrrädern, einem der wichtigsten Utensilien beim Burning Man. Das Areal ist so groß, dass man zu Fuß fast eine Stunde vom einen Ende zum anderen braucht. Mit normalen Autos darf man nicht herumfahren. Ein nobler Spender aus Gerlach hatte 5.000 Fahrräder zur freien Verfügung gestiftet, die aber anscheinend alle in Gebrauch waren. Zumindest sahen wir nie welche an den dafür vorgesehenen Stellen, an denen man ungebrauchte Fahrräder abstellen sollte.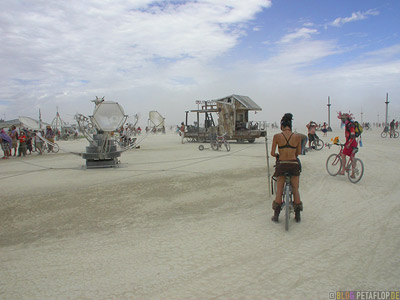 One of the four promenades that lead to the center, where the burning man is located. A small Sandstorm begins…
Eine der vier Promenaden, die ins Zentrum führen, wo der Burning Man aufgebaut ist. Ein kleiner Sandsturm beginnt…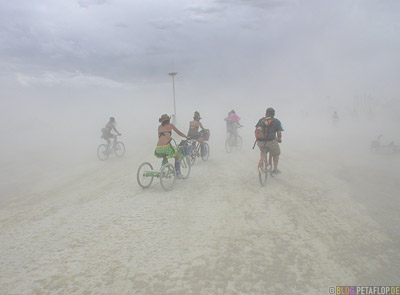 The only thing you can buy here besides coffee at the center camp is ice cubes and blocks. Here we stand in line to buy the daily ice bag for our cooler.
Das Einzige, was man hier neben Kaffee im Center-Camp mit Geld kaufen kann, sind Eiswürfel oder -blöcke. Hier warten wir in der Schlange um unseren täglichen Sack Eis für unsere Kühlbox zu kaufen.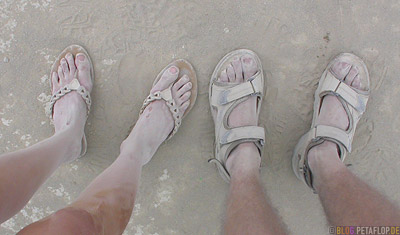 Dusty feet after an one hour walk
Staubfüße nach einer Stunde Fußmarsch
People rushed through the camp sites warning everybody of a coming sandstorm at up to 65 mph (105 kmh). 15 minutes later it was there and though we closed the tent the dust was everywhere in minutes.
Leute kamen durch die Zeltreihen und warnten jedermann vor einem kommenden Sandsturm mit bis zu 105 km/h. 15 Minuten später war er da und trotz geschlossenem Zelt war innerhalb kürzester Zeit alles von einer dicken Staubschicht bedeckt.
Breathing protection / Staublungenschutz
Our diving goggles were quite useful in the sandstorm. We got breathing masks from our neighbour Ryan from Santa Cruz, in return we gave him tomato juice. Sadly he messed with some rangers after this photo and they took him to jail in Reno for three days. We didn't see him again. Our fellow had one over the eight.
Unsere bisher noch unbenutzten Taucherbrillen zeigten sich auch Sandsturm geeignet. Die Atemmasken schenkte uns unser Nachbar Ryan aus Santa Cruz, wir gaben ihm dafür Tomatensaft. Leider mussten wir die nächsten Tage auf seine Gesellschaft verzichten, da er sich kurz nach diesem Bild mit einer Rangerpatroullie anlegte, die ihn für drei Tage nach Reno ins Gefängnis mitnahm. Der Gute hatte einige über den Durst getrunken.
The rain at the end of the storm, that soiled our car…
Der Regen, der am Ende des Sandsturms unser Auto versaut hat…
… conjured a really intensive rainbow over Black Rock City.
… zauberte noch einen äußerst intensiven Regenbogen über Black Rock City, wie das Festivalgelände genannt wird.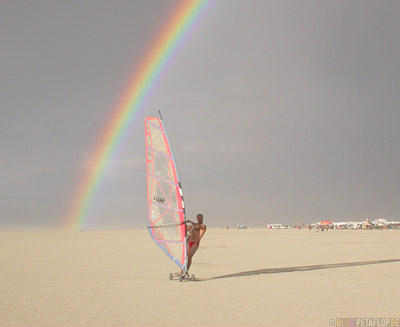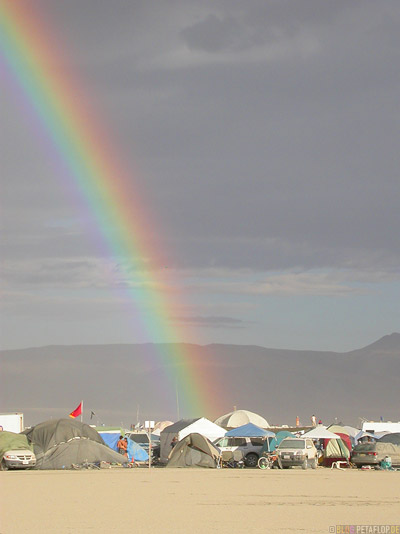 On the very right side our car, left aside the shady pavilion tent we fortunately bought in Redding. Next left ist our turquoise tent.
Ganz rechts steht unser Wagen, links daneben unser Sonnenschutzpavillon, den wir uns glücklicherweise noch in Redding kauften. Und daneben unser türkises Zelt.
Lonesome sail boarder in Black Rock Desert
Einsamer Windsurfer in der Black Rock Desert
The City from quite far away, to large for our wide angle.
Die Stadt aus der Ferne, zu groß für unser Weitwinkel.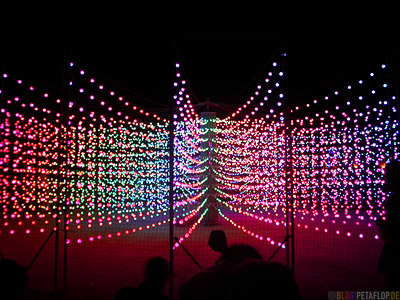 A gorgeous animated LED light installation, see video below.
Wunderschön animierte LED-Lichtinstallation, siehe Video unten.
As in the movie "Mad Max 3", two fight in the Thunderdome, the audience watches from above (also in the video).
Im Thunderdome kann man wie im Film "Mad Max 3" kämpfen, während das Publikum sich über die ganze Kuppel verteilt (auch im Video).
Video (9:55 Min.): Model sailplane … a first small sandstorm on the center playa … second strong sandstorm in our tent we hold tight from the inside … Friday night.
Video (9:55 Min.): Modellsegelflieger … erster kleiner Sandturm auf der Playa im Zentrum … zweiter starker Sandsturm im Zelt, das wir derweil von innen festhielten, damit es nicht wegfliegt … Freitagnacht.
The images and videos can only be used for my personal use and not for any other purposes, downloading or copying of the images and videos is prohibited.
---
20,000 Miles Canada/USA: Travel Overview
---