Thursday, 30. August 2007, California and Nevada, USA.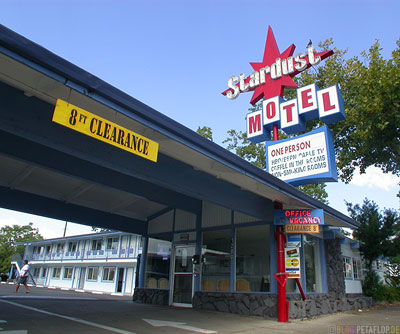 Stardust Motel, Redding, California. When we arrived here yesterday evening it was much warmer than at the coast. When we checked out at 11 a.m. it was already 100°F (38°C), which was a good 'warm-up' for the following days. Before leaving to the Burning Man Festival in Nevada we stocked up on our food and equipment, which was really necessary, as we learned later…
Stardust Motel in Redding, Kalifornien. Als wir gestern Abend ankamen war es schon wesentlich wärmer als noch am Morgen an der Küste. Beim Auschecken heute um 11 Uhr vormittags waren es bereits 38°C, eine gute Einstimmung auf die folgenden Tage. Vor unserem Aufbruch zum Burning-Man-Festival in Nevada deckten wir uns hier noch mit Vorräten und zusätzlicher Campingausrüstung ein; eine weise Entscheidung, wie sich später herausstellte…
Scenery on Highway 395 near Alturas, California.
Landschaft am Highway 395 bei Alturas, Kalifornien.
Metal guard with marine corps flag at the entrance of a ranch near Eagleville, California.
Metallwächter mit Marine-Corps-Flagge vor einer Ranch bei Eagleville, Kalifornien.
Highway 447…
Eagleville, the last Californian town on Highway 447 going to Nevada. In the background a sandstorm.
Eagleville, der letzte Ort auf kalifornischer Seite. Im Hintergrund ein Sandsturm.
Nevada sunset… / Sonnenuntergang in Nevada…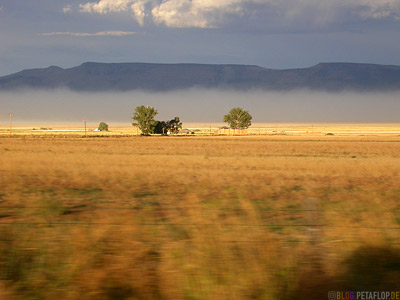 The sandstorm again / Nochmal der Sandsturm
… way to Gerlach, Nevada, coming from north west. Gerlach is the closest town to Burning Man in the black rock desert.
… auf dem Weg nach Gerlach, von Nordwesten kommend. Gerlach ist die dem Burning-Man nächstgelegene Stadt in der Black Rock Desert.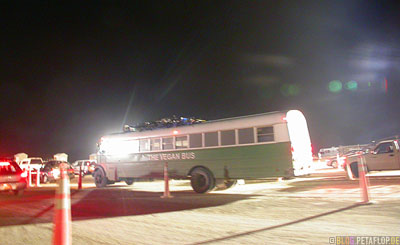 Arriving at Burning Man in the dark. The Vegan Bus was waiting with us in line to enter.
Ankunft beim Burning Man im Dunkeln. Der Veganerbus wartete neben uns in der Schlange vorm Eingang.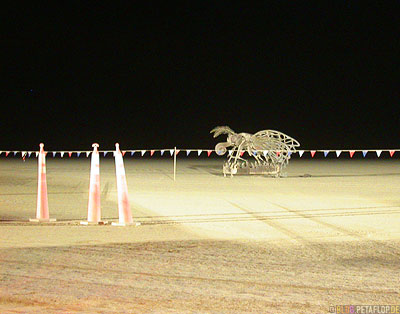 Fly sculpture / Fliegenskulptur
As Burning Man virgins we went through a welcome ceremony at the entrance. We were hugged with the words "welcome home" and had to hit a bell. They gave us a quite confusing map of the semicircle festival area so we cruised around aimlessly to find a free site for our car and tent. Luckily Chad from Seattle came to our car and piloted us to a free place next to his car. First he explained the map to us, then he gave us two Goa-like neon glowing bracelets we first didn't really want to wear. But you really need some light on you if you don't want to be run over on the dark roads of Black Rock City. Money is forbidden at Burning Man, you barter or donate. We'll stay here until Sunday.
Am Eingang durchliefen wir als Burning-Man-Neulinge eine Aufnahmezeremonie. Wir wurden mit einer Umarmung und den Worten "Welcome home" willkommen geheissen und mussten eine große Glocke schlagen. Dort bekamen wir auch einen recht unübersichtlich gestalteten Lageplan, der zunächst nicht wirklich zur Orientierung beitrug. Nach längerem, ziellosen Rumkurven um die im Halbkreis angelegte, riesige, volle Zeltstadt lotste uns Chad an einen freien Platz neben seinem Zelt. Er erklärte uns dann erst mal den Plan und schenkte uns leuchtende Neon-Goa-Armbänder, die wir zuerst gar nicht anziehen wollten. Auf den dunklen Strassen von Black Rock City sind sie jedoch lebensnotwendig, wenn man nicht überfahren werden will. Geld ist auf dem Burning Man verboten, es wird getauscht und geschenkt. Bis Sonntag werden wir hier bleiben.
Video (6:21 Min.): Way to Burning Man in Black Rock Desert near Gerlach, Nevada, USA. Impressions of our first night: a gigantic areal, 47,000 people having a big party, lots of nasty vehicles and so much lights! Our favourite car was the big rolling ghetto blaster.
Video (6:21 Min.): Weg zum Burning-Man-Festival in der Black-Rock-Wüste bei Gerlach, Nevada, USA. Impressionen unseres ersten Abends: ein riesiges Areal, 47.000 Leute feiern sich selbst, viele wahnwitzige Fahrzeuge und unglaublich viele Lichter. Unser Lieblingsgefährt war der große rollende Ghettoblaster.
---
20,000 Miles Canada/USA: Travel Overview
---