Thursday, 12. July 2007, Saskatchewan, Canada.
Today we crossed the border to Saskatchewan. Going west everything is getting hotter, dryer and more rustic. While Manitoba was green and bearable warm, Saskatchewan's Prairie is so hot, the cars's air condition is running non-stop for the first time. Since several days we sometimes think we're already in the USA.
Heute überfuhren wir die Grenze nach Saskatchewan. Je weiter wir nach Westen kommen, desto heißer, trockener und rustikaler wird alles. War Manitoba noch grün und erträglich warm, ist Saskatchewan Prärie und so heiß, dass zum ersten Mal non-stop die Klimaanlage im Auto läuft. Und so wie es hier aussieht, werde ich seit Tagen das Gefühl nicht los, schon in den USA zu sein.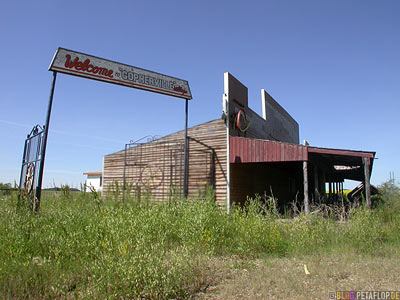 Welcome to Gopherville: here you can also find such abandoned buildings along the Trans-Canada Higway like this former super market, bar and restaurant. High Noon near to Langenburg, Saskatchewan, Canada. I always ask myself, how long these houses are vacant.
Welcome to Gopherville: auch hier findet man entlang des Trans-Canada Highways verlassene Gebäude wie diesen ehemaligen Supermarkt mit Bar und Restaurant. High Noon kurz vor Langenburg, Saskatchewan, Kanada. Ich frage mich immer, wie lange diese Häuser hier schon leer stehen.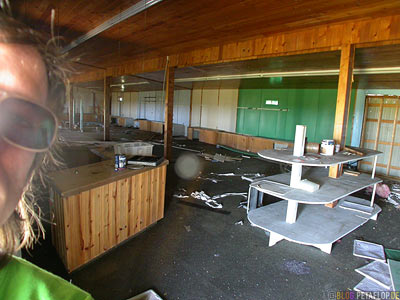 By the way: Canada doesn't always look like this. We just like such motives.
Übrigens: nicht alles in Kanada sieht so aus. Diese Motive finden wir nur besonders interessant.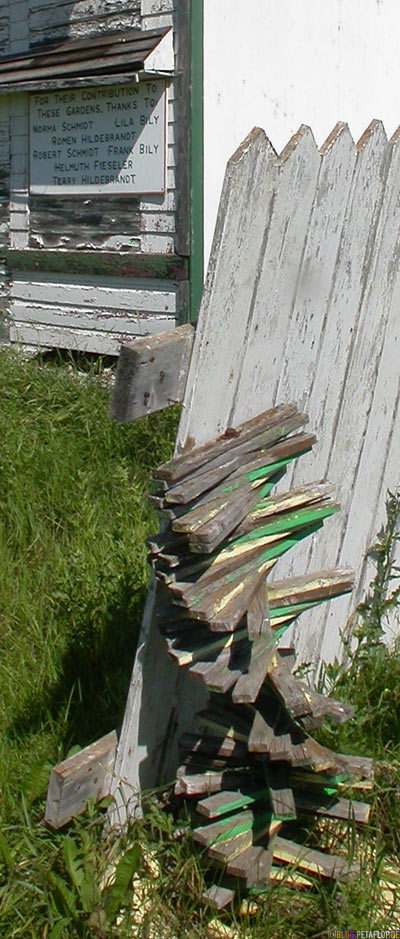 The backyard, again German names on the sign.
Im Garten dahinter, man beachte die mal wieder deutschen Namen auf dem Schild.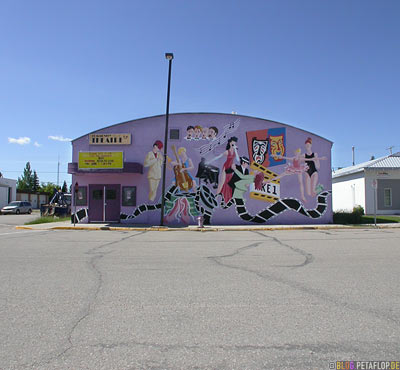 Cinema in Langenburg, Saskatchewan, Canada. The last movie was shown in June.
Kino in Langenburg, Saskatchewan, Kanada. Der letzte Film lief im Juni.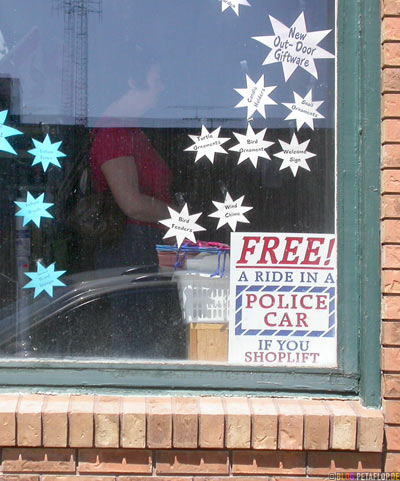 Shop window in Langenburg.
Schaufenster in Langenburg. Der Hauptgewinn bei Ladendiebstahl: eine kostenlose Fahrt im Polizeiwagen.
Esterhazy was on our route, because I liked the name when planning the iltinary months ago. When we were there it was how we expected it to be. Like every other small town here. But now I was here…
Den Umweg über diesen Ort sind wir gefahren, weil mir vor Monaten bei der Planung der Reise der Name der Stadt so gut gefiel. Esterhazy – das hört sich an wie Osterhasi. Und es war, wie eigentlich auch erwartet, ein Ort wie jeder andere hier. Aber jetzt bin ich einmal hier gewesen…

Mill in Esterhazy / Mühle in Esterhazy

An old combine harvester or something like that. / Vorsteinzeitlicher Mähdrescher oder sowas.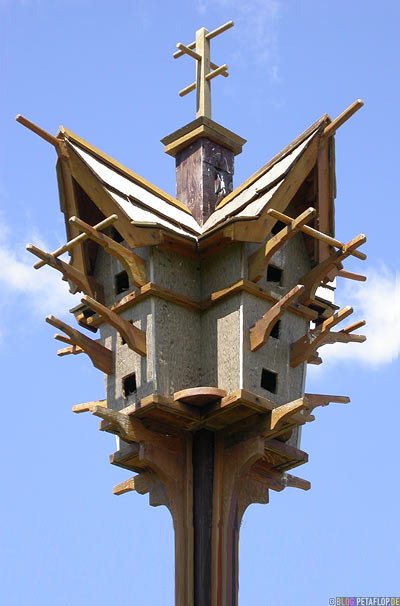 A beautiful and highly frequented birdhouse in Esterhazy.
Wunderschönes – und gut besiedeltes – Vogelhaus in Esterhazy.
The city's patron: A large Playmobil man made from paper-mâché.
Der Patron der Stadt: ein überdimensionales Playmobil-Männchen aus Pappmaché.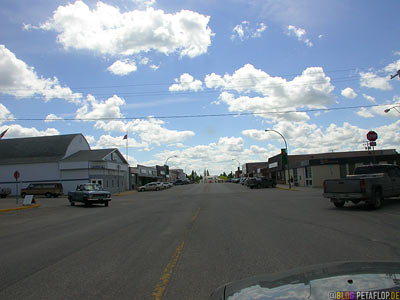 Esterhazy's main street – typical for small towns in this area.
So – wie auch überall sonst in dieser Gegend- sieht es also auf Esterhazys Hauptstrasse aus.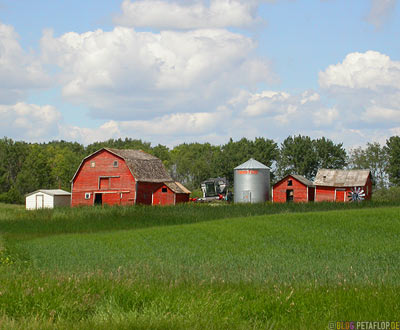 They are real: This is exactly the red Fisherprice-Farm I got on my fifth birthday. The barn, the farmer's house and the animals always seemed useful to me but I thought the silo must have been a mistake of the manufacturer. This thing didn't fit in my German farm stereotype. There was no usage for the silo, it ended up as a can for some caboodle.
Es gibt sie wirklich: genau so eine Farm – allerdings von Fisherprice- bekam ich zum fünften Geburtstag geschenkt. Während ich die Scheune, das Bauernhaus und die mitgelieferten Tiere damals für brauchbar hielt, dachte ich immer, dass der dazugehörige Silo sicherlich ein Versehen der Hersteller sein müsste; dieses Ding hatte in meinen typisch deutschen Bauernhofphantasien keine Verwendung und endete als Dose für irgendwelchen Krempel.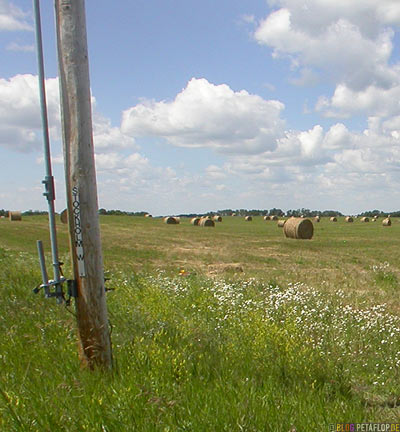 Field / Feld / in Stockholm, Sasketchawan, Canada.
You often see these giant satellite dishes in front gardens, like here in Stockholm.
Bei Wunsch nach Außenwelt-Kontakt benutzen die Einheimischen solche Antennen-Vorrichtungen, wie hier in Stockholm.
Cattle near Stockholm, looking for a shady place besides each other.
Kühe bei Stockholm, Sasketchawan, Kanada, suchen bei flirrender Hitze Schatten beieinander.

Heat Haze on the highway westwards / Hitzeflimmern auf dem Highway Richtung Westen
In the middle of the treeless prairie Regina's skyline is visible several kilometres ahead.
Inmitten der baumlosen Prärie sieht man die Skyline von Regina schon etliche Kilometer vorher hinter dem Highway aufragen.


Click to open PDF / Klick öffnet PDF

---
20,000 Miles Canada/USA: Travel Overview
---