Monday, 06. August 2007, Alaska, USA.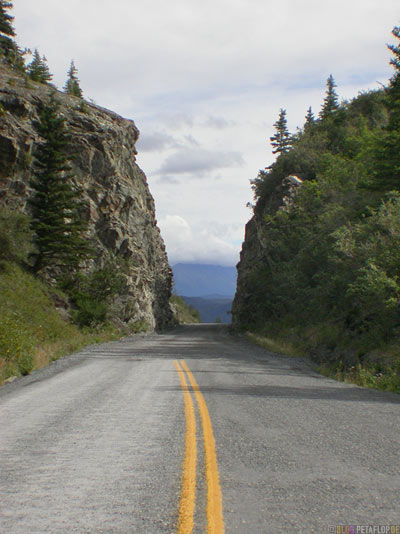 The beginning of McCarthy Road. The asphalt ends with the yellow lines. From here it's a gravel road for 100 km to it's end in McCarthy inside the national park.
Ab Chitina befuhren wir die McCarthy-Road. Kurz nach Beginn der Straße in dieser Schlucht endet auch schon der Asphalt; die restlichen 100 km führt sie als Schotterpiste in das Innere des Nationalparks.
Some rivers have to be crossed on such skeleton bridges. Through the metal grating floor you can look down to the river 100m below.
Einige Flüsse werden auf solchen Metallgitterbrücken überquert, durch die man beim Befahren wunderbar 100m nach unten aufs Wasser sehen kann.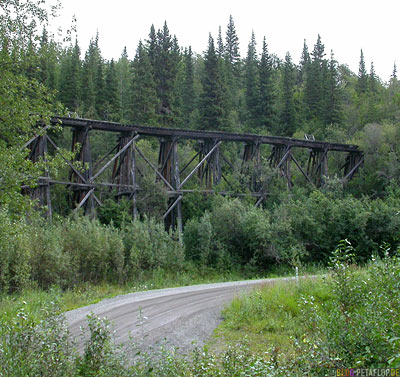 Remains of an old railroad along the McCarthy Road.
Am Wegesrand sieht man immer wieder Überreste der ehemaligen Güterbahnstrecke, die entlang der Strasse verlief.
Looks like an unsteady roller coaster. Hard to believe that the construction withstood the weight of trains.
Sieht aus wie eine wacklige Achterbahn. Kaum zu glauben, dass auf solchen waghalsigen Bretterkonstruktionen tatsächlich Güterzüge gefahren sind.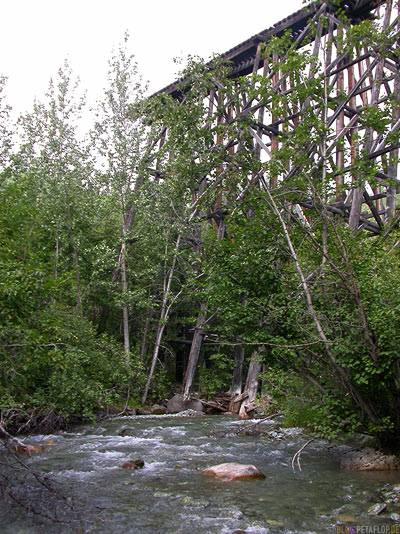 Dead end of this bridge…
Diese ehemalige Brücke endet im Nichts…
… and the end of the McCarthy Road. Here you have to leave your car behind and continue to McCarthy over this pedestrian bridge.
… und die McCarthy Road an dieser Stelle. Hier mussten wir erstmal umpacken, denn von hier aus ging es über die enge Fussgängerbrücke nur noch zu Fuss weiter Richtung McCarthy.
Five miles from McCarthy we reached our destination: the abandoned copper mine of Kennicott near the glacier of the same name.
Noch einmal 5 Meilen weiter waren wir dann endlich am Ziel: die verlassene Kupfermine Kennicott am gleichnamigen Gletscher; um die Mine eine Geisterstadt.
Until 1938 this was the wealthiest copper mine in the world. In part it was financed by the Guggenheim family. When it was closed people abandoned the city from one day to the next. In autumn 1938 the last copper train left the already forsaken city.
Bis 1938 war dies die reichste Kupfermine der Welt; finanziert wurde sie unter anderem von der Guggenheim-Familie. Dann wurde sie geschlossen und von einem Tag auf den anderen verliessen die Leute die Stadt. Im Herbst 1938 verließ der letzte Zug mit Kupfer die inzwischen bereits verlassene Stadt.
Rusty barrels on a huge dump down the hill.
Rostige Fässer, die man damals wohl einfach den Abhang hinunter geworfen hat.
Inside of a mine building / In einem der Minengebäude
Old radiators in a cottage / Alte Heizungen in einem Wohnhaus
This bear must have been sick: berry puke on the way. Somebody even drew a face into it.
Dem Bär ist wohl schlecht geworden: Bärenbeerenkotze auf dem Weg. Ein Gesicht hatte auch schon jemand hinein gemalt.
The Kennicott Glacier on Mount Blackburn in the Wrangell Mountains near the mine
Der Kennicott-Gletscher am Mount Blackburn in den Wrangell-Mountains gegenüber der Mine
---
20,000 Miles Canada/USA: Travel Overview
---