Tuesday, 07. August 2007, Alaska, USA.
Under the bed in our non-insulated, wet hostel chamber: normal Alaskan cleanliness. We slept with hoodies on bacuse it was so cold. This cat was freezing, too. She miaowed until we let her in…
Auch in unserem so gut wie gar nicht isolierten, feuchten Hostelkammer: typisch alaskanische Sauberkeit unter dem Bett. Es war so kalt, dass wir mit zugezogenen Kapuzen schliefen. Diese Katze forderte mehrmals lautstark Einlass, ihr war wohl auch zu kalt…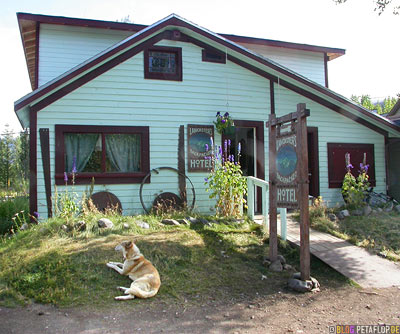 … perhaps she just didn't want to meet the dog in front of the hostel. A dog's life isn't easy in Alaska. This one and several others have to sleep outside, in summer and in winter.
… bzw. wollte nicht zur Vordertür raus am Hund vorbei. Hunde haben in Alaska nicht viel zu lachen. Dieser und noch ein paar andere lagen ständig auf der Strasse, auch nachts. Im Winter ist es nicht anders. Man sagte uns, dass dies den hiesigen Huskys nichts ausmache, da neben dem dicken Fell auch der buschige Schwanz, in den sie sich einrollen und den warmen Atem speichern, vor Kälte schützt.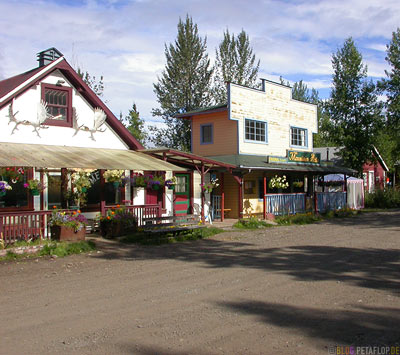 Two of few houses in McCarthy, the only inhabited town in the national park. Half the town is owned by Neill, a friend of Ralf, our polar circle guide.
Zwei von ein paar Häusern in McCarthy, dem einzigen bewohnten Ort im Nationalpark. Der halbe Ort gehört Neill, einem Freund von Ralf, unserem Nordpolarkreis-Führer, von dem wir Grüße übermittelten.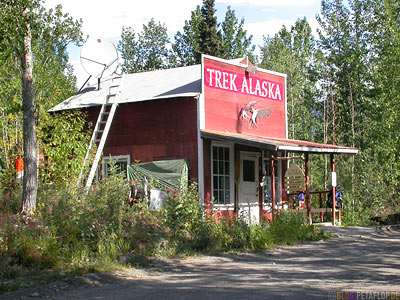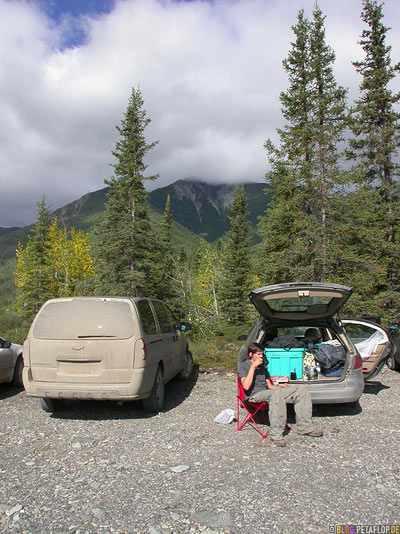 Back at our Ford: morning coffee from the boot. Once again there was no complimentary brakfast in the hostel. Our car looked like the one on the left.
Wieder bei unserem Ford: Morgenkaffee aus dem Kofferraum, da es im Hostel wieder mal kein Frühstück gab, nicht mal Kaffee. Unser Wagen sah von hinten so aus wie der Linke.

Another moose / Noch ein Elsch
Video (1:14 min.). The worst thing we've done to our Ford so far. The McCarthy Road through Wrangell St. Elias National Park.
Video (1:14 Min.): Das Schlimmste, das wir unserem Ford bisher zumuteten: Die McCarthy-Road durch den Wrangell-St.-Elias-Nationalpark.

Copper River Valley
"You have to try the pie of the Copper Center Roadhouse" was the second tip of John in Telkien. This time he was right, it was very delicious.
Nach der Geisterpleite befolgten wir doch noch den zweiten Tipp von John aus Telkien. Wir müssten unbedingt den Kuchen im Roadhouse von Copper-Center probieren, einem für hiesige Verhältnisse nobleren Restaurant, für deutsche Verhältnisse durchschnittlich. Der "homemade pie" war wirklich spitze! Eine Wohltat bei unserem sonstigen Burgerfraß.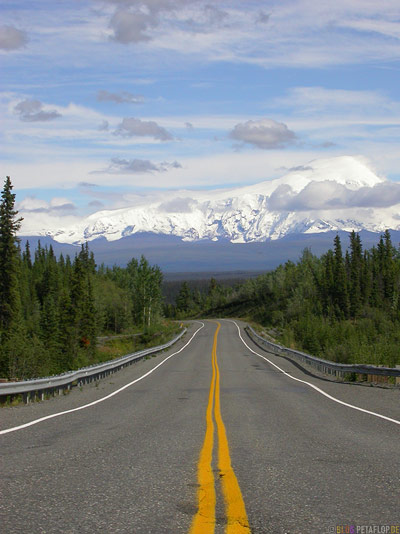 Wrangell Mountains over Richardson Highway
Wrangell-Mountains über dem Richardson-Highway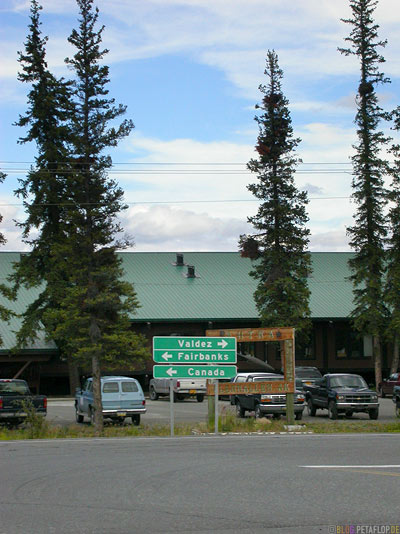 Towards Canada… / Und ab Richtung Kanada…
Lake between Gakona and Mentasta
See hinter Gakona, kurz vor Mentasta
View from our Mentasta Lodge. The picture shows whole Mentasta.
Blick aus unserer Lotsch in Mentasta. Auf dem Bild sieht man das gesamte Mentasta. In der angegliederten Bar war um vier Uhr nachmittags schon der Bär los. Völlig betrunkene, zahnlose Indianer wollten uns erzählen, dass sie einen Fellfisch geangelt hätten. Er hing als liebevoll gebastelte Trophäe sogar an der Wand.
---
20,000 Miles Canada/USA: Travel Overview
---