Monday, 30. July 2007, Alaska, USA. Timezone / Zeitzone: AKDT, Alaska Daylight Time (Deutschland – 10h).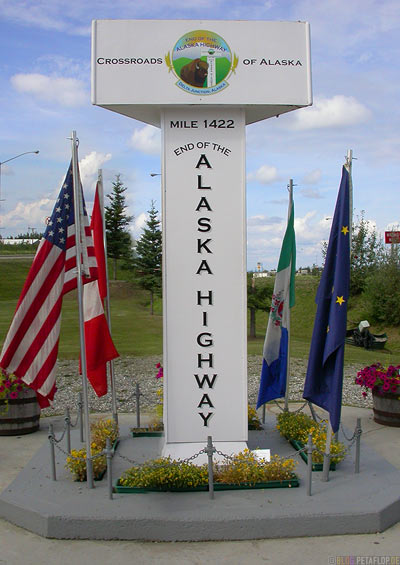 From Tetlin Junction (Mile 1302) we were driving the Alaska Highway again and got to it's end at Mile 1422 in Delta Junction.
Ab Tetlin Junction (Meile 1302) fuhren wir den Alaska-Highway weiter, dessen feierliches Ende wir dann bei Meile 1422 in Delta Junction erreichten.
In the shop next to the mile post we bought the only useful souvenir for one dollar: a certificate proving we have been here.
Im Shop neben dem Meilenstein kauften wir für einen Dollar das einzig brauchbare Souvenir: ein Zertifikat, das uns das Erreichen dieses legendären Ortes bescheinigt.
There were not many things to see in Delta Junction – except for this giant mosquito.
Bis auf diesen Riesenmoskito gab es in Delta Junction nicht viel zu sehen.
Santa Claus lives at the northpole – this is what the american kids are told. So they send their lists of wishes to the little town of North Pole near Fairbanks.
Der Weihnachtsmann wohnt am Nordpol – das jedenfalls wird amerikanischen Kindern erzählt und daher schicken alle ihre Wunschzettel nach North Pole, einem Vorort von Fairbanks.
Santa Claus is supposed to live in the Santa Claus house here.
Hier im Santa-Claus-Haus soll er wohnen.
Inside you find nothing but a big christmas kitsch shop…
Innen gibt es jede Menge Kitsch und diesen fantastischen amerikanischen Christbaum…
… and tons of wish lists…
… und natürlich tonnenweise Wunschzettel…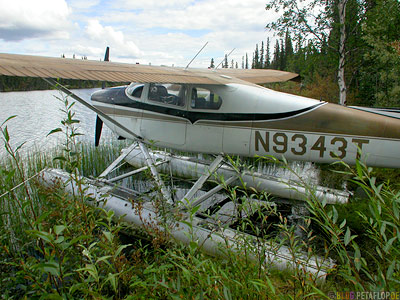 Waterplanes are popular means of transportation and a plane often is the only way to reach towns off the roads, out in the woods, the Alaskan "bush".
Wasserflugzeuge sieht man an vielen Seen. Kleine Flugzeuge sind oft die einzige Möglichkeit, zu entlegeneren Orten abseits der Straßen, die man hier Busch-Alaska oder einfach nur Busch nennt, zu gelangen.
In Fairbanks we tented on the Ice Park Campground, although the guy from the tourist information didn't recommend it. On the map it was the closest to the city centre and we found the huge gravel site in an industrial area of Fairbanks. Few other guests wanted to stay here.
In Fairbanks quartierten wir uns entgegen dem Ratschlag eines Beraters des Touristenbüros auf dem Ice-Park-Campground ein. Dieser lag auf der Karte schön zentral und war dann in Wirklichkeit ein riesiger Schotterplatz mitten im Industriegebiet von Fairbanks. Außer uns wollten nur eine Horde Jugendlicher, die mit Heavy-Musik und quietschenden Reifen in ihrem Proletenauto über den Schotter heizten und eine sich sichtlich unwohl fühlende Mennonitenfamilie hier zelten.
Modern camping equipment / Moderne Campingausrüstung
The campground was run by hard drinking russians. All (sanitary) facilities were located inside the main building with laid-out carpet flooring everywhere, smelling like stinky feet. After all they had wireless internet and therapeutic massage.
Der von trinkfesten Russen geführte Campingplatz hatte neben W-LAN wirklich nicht viel zu bieten, aber es gab therapeutische Massage. Alle (sanitären) Einrichtungen waren im nach Käsefüssen stinkendenen, komplett mit Teppich ausgelegtem Haupthaus untergebracht.
---
20,000 Miles Canada/USA: Travel Overview
---