Sunday, 29. July 2007, Yukon, Canada and Alaska, USA.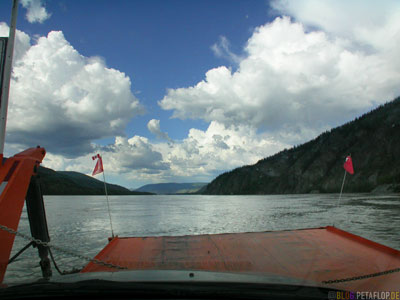 The Dawson City Ferry took us across the Yukon. It's part of the highway and the only possibility to get to the other edge and the US border from here. We're driving the "Top of the World Highway" now.
Per Fähre setzten wir in Dawson City über den Yukon. Sie gehört zum Highway und ist die einzige Möglichkeit, den Fluss zu überqueren und von hier zur US-Grenze zu gelangen. Ab hier fahren wir den "Top of the World"-Highway bis zur Grenze.
The weather was very unsettled since we crossed the Yukon. 50 metres after heavy rain the road was dry again and vice versa. All rainbows here were much broader than in Germany.
Nach Überquerung des Yukon war das Wetter plötzlich sehr wechselhaft. Auf Platzregen folgte nach 50 Metern trockene Strasse und umgekehrt. Regenbögen sehen hier breiter aus als in Deutschland.
The highway leads over mountain tops and that's where it's name comes from. You seem to drive at cloud level or even higher.
Schnell war uns klar, woher der Highway seinen Namen hat. Die Strasse führt fast nur über Berggipfel und nie durch Täler. Vielerorts scheint man über den Wolken oder auf gleicher Höhe zu fahren.
Video (3:10 min): Top Of The World Highway to Canadian / US border, Taylor Highway, swinging in Tok.
Video (3:10 Min.): Top-Of-The-World-Highway zur kanadisch-US-amerikanischen Grenze, Taylor-Highway, Schaukeln in Tok.
The Canadian / US border at Poker Creek. Passing the border wasn't that difficult as we expected. We just had to fill out a form and now have visas for 90 days. With crossing the border we also crossed our fifth time zone border (now AKDT, Alaska Daylight Time)
Die kanadisch-US-amerikanische Grenze bei Poker Creek. Es gab wider Erwarten kaum Formalitäten. Wir haben jetzt Visa für 90 Tage. Mit Überqueren der Landersgrenze übertraten wir auch unsere fünfte Zeitzonengrenze (jetzt AKDT, Alaska Daylight Time, Deutschland -10h)

Welcome to Alaska!
From now on we have to rethink in miles. The road is called Taylor Highway now. It's brown and getting worse.
Ab jetzt müssen wir in Meilen umdenken. Die Strasse heißt jetzt Taylor-Highway, ist braun und wesentlich schlechter.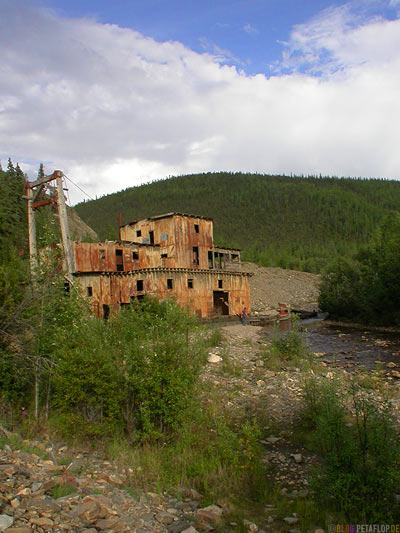 Old gold dredge on Taylor Highway near Jack Wade / Altes Goldbaggerschiff am Taylor-Highway nahe Jack Wade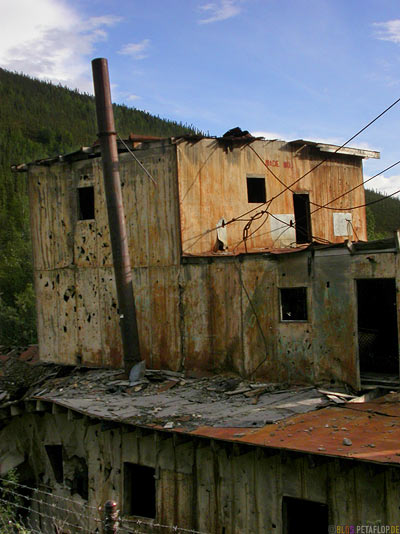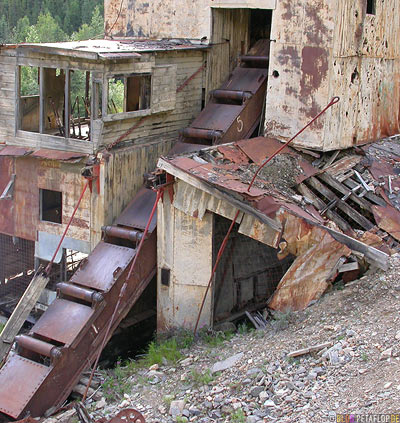 We enjoyed the Taylor Highway even more than the praised Top Of The World Highway.
Der Taylor-Highway gefiel uns noch besser als der vielgelobte Top-Of-The-World-Highway.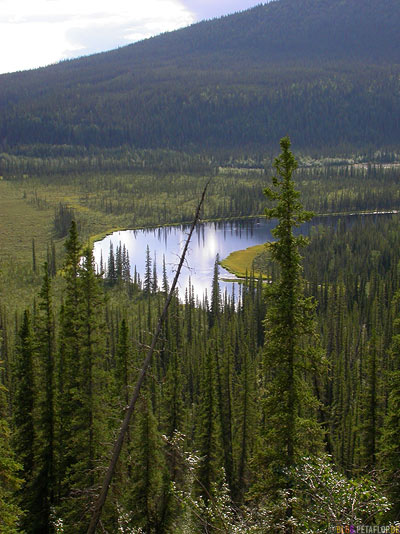 "Chicken" the first Alaskan town we came through. The internet told us there were just three shacks and no electricity. It wasn't that bad.
"Chicken" war der erste alaskanische Ort, in dem wir Halt machten. Gerade mal drei Buden ohne Strom stünden dort, behauptet das Internet. So schlimm war es nicht, nur fast.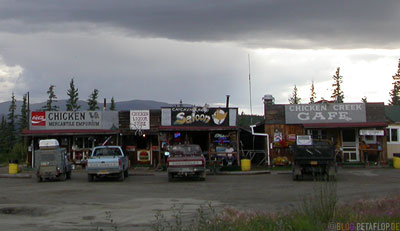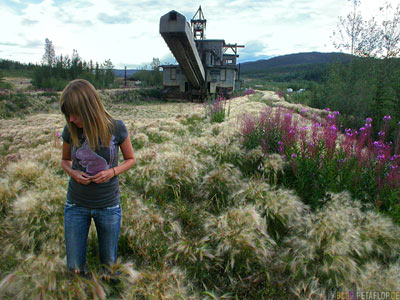 This beautiful grass has nasty pricking seeds that go up the knee in your trouser leg and you nearly can't remove them.
Die Samen dieser wunderschönen Gräser stellten sich als fiese Piekser mit Widerhaken heraus. Sie wandern bis zum Knie in Hosenbeine und lassen sich nur schwer entfernen.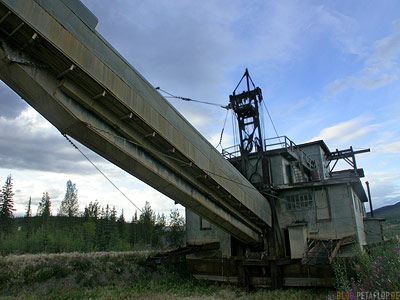 Another old dredge in Chicken… / Noch ne alte Dredge in Chicken…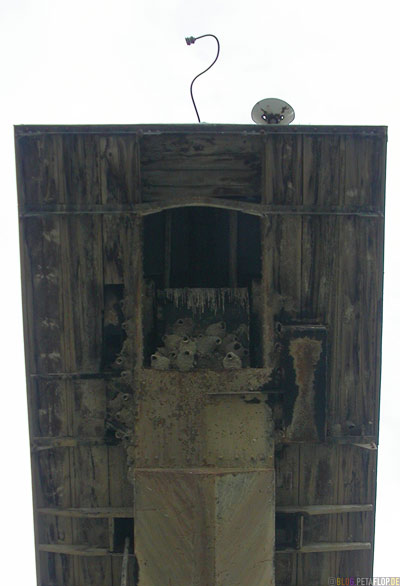 …with wasp swallow's nests / …mit Wespennestern Schwalbennester unterm Förderrüssel.

Burnt woods over and over again. 2003 and 2004 they had several gigantic forest fires here.
Und immer wieder verbrannte Wälder. In den Jahren 2003 und 2004 gab es hier verheerende Waldbrände von gigantischen Ausmaßen.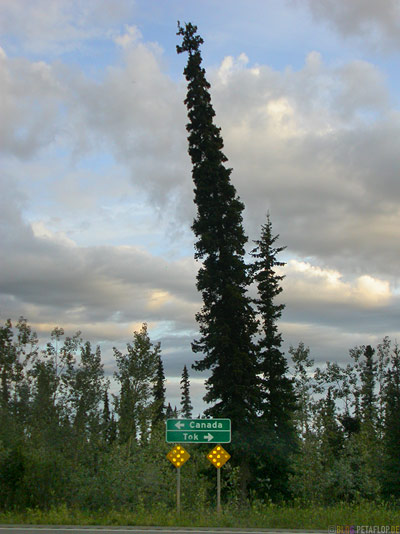 There are not many highways and directions you can go in Alaska. Tok is our next stop.
Es gibt nur wenige Highways und nicht viele Richtungen, in die man in Alaska fahren kann. Tok (sprich "Touk") ist unser heutiges Übernachtungsziel.
We saw a lot of these "Adopt a highway" signs before in Canada. Companies, organisations and sometimes private individuals help to keep parts of the highway in good condition and in return their name is printed under the sign. Here in Alaska these signs are often drive-by-shot by bored kids. Obviously the gun law is more slack compared to Canada.
Diese "Adopt a highway"-Schilder kannten wir schon aus Kanada. Auch in Alaska übernehmen Firmen, Organisationen und auch Privatpersonen eine finanzielle Patenschaft für Highway-Abschnitte. Dafür erscheint der Name des Spenders auf dem Schild darunter. Anders als in Kanada waren die Schilder hier auf US-Boden fast alle zerschossen. Scheint eine Freizeitbeschäftigung für gelangweilte Jugendliche zu sein, aus dem fahrenen Auto den weißen Punkt zu treffen. Ganz offensichtlich sind die Waffengesetze hier lascher als in Kanada.

Burnt down gas station in Tok… / Abgebrannte Tankstelle in Tok…

…with a goat. / …mit Ziege.
---
20,000 Miles Canada/USA: Travel Overview
---