Sunday, 29. July 2007, Yukon, Canada.
Dawson City was founded in 1896 in times of the big gold rush. It's population grew fast to 30,000 inhabitants until gold was found in Alaska a few years later and most of the people moved there. Today Dawson is nearly a ghost town with not more than 1200 residents in summer and about 150 in winter. Most houses still remain as left behind a hundred years ago.
Auf diese alte Western-Stadt hatte ich mich besonders gefreut und bin nicht enttäuscht worden. Dawson City, 1896 zur Zeit des großen Goldrauschs gegründet, hatte innerhalb kürzester Zeit rund 30.000 Einwohner. Als wenige Jahre später in Alaska Gold entdeckt wurde, zog der Großteil von ihnen dort hin und die Stadt verwaiste. Heute ist Dawson eine Fastgeisterstadt mit gerade mal 1200 Einwohnern. Viele von ihnen leben auch nur im Sommer hier, im Winter sind es gerade mal 150. Die meisten Häuser der Stadt stehen heute noch so da, wie sie damals verlassen wurden, ein Großteil ist verrottet, der Rest für Touristen halbwegs wieder hergerichtet.
Some old houses are still in use.
Manche Häuser von damals werden auch heute noch genutzt.
Abandoned gas station / Verlassene Tankstelle

Palace Grand Theatre
At Klondike Kate's we've had the best lunch of the whole journey so far.
Bei Klondike Kate's haben wir wider Erwarten so gut gegessen wie im gesamten vergangenen Monat nicht.

Monte Carlo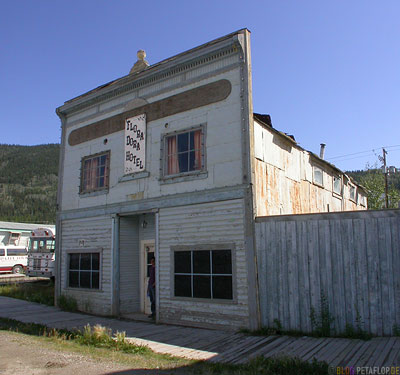 The Flora Dora Hotel is for sale, like many other buildings in town.
Das Flora-Dora-Hotel steht zum Verkauf, wie viele Gebäude in der Stadt.
Looks like a European Wilhelminian style villa made of stone but is completely built of wood.
Was von weitem wie eine europäische Gründerzeitvilla aussieht, stellte sich bei näherer Betrachtung als Durch-und-Durch-Holzhütte heraus. Selbst die steinern anmutenden Verzierungen um die Fenster waren aus Holz und nur angenagelt.
View through Dawson from south to north
Blick einmal quer durch Dawson von Süd nach Nord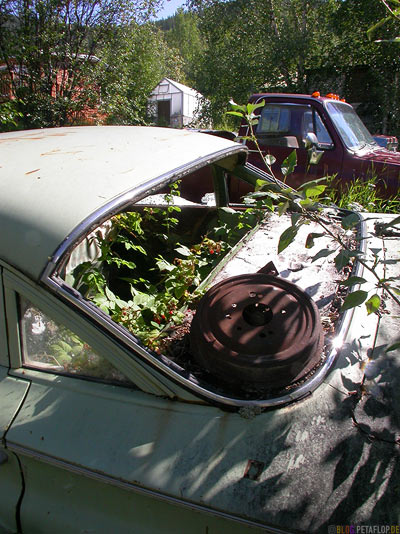 The raspberries growing in a rotting Chevy were delicious.
Nicht nur Häuser, auch Autos rotten hier still vor sich hin. Die Himbeeren, die auf der Rückbank dieses alten Chevys wuchsen, schmeckten gut.
This is supposed to have been the cabin of Jack London. The small cabin on stilts is a bear proof storage.
In dieser Hütte soll Jack London gewohnt haben. Das kleine Haus auf Stelzen ist ein bärensicherer Vorratsraum, den man auch heute noch in einigen Gärten sieht.
Inside the cabin. Hardly imaginable to write books under these conditions.
Das Innere der Hütte. Kaum vorstellbar, wie jemand unter solchen Bedingungen im hiesigen Winter die Muße haben konnte, Bücher zu schreiben.
One building of the 3rd Avenue complex, a whole abandoned row of houses. Wooden pavements and untarred streets are typical for Dawson.
Teil des 3rd Avenue Complex, einer ganzen verlassenen Häuserzeile. Typisch für Dawson sind seit Gründung der Stadt die Holzbürgersteige und ungeteerten Straßen.
Behind the 3rd Avenue Complex / Hinter dem 3rd Avenue Complex
View through Dawson from east to west / Blick durch Dawson von Ost nach West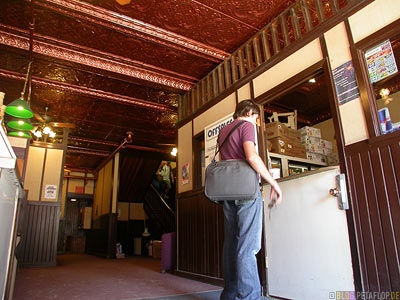 Buying beer in Dawson / Bierkauf in Dawson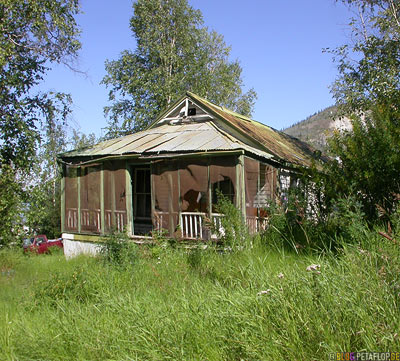 Some houses seem to be inhabited until a short time ago, before they were left…
Manche Häuser sind offenbar bis vor nicht allzu langer Zeit bewohnt gewesen, bevor sie aufgegeben wurden…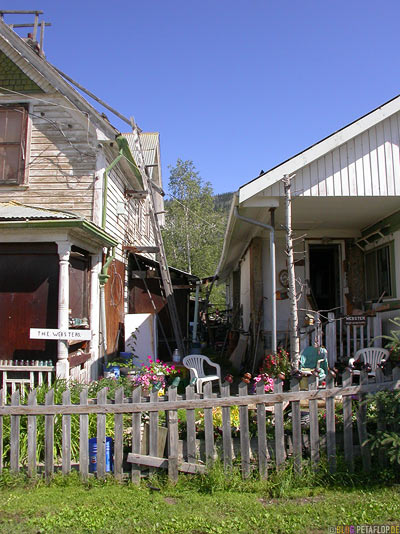 … and some of them still are inhabited.
… und manche sind immer noch bewohnt.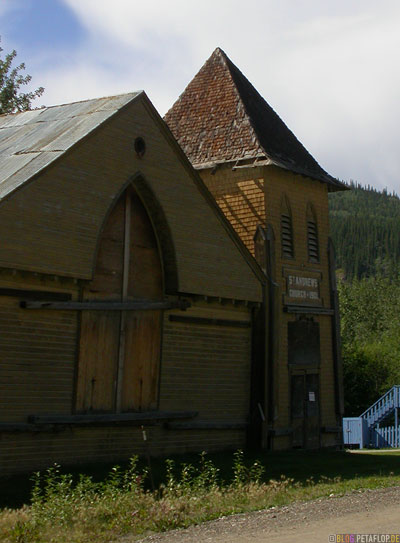 Old church / Alte Kirche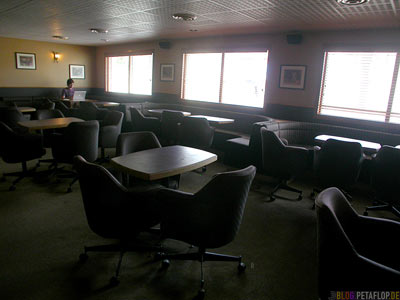 Lonesome guest in the hotel lounge / Einsamer Gast in der Hotel Lounge
Dredge Nr. 6, closed and abandoned in the confluence of Bonanza and Eldorado creek near Dawson.
Die Dredge Nr. 6, eine stillgelegte Goldabbaumaschine am Zusammenfluss des Bonanza- und Eldorado-Baches etwas oberhalb der Stadt. Das Ding – eine Mischung aus Schiff und hölzernem Panzer – war riesig.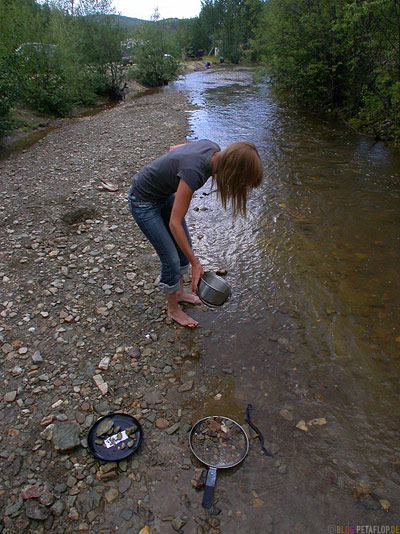 Panning for gold in Eldorado creek with our dirty camping dishes and a frisbee. No big nuggets but nearly all stones have small gold sprinkles.
Natürlich versuchten auch wir unser Glück im Eldorado-Bach. Und tatsächlich schimmerten im Wasser und als Ablagerungen auf manchen Steinen überall winzige Goldpartikel. Schöner Nebeneffekt: jetzt wurden endlich mal Topf und Pfanne, die seit Tagen ungespült im Auto mitreisten, wieder richtig sauber.
In und um Dawson wird übrigens immer noch im großen Stil nach Gold gesucht – und auch welches gefunden.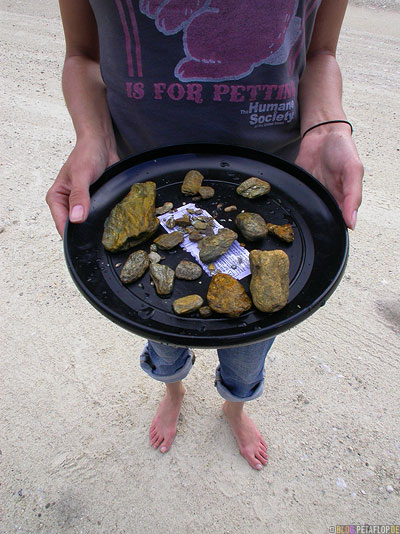 Big haul made in one hour. We would have liked to search longer.
Die Beute nach einer knappen Stunde. Wir hätten noch unendlich weitersuchen können.
---
20,000 Miles Canada/USA: Travel Overview
---