Sunday, 15. July 2007, Calgary, Alberta, Canada.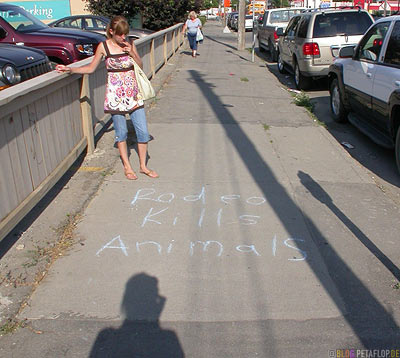 On our way to the Calgary Stampede – the biggest rodeo festival in the world. Three horses died in an chuckwagon race accident one day before.
Auf unserem Weg zur Calgary Stampede, dem größten Rodeo-Festival der Welt. Am Vortag starben Pferde bei einem Unfall beim Planwagenrennen. Ein ganz reines Gewissen hatte ich bei dieser Sache eh nicht, und dann das…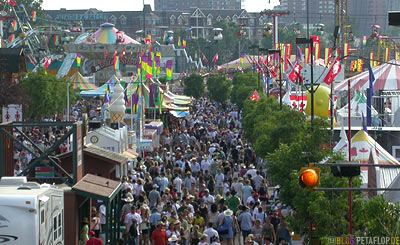 When we planned our stay in Calgary we didn't know that this year's Stampede ended this weekend. We hadn't even heard about the Stampede. Hard to get a hotel room in this time. The whole city wears Stetsons and cowboy boots. The Stampede takes place in the Stampede Park, the 1988 olympic area.
Eher zufällig gerieten wir in dieses Riesen-Ereignis: an diesem Wochenende endet in Calgary die diesjährige "Stampede", ein jährliches Rodeo mit angegliederter Megakirmes, das es schwer macht, in dieser Zeit ein Hotelzimmer zu finden. Die ganze Stadt läuft mit Cowboyhüten und -stiefeln herum, nur wir nicht. Das Ganze findet im Stampede-Park, dem ehemaligen Olympiagelände von 1988 statt.
In the Stampede Park / Im Stampede-Park.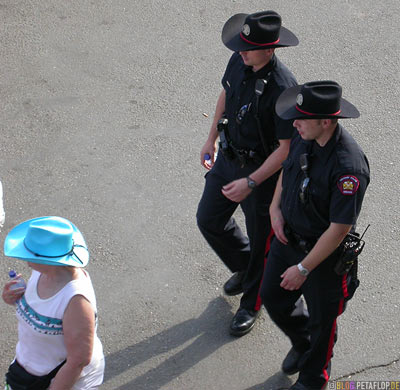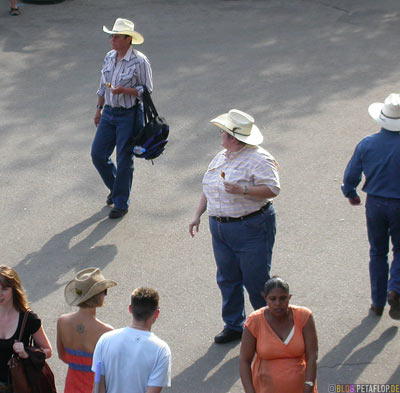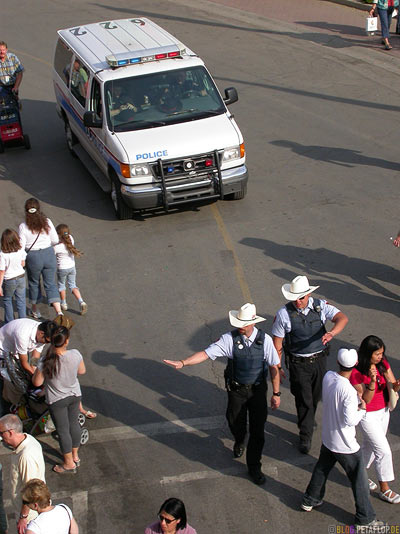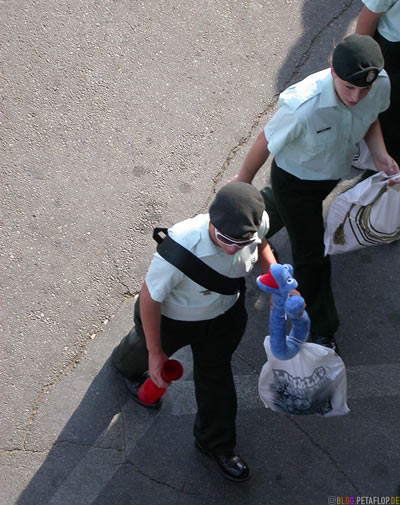 I want that snake / Die Schlange hätte ich auch gern.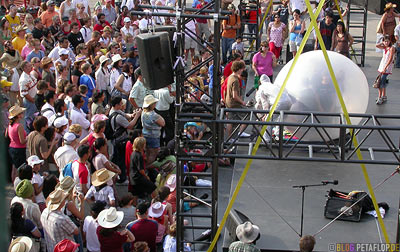 How many people fit in one ballon? Try to set a new world record, the seventh kid made the balloon burst.
Angeblicher Weltrekordversuch: Wieviele Menschen passen in einen Ballon? Nachdem das 7. Kind hineinschlüpfte, platzte der Ballon.
The Grand Stand. In a few moments the last big show of this year's Stampede takes place.
Im Grand Stand, der großen Tribüne. Hier findet gleich die letzte große Show der diesjährigen Stampede statt.
Eröffnung des gigantischen Spektakels durch die Reiterstaffel der Frauen. Während des gesamten Abends herrschte Bombenstimmung und dieses von mir anfangs eher belächelte "Cowboy-Ding" war authentisch und wirklich cool.
Startsekunden eines "Chuckwagon Race", einem Planwagenrennen, dessen Regeln uns erst nach einigen Durchgängen aufgingen. Immer vier Wagen treten gegeneinander an und müssen am Anfang eine Schleife durch die Zahlenmarkierungen fahren, um dann eine Runde um das Stadion zu rasen (von den meisten Sitzplätzen gar nicht direkt, sondern nur über riesige Leinwände sichtbar). Die Zielgerade war dann an der inzwischen hastig umgebauten Startposition. Zu jedem Planwagen gehören vier Reiter, die anfangs die Pferde unter größter Anstrengung zurückhalten und nach dem Start antreiben müssen.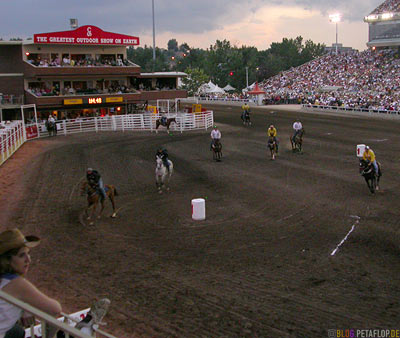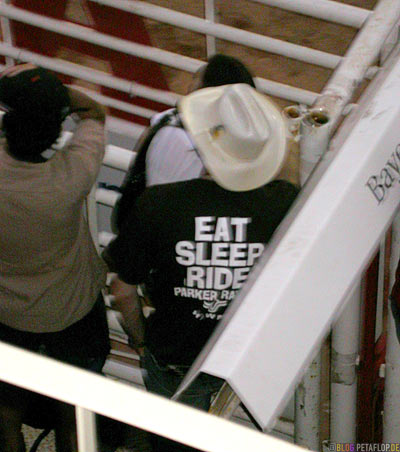 EAT – SLEEP – RIDE

Es war den ganzen Tag über mit 38 Grad ziemlich heiß; plötzlich gab es einen Wetterumschwung, der das Publikum zwischenzeitlich mehr in Atem hielt als das Rennen.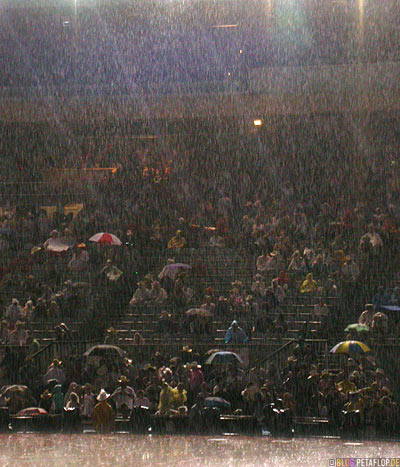 Wir saßen – obwohl auf den billigsten Plätzen – zum Glück überdacht.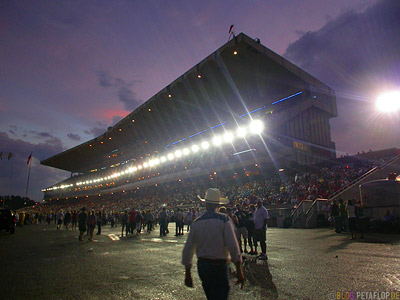 Here some moving images (2:40m): / Hier noch ein paar Bewegtbilder (2:40m):
---
20,000 Miles Canada/USA: Travel Overview
---