Monday, 16. July 2007, Banff National Park, Rocky Mountains, Alberta, Canada.
Just 50 kilometres to the west of Calgary you can see the first foothills of the Rocky Mountains.
Schon 50 Kilometer westlich von Calgary sieht man die ersten Ausläufer der Rocky Mountains.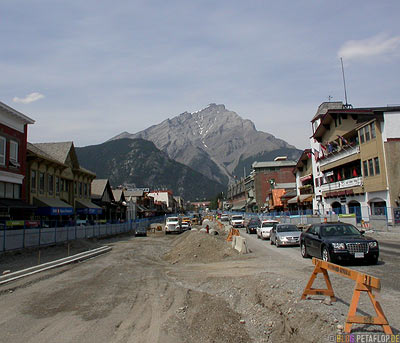 Banff is somehow like the Swiss St. Moritz. Shops welcome Japanese tourists bilingual. We didn't see that much of Banff Avenues charme, half Banff was a huge construction site.
Banff scheint so etwas wie das kanadische St. Moritz zu sein und alles ist auf zahlungskräftige Japaner eingestellt. Vom Charme der mondänen Banff Avenue haben wir nicht viel gesehen, halb Banff war eine Baustelle.
One of hundred souvenir shops in Banff offering Indian Kitsch, bear claws, wolf fangs and semi-precious stones.
Einer von hundert Souvenirläden in Banff mit Indianerkitsch, Bärenkrallen, Wolfszähnen und Halbedelsteinen.
Fancy sprinkler in Banff / Origineller Rasensprenger in Banff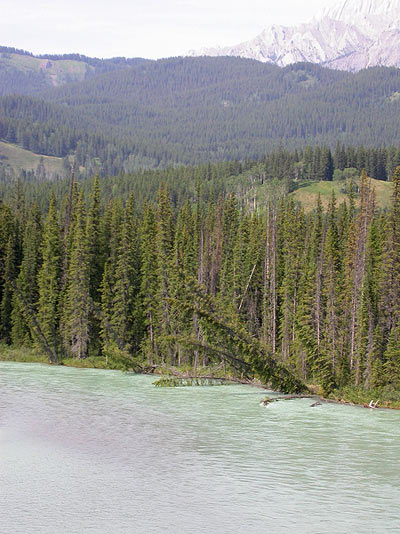 Banff National Park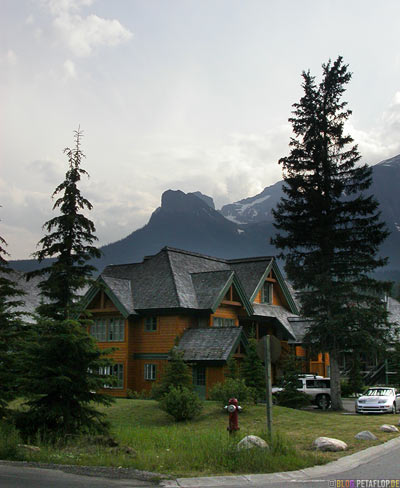 Residental house in Lake Louise / Normales Wohnhaus in Lake Louise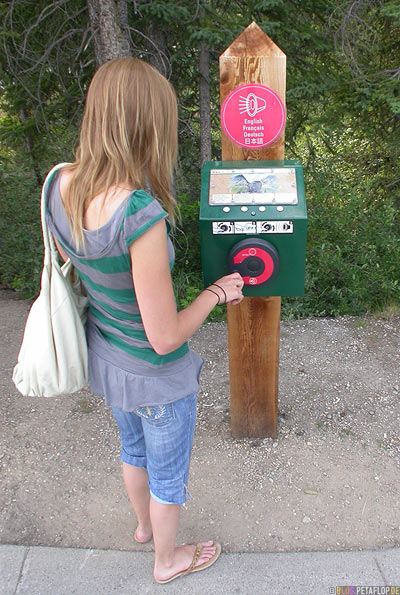 Diese Geräte stehen an mehreren Stellen in Lake Lousie. Wir dachten zuerst dies seien Bären-Warnsirenen. Es kommt aber nur eine gesprochene Warnung vor Bären heraus, wenn man dran dreht.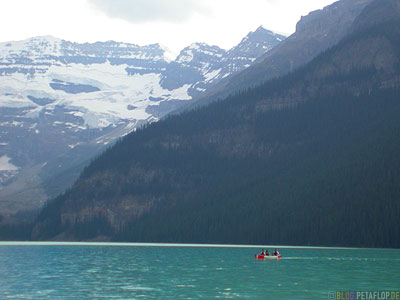 Beautiful Lake Lousie in the evening. At daytime it's overcrowded with tourists.
Der schöne Lake Louise am Abend. Tagsüber platzen die Touristen aus allen Nähten.
Electric fence against bears. It completely sorrounds our campground in Lake Louise.
Elektrischer Zaun zur Bärenabwehr rings um unseren Campingplatz in Lake Louise.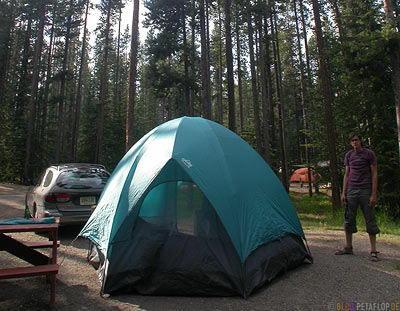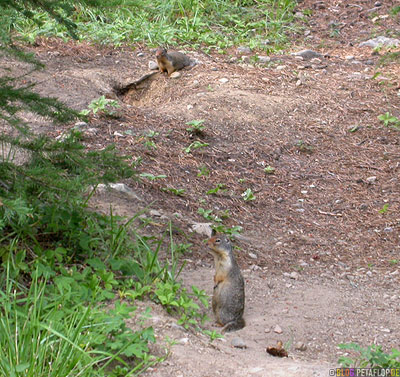 Columbia Ground Squirrel – Neighbours besides our campsite / Nachbarn neben unserem Zeltplatz
---
20,000 Miles Canada/USA: Travel Overview
---