Tuesday, 17. July 2007, Banff National Park, Jasper National Park, Rocky Mountains, Alberta, Canada.
Yesterday and this morning we had to bear the manic-depressive mother of our campsite neigbours. The first Germans we saw on our trip. She wasn't able to handle her nice and well behaving kids. Later on the road we saw them and their distinctive RV several times when we stopped and felt a bit hunted.
Gestern und heute früh gab es noch ein paar unschöne Szenen mit unseren Camping-Nachbarn. Die manisch-depressive Mutter kam mit ihren lieben und braven Kindern nicht klar. Übrigens die ersten Deutschen, die wir auf unserer Reise erlebten. Wo wir später unterwegs hielten sahen wir sie und ihr markantes Wohnmobil noch mehrmals, fühlten uns fast verfolgt.
When we left the Lake Louise Campground, a woman ran in the middle of the road and exclaimed: "A bear, a bear!" – a black bear was munching untroubled at the roadside, not interested in us and the car line behind us. Everybody stopped to watch the bear.
Bei unserer Ausfahrt aus dem Lake Louise Campingplatz lief eine Frau wild winkend mitten über die Strasse: "A bear, a bear!" – ein Schwarzbär frass friedlich am Strassenrand, liess sich von uns und der sich hinter uns bildenden Autoschlange nicht stören, alle hielten, um den Bären zu beobachten.
Video (49 sec):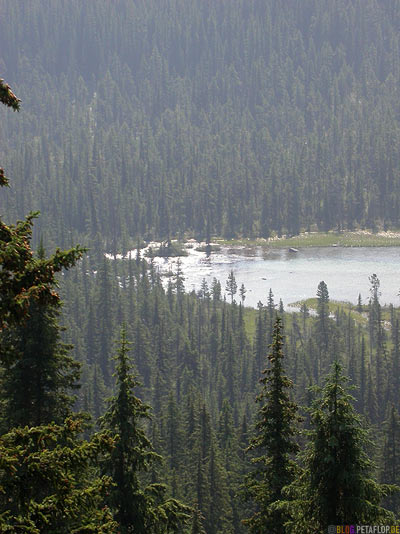 Banff National Park
Moraine Lake, 15 km above Lake Louise / 15 km oberhalb von Lake Louise.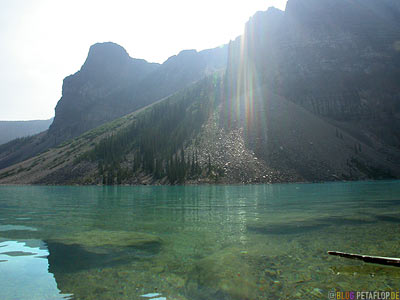 Bow Lake, the glacier lake of Crow Foot Glacier. Very few visitors on our 15 minute walk through the woods to the viewpoint, which was full of Japanese. They were carted here by bus, without walking.
Bow Lake, der Gletschersee des Crow Foot Glacier. Nach wenig Besucherverkehr auf 15 Minuten Waldweg quoll der Aussichtspunkt über vor Japanern, die alle mit Bussen hochgekarrt wurden. Ohne Fussweg.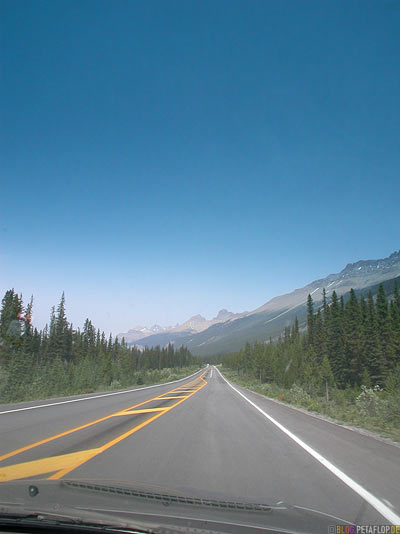 Going further on the Trans Canada Highway 1, which goes through whole Canada, from one coast to the other.
Und weiter auf dem Trans-Canada Highway 1, der ganz Kanada von Küste zu Küste durchzieht.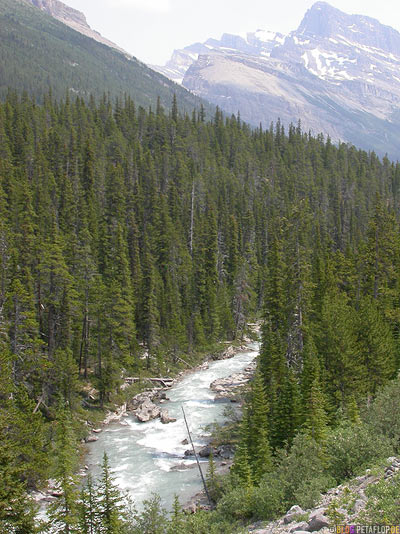 The northern end of Banff National Park touches Jasper National Park. Here the Trans-Canada Highway is partly called The Icefields Parkway. We pass the snow capped Rocky Mountains.
Am Nordende des Banff Nationalpark schliesst der Jasper Nationalpark an. Ihn durchzieht der Icefields Parkway, man fährt über den Trans-Canada-Highway an den schneebedeckten Rocky Mountains vorbei.
For 35 Dollars each we take a bus tour up on the Atahabsca Glacier, part of the giant Columbia Icefield. The small dots in the middle of the picture are busses as the ones to the left.
Auf halber Strecke des Icefields Parkway liessen wir uns für 35 Dollar pro Nase mit monsterbereiften Bussen auf den Athabasca-Gletscher fahren. Er ist Teil des aus vielen Gletschern bestehenden, gigantischen Columbia Icefield. Die kleinen Punkte in der Mitte des Bildes sind Busse wie der linke.
Up to 45° downhill grade on the moraine.
Teilweise 45° Gefälle auf der Moräne.
The melt water tastes so good after three weeks Canadian tap water. In the valley it was quite hot, here it's quite cold, around 5°C. Incidentally this is the hottest Canadian summer since decades. From fall to spring this part of the national park is impassable. The Glacier Centre, from where we started with the bus, is abandoned then and -55°C cold under a ten metre snow mantle.
Das Gletscherwasser schmeckte wirklich gut, eine Wohltat nach drei Wochen kanadischem Leitungswasser. Unten im Tal war es sehr heiß, hier ist es mit ca. 5°C ziemlich kalt. Dies ist übrigens der wämste kanadische Sommer seit Jahrzehnten. Von Herbst bis Frühjahr ist dieser Teil des Nationalparks unpassierbar und das Gletscherzentrum im Tal, von wo wir losfuhren, verlassen und unter einer Schneedecke von 10 Metern bis zu -55°C kalt.
The Athabasca Glacier. 300 metres ice below us. It's melt water runs into three different oceans, an unique incident world wide.
Der Athabasca-Gletscher. 300 Meter Eis unter uns. Dies ist der einzige Gletscher weltweit, dessen Schmelzwasser in drei verschiedene Weltmeere fliesst.
Back to our Ford / Wieder unten bei unserem Ford
Jasper National Park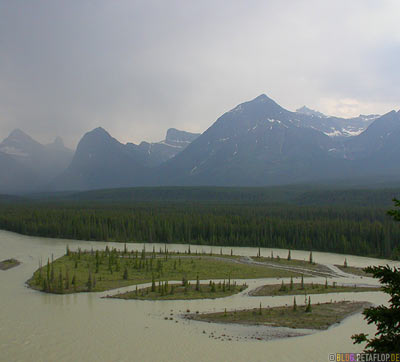 ---
20,000 Miles Canada/USA: Travel Overview
---