Friday, 12. October 2007, Virginia, USA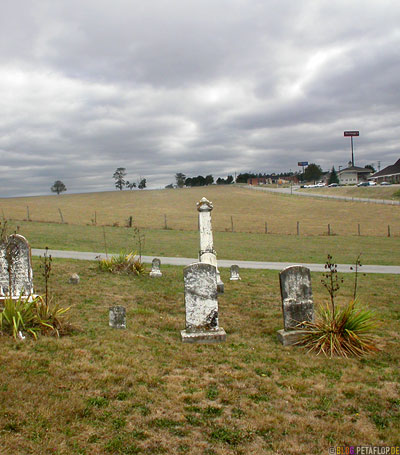 Leaving the highway for a gas station we found this old cemetary on the other side of the road. This is somewhere near Roanoke, Virginia.
In irgendeinem Kaff bei Roanoke, Virginia, verliessen wir den Highway, um zu tanken. Der alte Friedhof lag gegenüber der Tankstelle.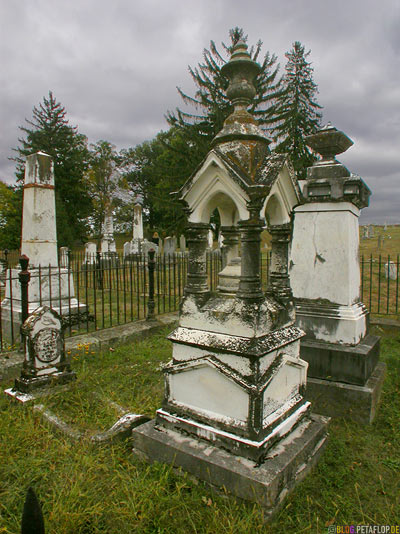 On a shortcut between two freeways we saw this sign on Edelweiss Lane…
Auf einer Abkürzung zwischen zwei Freeways sahen wir dieses Schild an der Edelweiss Lane…
… the German Edelweiss Restaurant in Staunton, Virginia.
… das deutsche Edelweiss-Restaurant in Staunton, Virginia.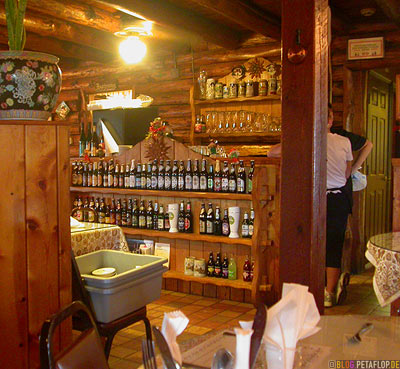 As expected a rustic interior and many different sorts of beer.
Wie erwartet war die Einrichtung rustikal und es gab viele Sorten Bier.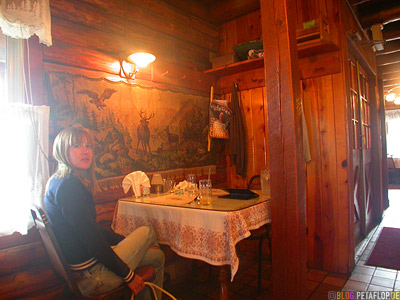 We saw about five German restaurants so far but didn't walk in. Now we're anxious….
Bisher sahen wir ca. fünf deutsche Restaurants, allerdings nur von aussen. Jetzt sind wir gespannt…
They had reputedly typical German food here. Suspiciously fast two minutes after ordering we got the dishes on our table. We had a beef roll and a hunter's schnitzel with red cabbage, spätzle, green beans and sauerkraut as side dishes. Without exception canned grub. As in Germany the drinks came in very small glasses, without refilling. Luckily we didn't order the "German Sampler", a platter with all available German meat delicacies in one: roast pork, hunter's, Zigeuner and Wiener schnitzel, roulade, Bavarian veal sausage.
Vermeintlich typisch deutsches Essen gab es hier. Verdächtig schnell stand das Essen auf dem Tisch – etwa zwei Minuten nach der Bestellung. Zu unserer Rinderroulade und dem Jägerschnitzel wurden Rotkohl, Spätzle, Brechbohnen und Sauerkraut serviert, ausnahmslos Tricatel-Konservenfrass, auch das Fleisch. Die Getränke kamen wie in Deutschland in kleinen Gläsern; für amerikanische Verhältnisse winzig. Zum Glück bestellten wir nicht den "German Sampler", einen Platte mit allen verfügbaren deutschen Fleischspezialitäten auf einmal zum durchprobieren: Schweinebraten, Jäger-, Zigeuner, Wienerschnitzel, Roulade, Weisswurst.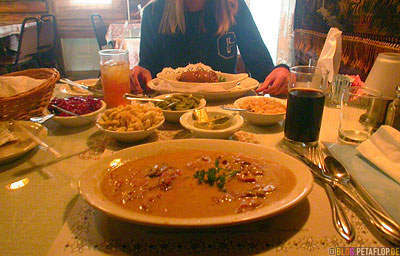 The soup below was the Jägerschnitzel (hunter's schnitzel). Down on the plate's ground there really was some meat.
Die Suppe unten war das Jägerschnitzel. Am Tellergrund fand sich tatsächlich etwas Fleisch.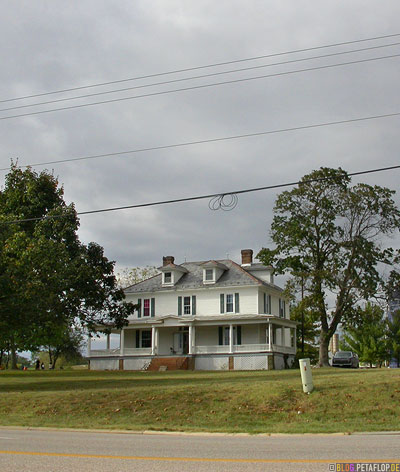 Virginia looked like stereo type we had about the USA before we started our journey.
Virginia entsprach optisch unserem USA-Klischee, wie wir es noch vor Reisebeginn hatten.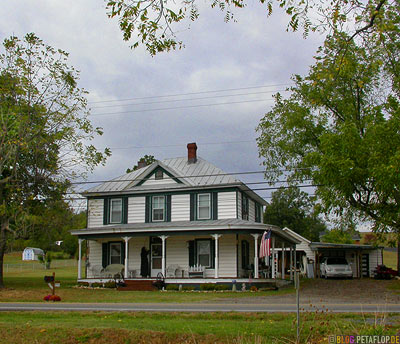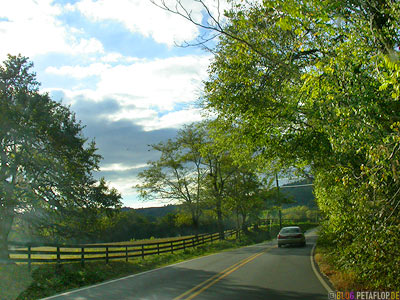 Highway to Monticello, the mansion of Thomas Jefferson, the third US president. Unfortunately we arrived short before closing and didn't want to spend 15 Dollars on a five minute visit.
Landstrasse nach Monticello, dem Anwesen von Thomas Jefferson, dem dritten Präsidenten der USA. Leider kamen wir erst kurz vor Ladenschluss an und wollten keine 15 Dollar für fünf Minuten Besichtigung ausgeben.
---
20,000 Miles Canada/USA: Travel Overview
---