Wednesday, 26. September 2007, Nebraska and Colorado, USA.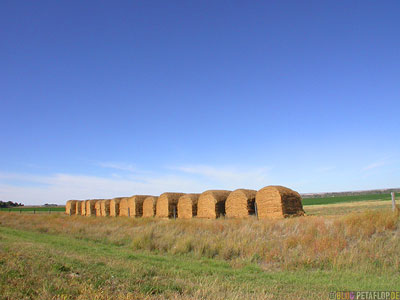 White breads of straw at Highway 385 in Nebraska.
Toastbrote aus Stroh am Highway 385 in Nebraska.
One of the few varieties in the state with the prettiest name, which is completely flat and sparsely populated.
Eine der wenigen Abwechslungen im Staat mit dem schönsten Namen, der völlig flach und dünn besiedelt ist.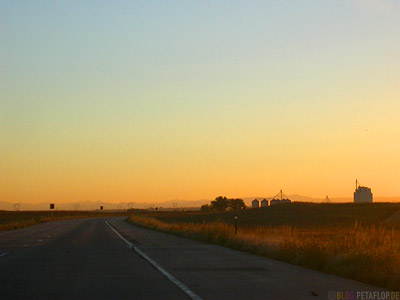 Highway 76 in Colorado. The Rocky Mountains appeared on the horizon. This was the first time we saw them outside of Canada.
Highway 76 in Colorado. Schon von weitem sahen wir die Rocky Mountains am Horizont, zum ersten Mal außerhalb Kanadas.
A bit closer: driving into Denver, Colorado, from north east. Denver is located to the east of the Rockies, further east there is open prairie.
Etwas näher dran: kurz vor der Einfahrt nach Denver von Nordosten kommend. Denver liegt unmittelbar östlich der Rocky Mountains in Colorado, weiter nach Osten hin erstreckt sich flache Prärie.
---
20,000 Miles Canada/USA: Travel Overview
---