Tuesday, 25. September 2007, Wyoming, South Dakota, Nebraska USA.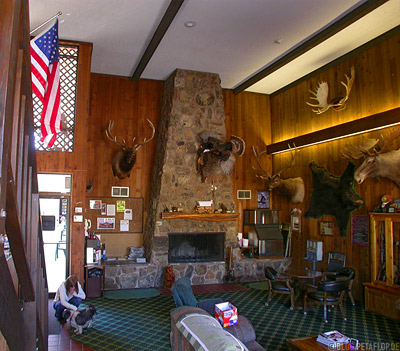 The lobby of our motel this night: Bear Lodge, Sundance, Wyoming
Die Lobby unseres Motels: Bear Lodge, Sundance, Wyoming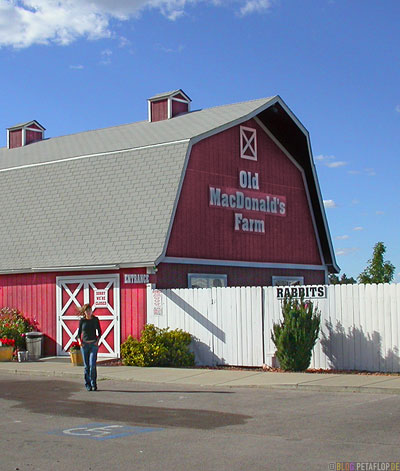 Old MacDonald's Farm, I guess it was in Rocker City, South Dakota. A big petting zoo, unfortunately closed. Some chickens were there.
Old MacDonald's Farm, müsste bei Rocker City, South Dakota, gewesen sein. Ein riesiger, leider geschlossener Streichelzoo. Nur ein paar Hühner liefen rum.
Next to Old MacDonald's: John F. Kennedy promoting a park of busts of US presidents nearby, on our way to Mount Rushmore.
Bei Old MacDonald nebenan: John F. Kennedy wirbt für einen Präsidenten-Büstenpark in der Nähe, wir waren auf dem Weg zum Mount Rushmore.
The parking fee at Mount Rushmore Memorial was much too expensive so we searched for a parking place farther away. That's why we found this side view on George Washington.
Weil uns das Parken am Mount Rushmore viel zu teuer war, suchten wir nach einem weiter entfernten Parkplatz und landeten bei dieser Seitenansicht von George Washington.
The road is built very narrow and has no shouder, we couldn't walk back to the memorial without being run over. Teeth-gnashing we drove back and payed the brasen parking fee.
Die Strasse ist aber so eng und ohne Rand gebaut, dass man nicht zu Fuß zum Memorial kommt, ohne überfahren zu werden. Zähneknirschend fuhren wir zurück und zahlten die dreiste Parkgebühr.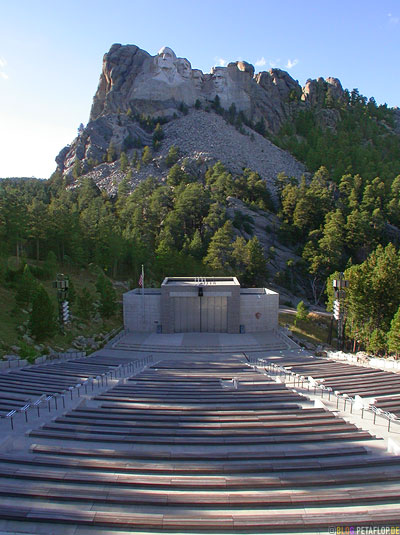 The first four presidents of the USA. Sadly parking was very pricey.
Die ersten vier Präsidenten der USA. Das Parken kostete leider sehr viel.
Scarfaces from left: George Washington, Thomas Jefferson, Theodore Roosevelt, Captain Ahab (aka Ahabram Lincoln).
Ganz schön vernarbt. Von links: George Washington, Thomas Jefferson, Theodore Roosevelt, Kapitän Ahab (Ahabram Lincoln).
The flags of all 50 US states fly here. For 15 minutes of parking we payed a luscious amount of dollars.
Hier wehen die Flaggen aller 50 US-Bundesstaaten. Für 15 Minuten Parken zahlten wir einen satten Dollar-Betrag.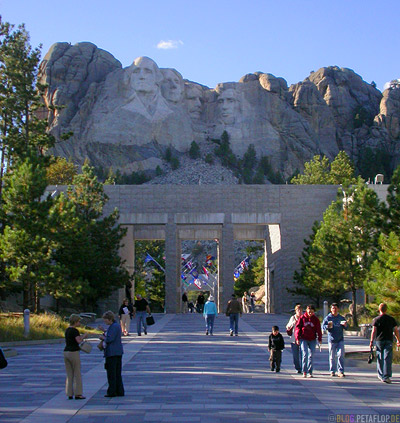 On the promenade, back to the parking garage of bad value.
Auf der Promenade zurück zum nicht gerade preiswerten Parkhaus.
Mountain Goat on the roadside when leaving the Mount Rushmore parking lot. Did we mention parking was exorbitant expensive?
Schneeziege am Strassenrand bei der Ausfahrt aus dem Mount-Rushmore-Parkhaus. Haben wir erwähnt dass das Parken unverschämt teuer war?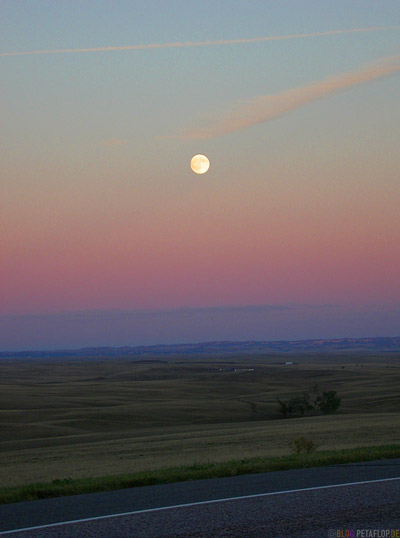 Moon over Nebraska / Mond über Nebraska

Click to open PDF / Klick öffnet PDF
---
20,000 Miles Canada/USA: Travel Overview
---