Sunday, 23. September 2007, Wyoming, USA.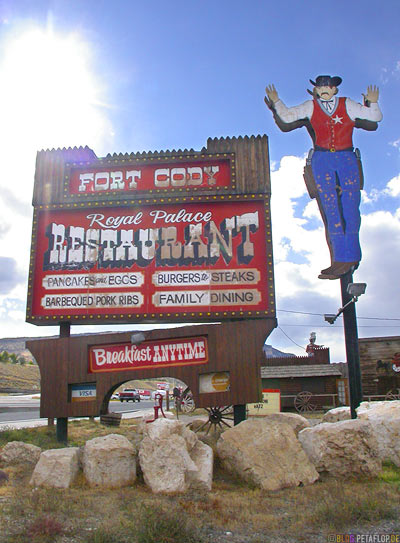 Further to the east. Restaurant sign in Cody, Wyoming. Cody likes to see itself as a cowboy town. The restaurant was closed…
Weiter nach Osten. Restaurantschild in Cody, Wyoming. Man sieht sich hier gern als Cowboy-Stadt. Das Restaurant hatte leider geschlossen…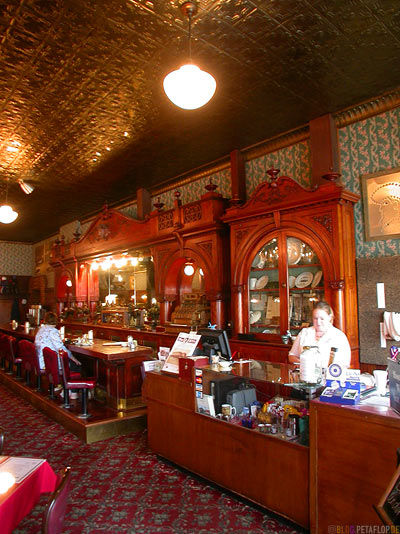 … so we dined at "The Irma", a hotel built by Western hero Buffalo Bill, named after his daughter. Buffalo Bill alias William Frederick Cody was a co-founder and eponym of Cody. The cherrywod bar in the background was a present from Queen Victoria. Every evening they have a show shooting in front of the hotel, for the tourist pack.
… deshalb speisten wir im "The Irma", dem vom Westernhelden Buffalo Bill erbauten Hotel, benannt nach seiner Tochter. Buffalo Bill alias William Frederick Cody ist auch einer der Gründerväter und Namensgeber von Cody. Die Kirschholz-Bar im Hintergrund wurde ihm von Queen Victoria geschenkt. Allabendlich findet vor dem Hotel eine Schauschiesserei für das Touristenpack statt.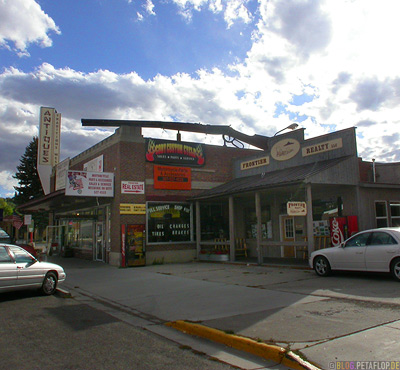 Not a gun store but antiques
Kein Waffenladen sondern Antiquitäten
Sheridan Ave. corner 12th St.
Sheridan Avenue Ecke Zwölfte Strasse
Leaving Cody we came through some hicktowns like this one: Emblem, population 10, elevation, 4438 feet.
Nach Cody kamen ein paar Käffer wie dieses hier: Emblem, 10 Einwohner, 1.400 Meter über NN.
Here you see the half of Emblem, Wyoming.
Die Hälfte von Emblem, Wyoming.
In the evening we usually check the rates at two to six motels of one town, if there are that many. We choose the cheapest one with internet if it doesn't look too bad. Today in Greybull, Wyoming, the choice was easy. The Maverick was the last of three and the most interesting one…
In der Regel fragen wir jeden Abend bei zwei bis sechs Motels falls im Ort vorhanden und nehmen dann das billigste mit Internetzugang, wenn es nicht zu schlimm aussieht. Heute in Greybull, Wyoming, fiel uns die Wahl leicht. Das Maverick war das letzte von dreien und mit Abstand das interessanteste…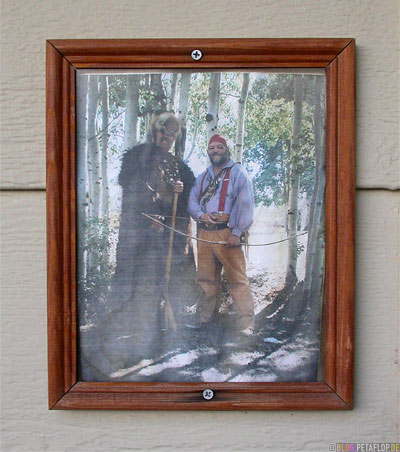 The gentleman on the right is the motel owner.
Der rechte Herr ist der Motel-Besitzer.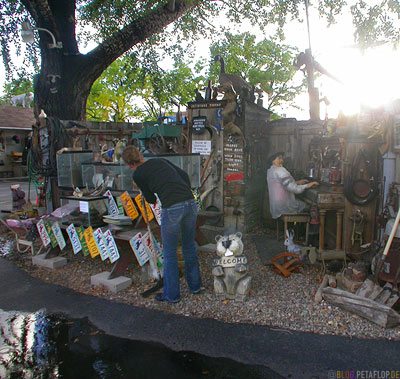 His profession is not only to run a motel. He is buying motels and redecorates to sell them again. A cool job.
Sein Beruf ist weniger das Führen eines Motels. Er kauft Motels, dekoriert sie mit in Jahren gesammeltem Allerlei und verkauft sie anschliessend. Cooler Job.
He already converted dozens of properties like that.
Mehrere dutzend Immobilien hat er so umgewandelt.
The cat's name was Charlie Brown.
Die Katze hiess Charlie Brown.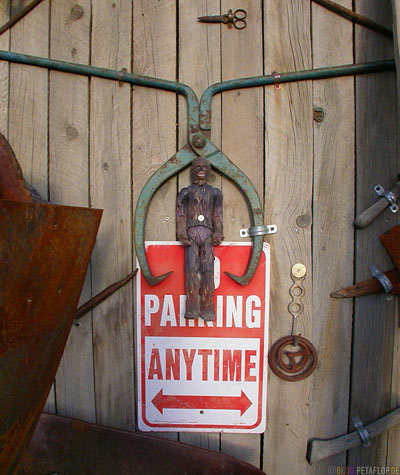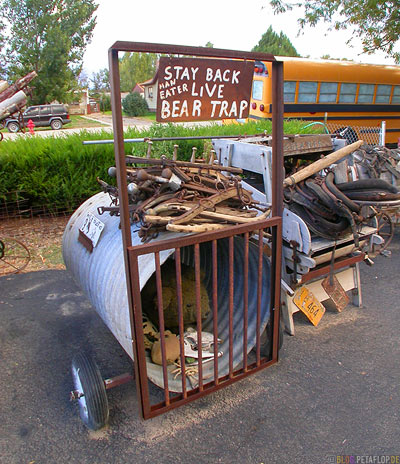 A real bear trap with a fake bear. The schoolbus in the background also belongs to the motel owner. It's filled with stuff for the next motel.
Eine echte Bärenfalle mit unechtem Bär. Der gelbe Schulbus im Hintergrund gehört auch dem Motel-Besitzer. Er ist vollgestopft mit Kram für das nächste Motel.
Büffelmist für 5$
In our room / In unserem Zimmer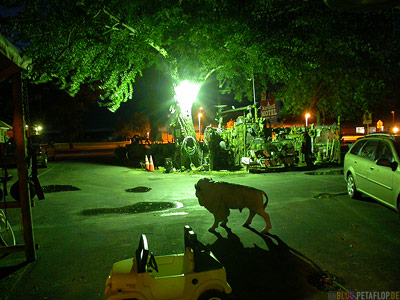 Looking out of our door / Blick aus unserem Zimmer
---
20,000 Miles Canada/USA: Travel Overview
---