Wednesday, 12. September 2007, California, USA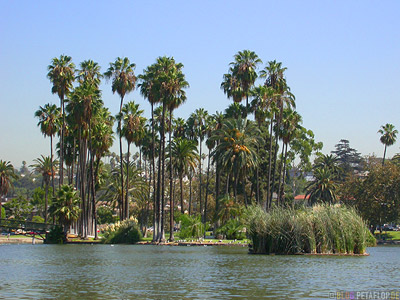 Artificially arranged Echo Park, Los Angeles, near our motel. We saw herons, many turtles and Mexicans taking a siesta on the lawn.
Der künstlich angelegte Echo-Park, Los Angeles, nahe unserem Motel. Wir sahen Reiher, viele Schildkröten und Siesta haltende Mexikaner im Gras.
Regrettably the pedalo rental was closed.
Der Tretbootverleih hatte leider zu.
END THIS WAR! Echo Park. In larger Cities we often saw statements against the Bush administration while patriotic small-towners and peasants in rural areas proudly drive around with their "Support our Troops" ribbon stickers on their pickups.
END THIS WAR! Echo Park. In größeren Städten sahen wir oft Aussagen gegen die Bush-Regierung. Patriotische Kleinstädter und einfache Bauern in ländlichen Bereichen hingegen beweisen mit ihren "Support our Troops"-Aufklebern auf ihren Autos mehr Linientreue.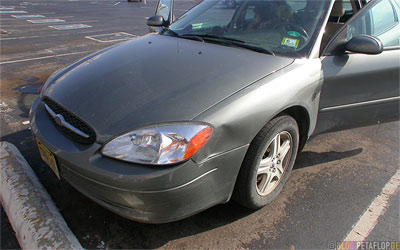 "If we have a car accident on our journey, it will happen in L.A." – Instantly after saying this sentence the car wing pushed not into another car on a 12 lane freeway, but into a pillar of the basement garage of our hotel.
"Wenn wir auf unserer Reise einen Autounfall haben, dann in L.A." – Einen Augenblick nach dieser Aussage drückte sich der Kotflügel nicht in einen anderen Wagen auf einem 12-spurigen Freeway, sondern in eine Säule unserer Hoteltiefgarage.
Pall of smog over Los Angeles, seen from the hills above Beverly Hills between L.A. and Burbank. This is what we inhaled for four days. L.A. is a fat, stinking flounder.
Dunstglocke über Los Angeles, gesehen von den Hügeln über Beverly Hills zwischen L.A. und Burbank. Diesen Smog haben wir nun vier Tage lang eingeatmet. L.A. ist eine fette, stinkende Flunder.
We left L.A. over the very long Mulholland Drive through West Hollywood and Beverly Hills. Many side streets are private roads to stately estates like the one of the Disney family.
Wir verliessen L.A. über den sehr langen Mulholland Drive durch West-Hollywood und Beverly Hills. Viele Seitenstrassen sind gesperrte Privatstrassen zu großen Villenanwesen, wie z.B. dem der Familie Disney.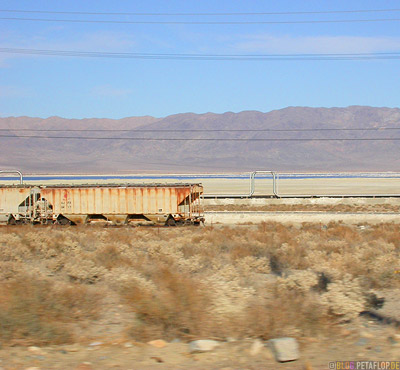 En route to Death Valley we came through Trona, a remarkable town with 1,800 inhabitants and we saw not a single one on the street. A pipeline along the highway is bended up in measured intervalls for cars to shoot under. This night we watched the movie "Trona" on our laptop. The atmosphere of the film is quite what we experienced there. We brought the DVD of a TV recording with us.
Auf dem Weg ins Death Valley durchfuhren wir Trona, eine bemerkenswerte Stadt mit 1.800 Einwohnern, von denen wir keinen einzigen auf der Strasse sahen. Entlang des Highways führt eine Pipeline, die in regelmäßigen Abständen nach oben gebogen ist, damit Autos darunter hindurchfahren können. Am Abend sahen wir den Film "Trona" auf unserem Laptop, der die Atmosphäre des Ortes gut wiederspiegelt. Wir hatten die Fernsehaufnahme mitgebracht.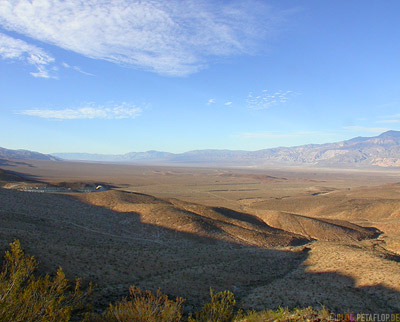 Death Valley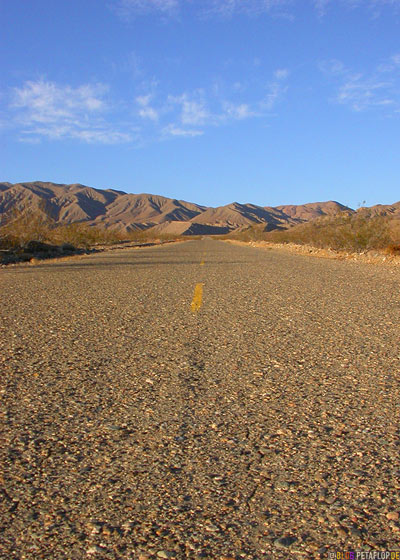 It was unbearable hot here and our car's air condition was in full swing the whole time. We had filled up the cooler with fresh ice cubes, bought a pallet of water and fueled the car. Moreover we still had a can with 20 litres of patrol for emergencies with us. It couldn't happen that much.
Hier war es unerträglich heiss und unsere Klimaanlage lief ununterbrochen auf Hochtouren. Die Kühlbox war mit frischen Eiswürfeln gefüllt, wir hatten noch eine Palette Wasser gekauft und nochmal vollgetankt. Zudem karren wir seit Reisebeginn einen 20-Liter-Kanister Benzin für Notfälle mit uns rum. Viel konnte also nicht passieren.
117° Fahrenheit, 47° Celsius in the shadow. It was very windy and it felt like a constantly blowing giant hot hairdryer. The dust is still from Burning Man.
117° Fahrenheit, 47° Celsius im Schatten. Da es ziemlich windig war, hatte man den Eindruck, man stünde permanent vor einem riesigen heißen Föhn. Der Staub ist noch vom Burning Man.
They try to raise the death cases with lousy signage to get more tourists. There were only few roads but we got lost in between.
Mit einer miserablen Beschilderung sollen wohl die Todesfälle erhöht werden, damit mehr Touristen kommen. Trotz weniger Strassen hatten wir uns zwischendurch mal verfahren.
The road we chose as a shortcut got worse and narrower. To cap it all the road and the junction at it's ending were not marked in any of our maps.
Und die Strasse, die wir uns als Abkürzung ausgesucht hatten, wurde immer schlechter und enger. Dass diese Strasse und die Gabelung, in der sie endete auf keiner Karte eingezeichnet war, war auch nicht gerade hilfreich.
We still don't know, how we made it back to the highway.
Bis heute wissen wir nicht, wie wir wieder zum Highway zurückgefunden haben.
Late at night in Furnace Creek in the middle of Death Valley we were the only ones to sit in front of our well cooled room at the fully booked Furnace Creek Ranch. The coyotes were howling, it was still 106°F (41°C) and we wanted the Death Valley experience. We're no sissies.
Spät abends in Furnace Creek, in der Mitte des Death Valley, waren wir die einzigen, die draussen vor ihrem gekühlten Hotelzimmer der ausgebuchten Furnace Creek Ranch saßen. Wir hörten ganz in der Nähe Kojoten heulen und es war mit 106°F (41°C) nur unwesentlich kühler, aber wenn man schon mal hier ist… wir sind ja keine Weicheier.
This 8 cm (3 inch) long spider something tried to get in our not really reasonably priced walk-in fridge without internet.
Diesem ca. 8 cm langen Gerät war es wohl auch zu warm, wollte unbedingt in unseren nicht gerade preiswerten, begehbaren Kühlschrank (ohne Internet).
---
20,000 Miles Canada/USA: Travel Overview
---