Sunday, 2. September 2007, Nevada, USA.
Our neighbour Christina went to Reno to visit her friend Ryan in jail and we borrowed their bikes. Noon on the playa: giant balloon installation.
Unsere Nachbarin Christina fuhr Nach Reno um ihren Freund Ryan im Knast zu besuchen. Wir nutzten die Gelegenheit und liehen uns ihre Fahrräder. Mittags auf der Playa: Installation mir Riesenluftballons.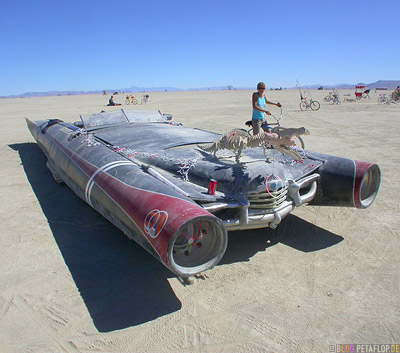 Extremely long, Mad-Max-like end time car…
Extrem langer, Mad-Max-artiger Endzeitschlitten…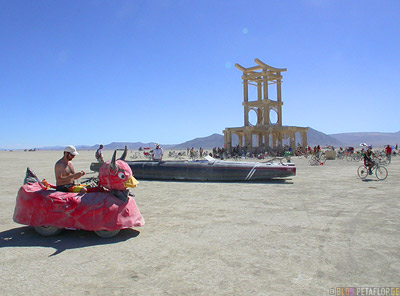 … and a ducky. In the background: the Temple of Tears, a place to remember the dead…
… und ne Ente. Im Hintergund: Der Tränentempel, ein Ort zur Erinnerung an die Toten…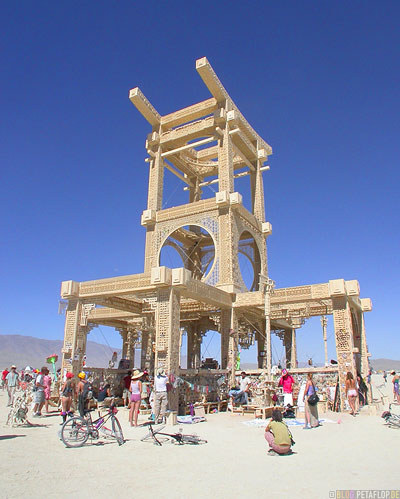 … that will burn tonight. We will leave before.
… der heute Abend abgebrannt wird, was wir aber nicht mehr erleben werden.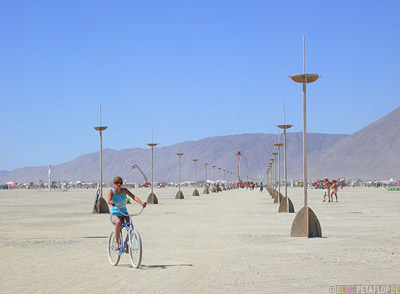 On one of the four criss-cross promenades
Eine der vier ins Zentrum führenden Promenaden
Elaborate sun shade / Aufwändiger Schattenspender
Helge Schneiders Mutter und Frau war auch da.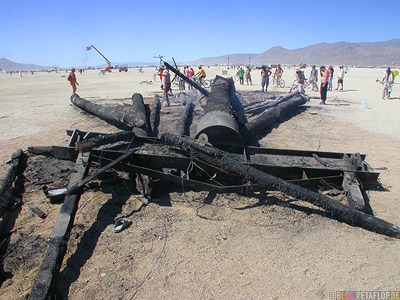 Leftovers of the burnt Burning Man
Die Überreste des verbrannten Burning Man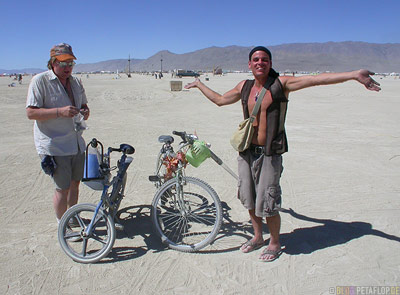 Here we came across Chad and Todd.
Hier trafen wir zufällig Chad und Todd.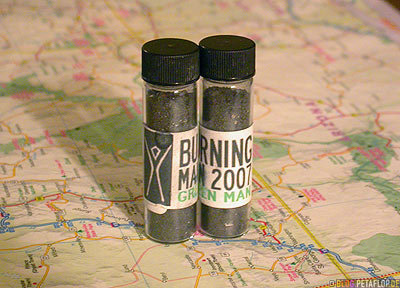 Chad presented us with two small tubes of Burning Man ash. He 'fabricated' dozens of it.
Chad schenkte uns zwei Röhrchen mit Burning-Man-Asche, von denen er dutzende 'hergestellt' hatte.
The two truck installation at daytime
Nochmal die Truck-Installation tagsüber
Kneeing metal sculpture / Kniende Metallskulptur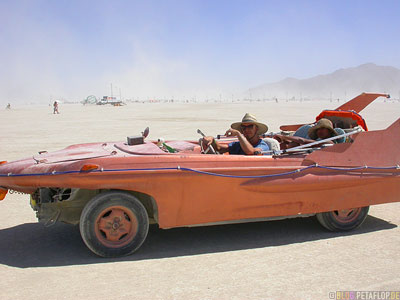 Cruising on the playa / Rumkurven auf der Playa
Metal again / Nochmal Metall
One of the many dusty toilet rows
Eine der vielen staubigen Kloreihen
Green devices deep in Black Rock City
Grüne Geräte tief in der Zeltstadt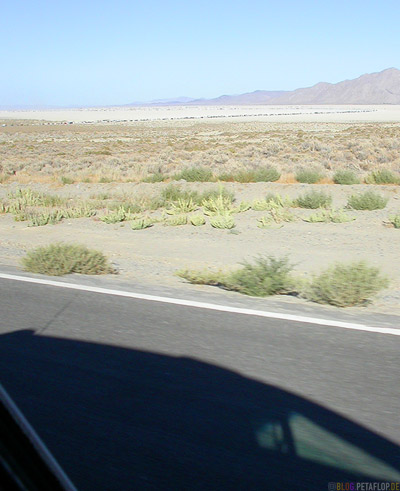 We left to Reno in the early afternoon, the few miles from our tent site to the highway took us about four hours. On the photo you can see the eight lane car line in the desert. We drove a long time in a slow motorcade on the single lane road, the only one through Black Rock desert. On the official Burning Man radio station they said we could either wait three hours in line today or six tomorrow. When we lost the radio signal after 20 miles it was like a final cut, we left the Nevada desert behind with melancholy. For four days Burning Man was like a different world, far diverse from the previous experiences of our journey. Because of the traffic delay we only made it to Carson City, Nevada, not that far away.
Am frühen Nachmittag machten wir uns auf den Weg Richtung Reno. Ca. vier Stunden brauchten wir von unserem Zeltplatz bis zum wenige Kilometer entfernten, asphaltierten Highway. Auf dem Foto sieht man oben in der Ferne die achtspurige Autoschlange in der Wüste. Auf der einzigen nach Süden aus der Wüste führenden, einspurigen Straße ging es noch lange in langsamer Kolonne so weiter. Wir hörten noch lange den offiziellen Burning-Man-Radiosender. Dort sprach man von drei Stunden Wartezeit heute, sechs morgen. Als wir nach 30 Kilometern den Sender verloren, war das der endgültige Schnitt. Wir verliessen die Wüste Nevadas mit Wehmut. Burning Man war für vier Tage wie eine andere Welt, völlig anders als alles bisher Erlebte. Einzig negativer Beigeschmack: der Wüstenstaub hat unsere technische Ausrüstung ziemlich lädiert. Sowohl Foto- als auch Videokamera haben bleibende Schäden, der Wagen ist von außen und – was noch schlimmer ist – von innen total verstaubt, wie auch all unsere Sachen. Sogar die Inhalte verschlossener Koffer. Es dauerte mehrere Tage bis Staubhaare, Schmirgelpapierhaut und eingerissene Finger- und Fußnägel wieder im Normalzustand waren. Wegen des Staus schafften wir es heute nur in das nicht weit entfernte Carson City, Nevada.
Video (4:14 Min.): Burning Man Sunday, daylight bike trip from the playa to our tent.
Video (4:14 Min.): Burning Man Sonntag, Fahrradausflug bei Tageslicht, von der Playa zu unserem Zelt.
The images and videos can only be used for my personal use and not for any other purposes, downloading or copying of the images and videos is prohibited.
---
20,000 Miles Canada/USA: Travel Overview
---