Tuesday, 28. August 2007, Oregon and California, USA.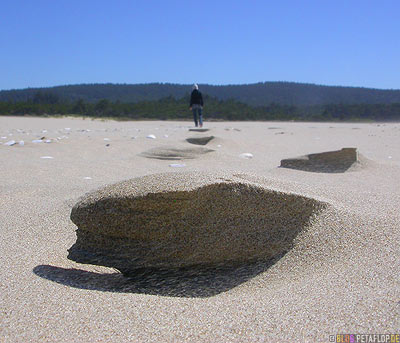 Wind blown sculptures on a beach near Dunes City, Oregon Coast, 6 miles south from Florence. Constant cold winds make swimming or sun bathing very uncomfortable here.
Windskulpturen an einem Strand bei Dunes City an der Küste Oregons, 10 km südlich von Florence. Konstanter, kalter Wind hält hier den Badetourismus fern.
Beach finds / Strandfundstücke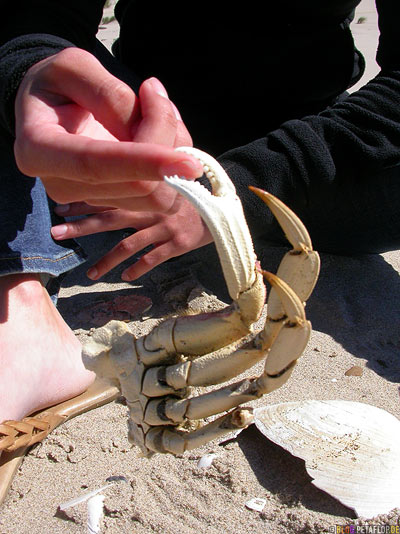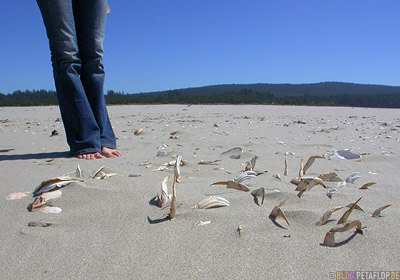 200 miles to the south upcountry we visited the Oregon Caves National Monument.
320 km weiter südlich besuchten wir die Oregon Caves im Landesinneren, eine Tropfsteinhöhle und nationales Naturdenkmal.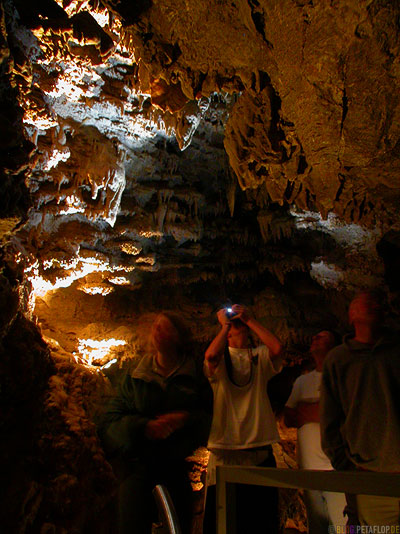 The cave is always 44°F cold. This is the annual temperature average of the surface. The thick rock formation above the cave won't let short variations in temperature like summer or winter come through.
Auf die 7°C in der Höhle waren wir nicht vorbereitet und so ging es mit geliehenem Hemd auf eine anderthalbstündige Führung. Zu jeder Jahreszeit ist es exakt 7°C kalt hier, es ist die Gesamtjahresdurchschnittstemperatur an der Oberfläche. Temperaturschwankungen dringen zu langsam durch die dicke Felsschicht.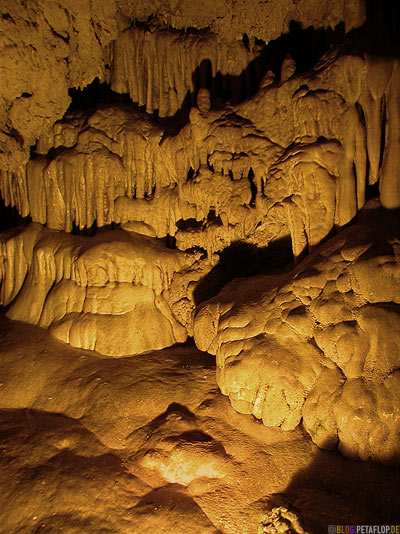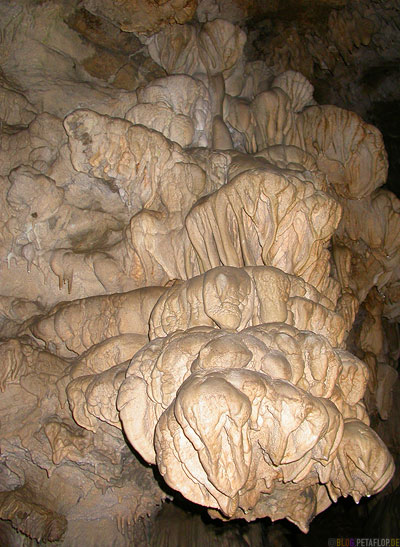 Parts of the movie Alien were filmed here, I guess.
In der Alien-Brutkammer
30 miles to the south-east we crossed the Californian border.
48 km südwestlich, die Grenze zum Bundesstaat Kalifornien.
A restaurant across the street from our motel in Crescent City, California, 40 miles to the south-east on the Pacific.
Ein Restaurant gegenüber unseres Motels im kalifornischen Crescent City am Pazifik, 65 km nach Südost.
---
20,000 Miles Canada/USA: Travel Overview
---