Monday, 27. August 2007, Oregon, USA.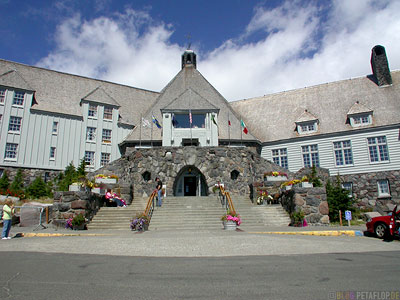 This is the Timberline Lodge on Mount Hood, the highest mountain of Oregon. It's a popular winter sports resort, even in summer. You might know this hotel from the Stanley Kubrick movie "Shining".
Weiter ging's zum Mount Hood, dem höchsten Berg Oregons. Diese Gegend ist offenbar ein beliebtes Wintersport-Ziel, sogar im Sommer. Die Timberline-Lodge auf dem Mount Hood dürfte Nicht-Amerikanern jedoch eher aus anderem Grund bekannt vorkommen: hier drehte Stanley Kubrick den Stephen-King-Klassiker "Shining".
The Timberline Lodge lobby. The interior scenes of the movie obviously were not flimed here.
Die Lobby der Timberline Lodge. Die Innenaufnahmen des Films wurden offensichtlich woanders aufgenommen.
The sunshine and the missing snow didn't add to a scary atmosphere.
Im Sonnenschein und ganz ohne Schnee war hier gar nichts so unheimlich wie im Film.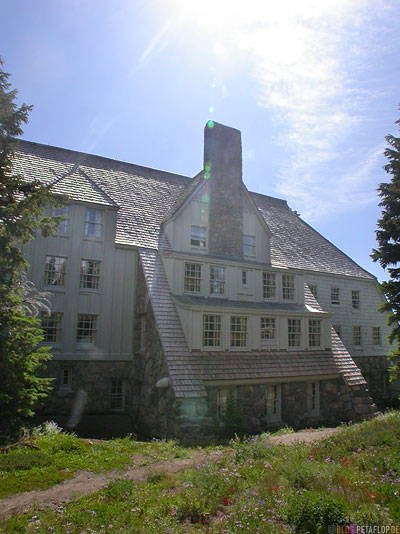 Backside / Rückseite
From the right side / von der rechten Seite
View from Mount Hood. Mount Jefferson in the background.
Blick vom Berg. Im Hintergrund: der Mount Jefferson.
View from below, Mount Hood's peak behind the Lodge.
Blick von vorn auf die Timberline-Lodge, dahinter die Spitze des Mount Hood.
Luckily we acted on the advice of a short acquaintance at a gas station and went to the Oregon Coast. Highway 101 goes all the way down to Southern California on the seaside.
Zum Glück beherzigten wir den Tipp einer Tankstellenbekanntschaft und fuhren schon ganz im Norden von Oregon auf den Highway 101, der die komplette Küste bis nach Südkalifornien entlang führt.
The beautiful scenery reminds of Brittany, but it's more open and wider here.
Die Küste von Oregon war eine echte Überraschung. Alles erinnerte etwas an die Bretagne, nur ist hier alles viel weiter und größer.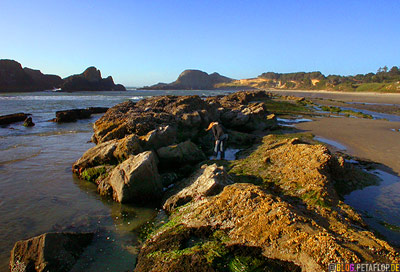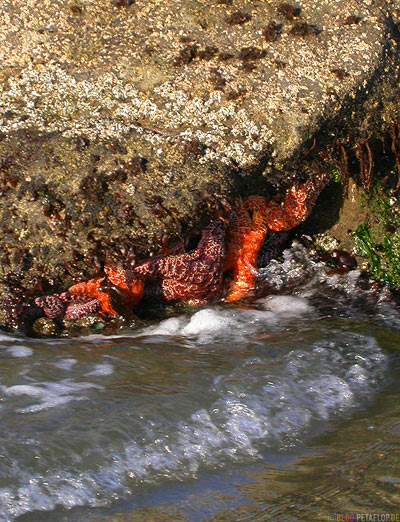 Fat meaty starfishes cling to a rock.
Fette, fleischige Seesterne haften unter den Felsen.
Every few hundred metres there are scenic vista points along the winding highway with beautiful views like this one.
Entlang des kurvenreichen Highways gibt es zahlreiche Haltepunkte mit Ausblicken wie diesem. Wir hätten alle paar Meter stehen bleiben und zum Wasser gehen können, so schön war es hier.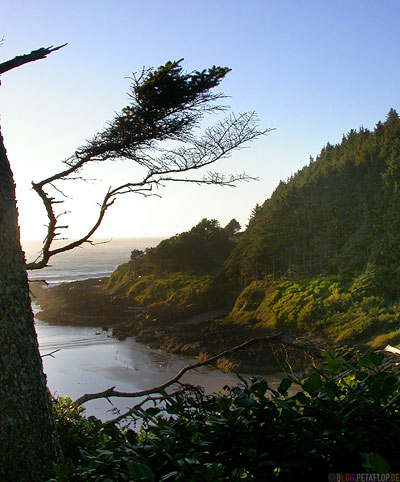 When we returned to our car a mother with her son tampered with our car. They wrote something in the body dust which is kind of a trophy from Alaska and Vancouver Island for us. We expected to read something like "swine" or "wash me" when arriving….
Als wir an dieser Stelle zum Parkplatz zurückkehrten sahen wir, wie sich jemand an unserem Wagen zu schaffen machte. Eine Mutter mit ihrem Sohn schrieb irgendwas in den Kraosseriestaub, den wir als eine Art Trophäe aus Alaska und Vancouver Island mitgebracht hatten. Wir dachten natürlich an etwas wie "Sau" oder "Wasch mich"…
… but nothing of the sort. People are friendly here.
… aber nichts dergleichen. Ja, so sind die Leute hier.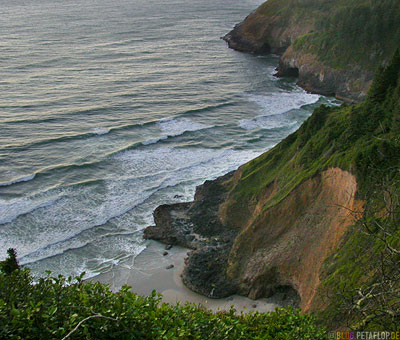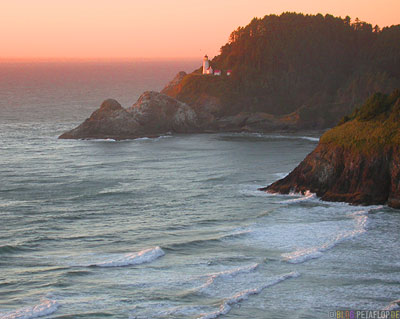 Some miles to the south: a lonesome lighthouse at Heceta Head Bay.
Ein paar Kilometer weiter südlich: einsamer Leuchtturm an der Heceta Head-Bucht.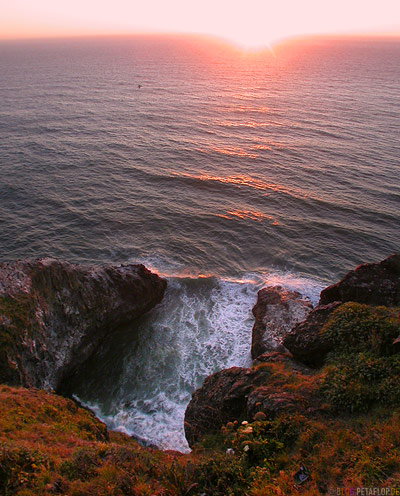 Devil's Churn Canyon / Devil's-Churn-Schlucht.
Grill with a roof of half car bodies in the pretty town of Florence, where we stayed this night.
Grill mit halbierten-Karossen-Dach in dem schönen Städtchen Florence, wo wir heute übernachteten.
Cross section of tonight's TV program. Joel Osteen's one hour meditation in a fully occupied sports arena. He explained how to turn away from negative people to have more time for successful people you can learn from. In other words: get rid of the losers, run after the stars.
Querschnitt durch das abendliche Fernseh-Programm: einstündige Andacht eines Fernseh-Predigers in einer vollbesetzten Sportarena. Joel Osteen erklärt, wie man sich von negativen Menschen trennt. Man solle sich mit erflogreicheren Leuten umgeben, um von diesen zu lernen und selber mehr Erfolg zu haben. Kurz: Loser abschiessen, sich an die Stars heften.
The next hour this guy was the pain in the neck. He constantly repeated his slogan "meal or no meal", to collect money for hungry US-children. He showed videos of sad looking normally nurtured kids and their really fat crying moms. It was so bizarre, we just couldn't switch off. All the time he calculated how many meals they could buy with our monthly donation and every second sentence was "Meal or no meal, you decide"; it was a bit like a brain wash. It was our running gag for the next days.
Die nächste Stunde nervte uns dieser Typ hier. Sein Motto war "Meal or no meal", also "Essen oder kein Essen". Er zeigte erst Filmchen von verwahrlosten, aber normal genährten US-Kindern mit ihren der Sache leider nicht sehr dienlichen unglaublich dicken Müttern, die angeblich nichts zu essen haben und jeden Abend hungrig ins Bett gehen. Er rechnete alle 5 Minuten vor, wie viele Mahlzeiten mit wie viel Geld bezahlt werden könnten und wiederholte ungefähr tausendmal den Satz "Meal or no meal". Eine Art Gehirnwäsche; der Satz geisterte noch Tage danach immer wieder in unseren Köpfen herum. Das Ganze war einfach so blöd, dass wir nicht abschalten konnten…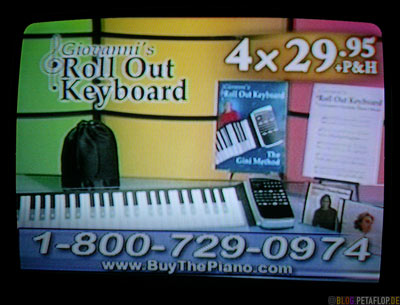 On the next channel sensational Giovanni tried to flog off his roll out keyboard. One another hour of great entertainment for us.
…zum Glück, denn sonst hätten wir Giovanni und sein aufrollbares Super-Keyboard verpasst. Auch diese Spitzen-Sendung dauerte ungefähr eine Stunde.
---
20,000 Miles Canada/USA: Travel Overview
---