Sunday, 26. August 2007, Washington and Oregon, USA.
From Centralia, Washington, our little journey took us 100 miles south-easterly to the active vulcano Mount St. Helens, Washington. This scenery of dead trees is a remains of the pyroclastic flow of the last large eruption in 1980.
Von Centralia, Washington, führte uns unsere kleine Reise 160 km südöstlich zum aktiven Vulkan Mount St. Helens, auch Washington. Weit entfernt vom Krater fährt man schon durch eine Landschaft toter Bäume, entstanden durch die Gasdruckwelle des letzten großen Ausbruchs 1980.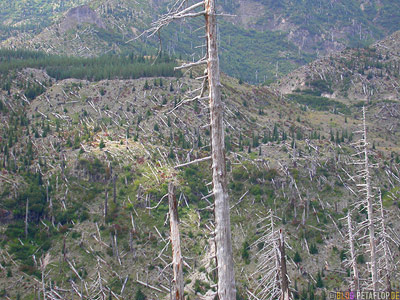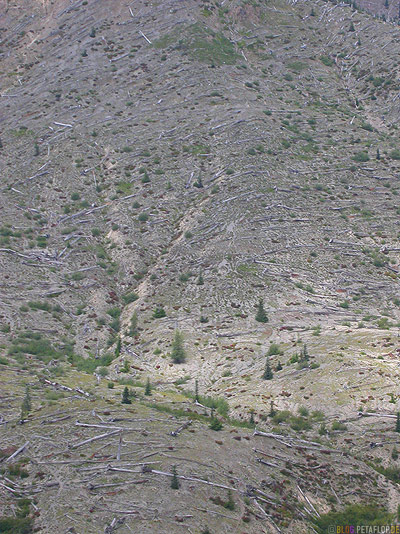 Video (1:20 min.): Driving to "Windy Ridge" in the east of Mt. St. Helens, the nearest viewpoint to the crater.
Video (1:20 Min.): Fahrt zum "Windy Ridge", dem dem Krater am nächsten gelegenen, östlichen Aussichtspunkt.
Millions of logs floating in Spirit Lake.
Millionen von Baumstämmen schwimmen im Spirit Lake.
Mount St. Helens in the clouds, view from above the visitor parking lot, north-easterly of the crater.
Die Spitze des Mount St. Helens in Wolken, Blick von überhalb des Besucherparkplatzes nordöstlich des Kraters.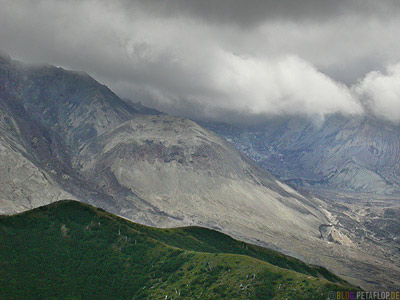 View into the crater… / Blick in den Krater…
… and to the right: a lava landscape.
… und auf die Lavalandschaft rechts davon.
The flat old school Hummer of Major Tom on a highway in Portland, Oregon, 114 miles to the south-west of Mount St. Helens.
Der flache Oldschool-Hummer von Major Tom auf einem Highway in Portland, Oregon, 180 km süd westlich vom Mount St. Helens.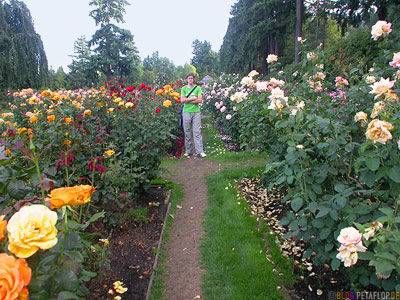 In the International Rose Test Garden, Portland. Every year new species are breeded and tested here
Im internationalen Rosen-Testgarten, Portland. Hier werden jedes Jahr neue Rosenarten gezüchtet und getestet.
Smelled so good here… / Es duftete ganz wunderbar…
… they have 7,000 rosebushes of 550 varieties here.
… kein Wunder bei 7.000 Rosenstöcken von 550 Rosenarten.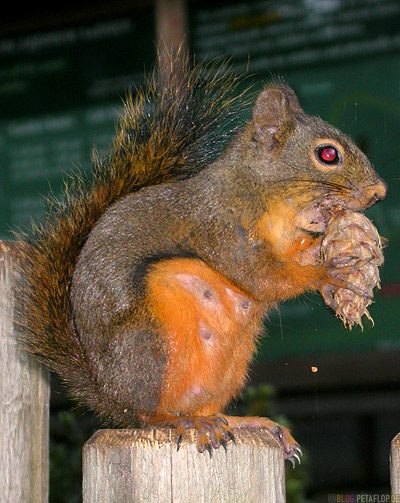 A fearless squirrel at the entrance of the Japanese Garden next to the Rose Garden.
Dieses Eichhörnchen am Eingang des japanischen Gartens neben dem Rosengarten zeigte sich trotz mehrfacher Blitzfotos unbeeindruckt.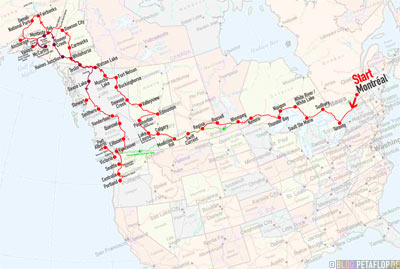 Click to open PDF / Klick öffnet PDF.
---
20,000 Miles Canada/USA: Travel Overview
---