Saturday, 25. August 2007, Washington, USA.
Leaving Ben and Angel. Hope to see you soon guys, it was very cool.
Der Abschied von Ben und Angel viel fiel schwer, wir hatten eine super Zeit.
30 minutes later on our way along Lake Washington we met Alexander from Russia on the backside of his house. He was born in Berlin.
Eine halbe Stunde später kamen wir bei der Suche nach Kurt Cobains Haus im Nobelviertel am Ufer des Lake Washington mit Alexander, einem im Berlin geborenen Russen, ins Gespräch.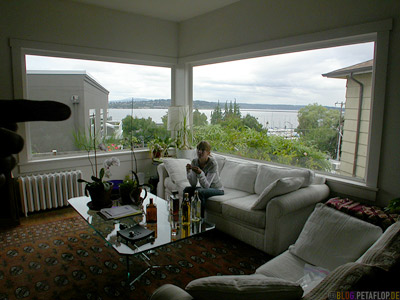 He spontaneously invited us to his lake view house…
Und wenige Minuten später fanden wir uns in seinem Wohnzimmer wieder…
… for a drink. Amaretto and delicious Krupnik honey schnaps from Poland for the men, Cointreau for the lady. Then he and his children served a delicious breakfast with fresh salmon fished down at the Snoqualmie Falls, we'd never expected that! We stayed for about one and a half hours and heard the most incredible life story starting in the post-war period in Germany, leading through all continents.
…in das er uns zu einem Drink überredete. Die Herren nahmen Amaretto und Krupnik, polnischen Honigschnaps; ich musste Cointreau trinken. Dann tischte Alexander uns ein fantastisches Frühstück mit frischem, selbstgefischten Lachs von den Snoqualmie Falls und eine irrwitzige Lebensgeschichte auf, die in der Nachkriegszeit in Deutschland begann und dann durch unzählige Länder und sämtliche Kontinente führte.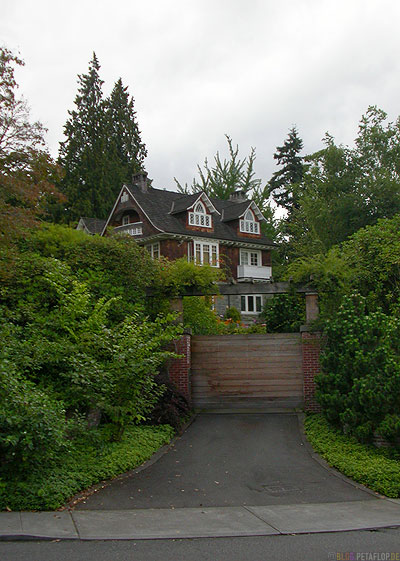 It's a quite expensive area here at Lake Washington. The very rich live here, for example the heads of Boeing and Cingular or Bill Gates on Mercer Island in the middle of the lake. This is the house where Kurt Cobain of Nirvana shot himself.
Die Gegend um den Lake Washington ist ganz offensichtlich das Nobelviertel von Seattle. Hier leben die wirklich Reichen, wie die Boeing Familie oder Bill Gates, der hier auf Mercer Island in der Mitte des Sees wohnt. Dies ist übrigens das Haus, in dem Kurt Cobain von Nirvana wohnte und sich selbst erschoss.
Remembrance of Kurt Cobain on a park bench in Viretta Park next to Cobain's house.
Der kleine Viretta Park neben dem Haus scheint Treffpunkt und Andachtstätte von Nirvana-Fans zu sein.
Bruce Lee's grave on Lakeview Cemetery in northern Seattle. Right beside his son Brandon. Jimi Hendrix is buried here somewhere, too.
Auf dem schönen Lakeview Friedhof in Seattle liegt Bruce Lee begraben. Gleich daneben: sein Sohn Brandon Lee. Irgendwo hier soll auch das Grab von Jimi Hendrix sein, doch der Friedhof ist so gross, dass wir keine Lust mehr hatten, auch noch danach zu suchen.
Hitchcock-like bird swarms near the Boeing airfield (see video below). Boeing's headquarter is located in southern Seattle.
In der Nähe des Boeing-Fields, dem Hauptsitz des Konzerns im Süden Seattles: plötzlich kamen von überall tausende Krähen (siehe auch Video unten).
Boeing airfield / Am Rande des Boeing-Fields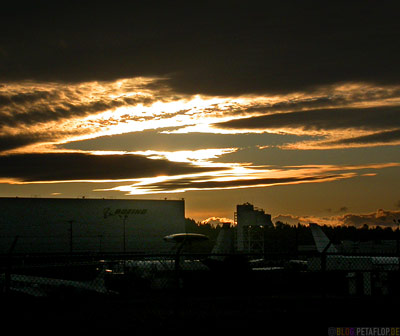 Sunset over Tacoma on our way to Centralia, where we stayed the night.
Abendhimmel über Tacoma auf dem Weg nach Centralia, wo wir übernachteten.
Video (1:47 min.): The Birds in Seattle and highway sunset.
Video (1:47 Min.): Alfred Hitchcocks "Die Vögel" in Seattle und Highway Abendlicht.
---
20,000 Miles Canada/USA: Travel Overview
---