Saturday, 04. August 2007, Alaska, USA.
We came along this dog show in Palmer. One Dollar entrance fee was a good investment.
Durch Zufall gerieten wir in diese Hundeshow in Palmer. Der Dollar Eintritt hat sich gelohnt!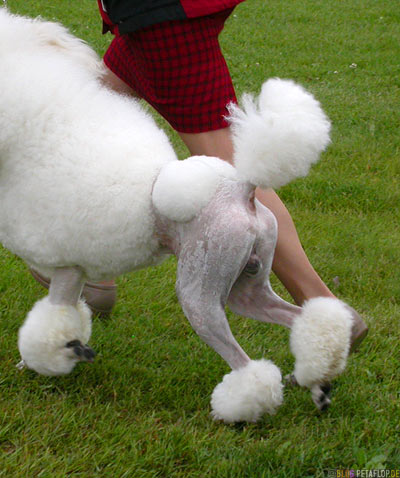 Disgusting! / Ekelhaft!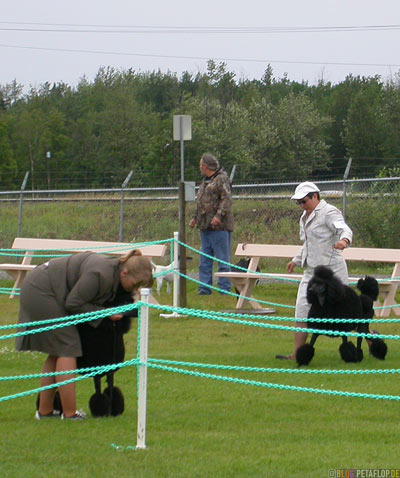 Poodles with toilet brush legs / Pudel mit Klobürstenbeinen
Some dogs had a hard job to compete against the inelegance of their owners.
Manche Hunde hatten es nicht leicht, gegen die Uneleganz ihrer Besitzer anzukämpfen.
Dog smoking to preserve the beautiful hair style in the rain. And even shoes!
Hundesmoking, damit die tolle Frisur nicht vollregnet. Und Schuhe!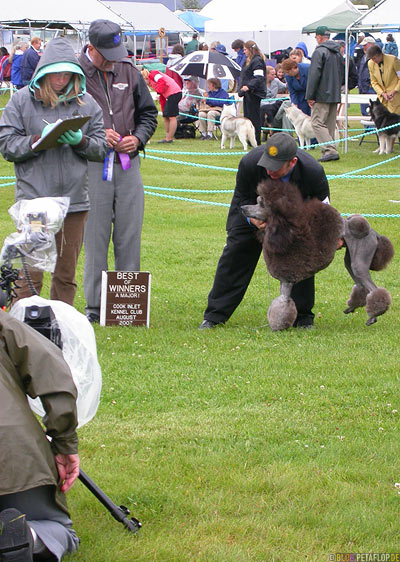 Bizarre winner posing for the local press
Groteskes Siegergepose für die Lokalpresse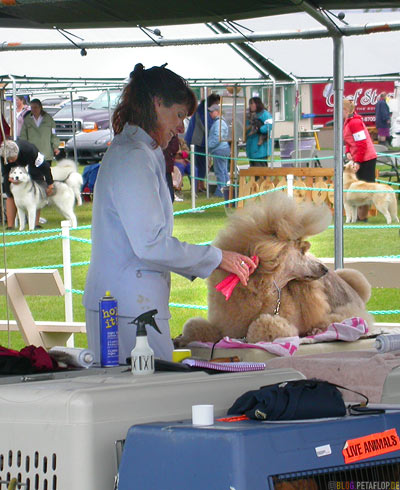 How happy she is, teasing her poodle's hair…
Wie glücklich sie ist beim Toupieren ihres Pudels…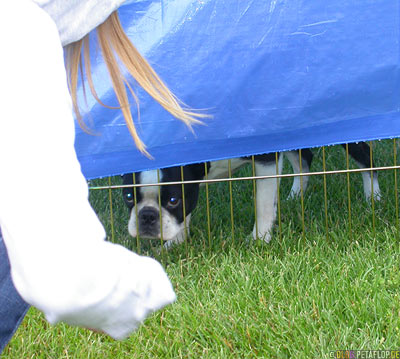 Did they forget him in his cage?
Ihn hat man wohl im Käfig vergessen.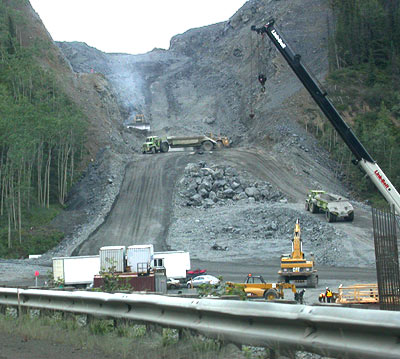 Blasting zone in the Matanuska mountain range. In Alaska and Yukon we had several delays because of such huge construction sites.
Spreng-Gebiet im Matanuska-Gebirge. In Alaska und im Yukon wurden wir öfter von solchen Großbaustellen aufgehalten.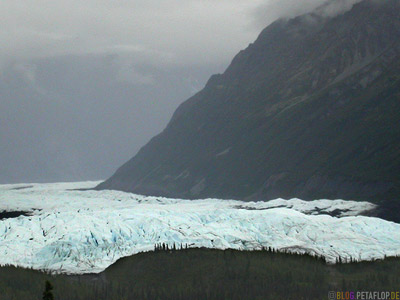 Matanuska Glacier / Matanuska-Gletscher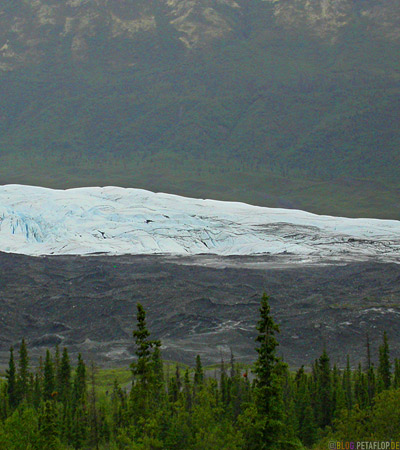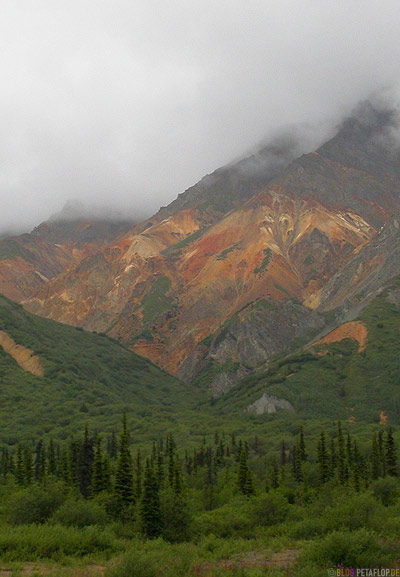 Part of the Matanuska mountain range / Im Matanuska-Gebirge
There are no concrete walls in the wilderness. People cannot use spray cans to leave a mark, they use stones instead.
Aufgrund der fehlenden Betonwände verewigt man sich hier nicht mit der Sprühdose, sondern mit Steinen.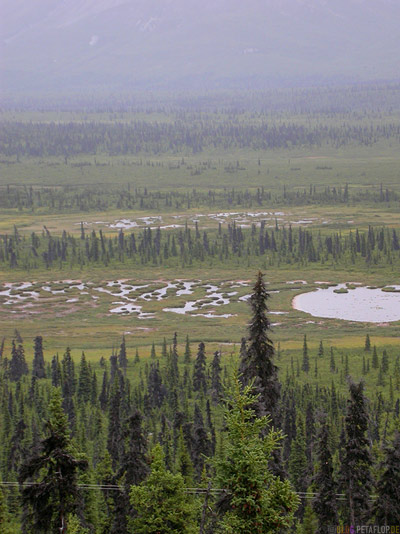 Lake scenery in the Matanuska valley
Seen-Landschaft im Matanuska-Tal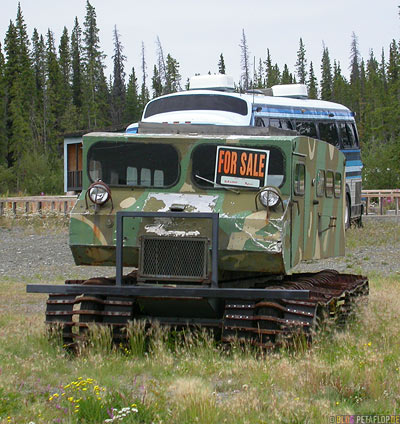 You see many old and odd vehicles besides the Alaskan highways.
In Alaska stehen überall am Straßenrand alte Vehikel zum Verkauf, auch so dolle wie das hier.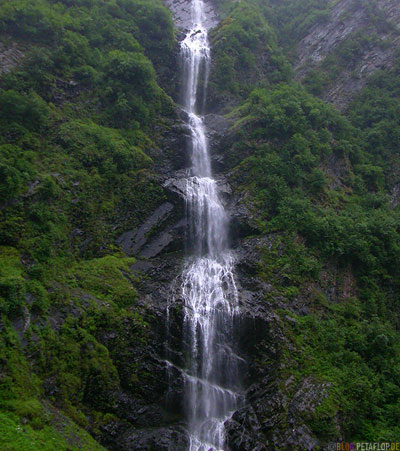 Bridal Veil Falls in Keytone Canyon, short before Valdez.
Brautschleier-Wasserfall im Keystone-Canyon, den man kurz vor Valdez durchquert.
Driving into Valdez through low hanging clouds
Einfahrt nach Valdez durch tiefhängende Wolken
The Flood-Lands of Valdez / "Flood-Lands", die Sümpfe von Valdez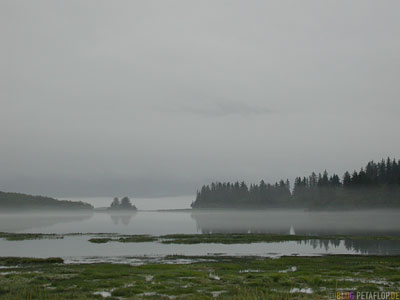 In a supermarket in Valdez. LEGO toast bricks from Kellogg's.
Und so etwas kann man hier im Supermarkt kaufen. Kellogg's LEGO-Toast-Steine.
Video (1:37 Min.): Usual towns on Glenn Highway: first "Chicaloon", second unknown. Driving to Valdez through low hanging clouds, we felt like entering King Kong's Island. Keystone Canyon with Bridal Veil Falls, getting close to Valdez.
Video (1:37 Min.): Käffer am Glenn Highway, zugemüllt wie überall in Alaska, das erste hieß "Chicaloon". Fahrt nach Valdez durch tiefhängende Wolken hinter denen wir King Kong vermuteten. Keystone Canyon mit den Brautschleierfällen, kurz vor Valdez.
---
20,000 Miles Canada/USA: Travel Overview
---