Friday, 03. August 2007, Alaska, USA.
In Raddy's Service Centre, our car renter told us to go here. Certainly they had Wi-Fi and the fat oily garage cat waited with us. The car's air condition was the problem and they exchanged the compressor.
In Raddy's Auto-Werkstatt, in die uns unser Autovermieter geschickt hat. Natürlich gab es auch dort W-LAN und die fette, ölverschmierte Werkstattkatze leistete uns Gesellschaft, während wir warteten. Die Klimaanlage war der Bösewicht und der Kompressor musste ausgetauscht werden.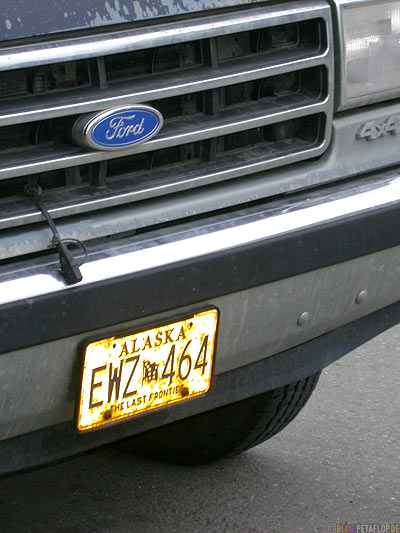 Car with cooler power cable. Most cars here have such a cable to heat the engine in winter. Otherwise it would freeze at degrees below -50°C. Many public parking lots provide sockets. Check out the licence plate subline. Every North American State has it's own slogan on the number plate. We were laughed at several times for our "New Jersey – The Garden State" and we've been filmed twice on the highway. Seems to be quite uncool.
Auto mit Kühlerkabel. So etwas hat fast jeder Wagen hier; im Winter wird darüber während des Parkens der Motor geheizt, damit er bei Temperaturen unter -50°C nicht einfriert. An vielen (öffentlichen) Parkplätzen gibt es Steckdosen für diese Kabel. Man beachte die Kennzeichenunterzeile. Jeder nordamerikanische Bundesstaat hat einen solchen Landesslogan auf dem Nummernschild. Wir wurden mit unserem "New Jersey – The Garden State" schon mehrfach ausgelacht und zweimal auf dem Highway gefilmt. Scheint ziemlich uncool zu sein.
When they worked on our car we took the bus back to downtown. On the backside of the bus schedule they had an illiterate-friendly version with photos of the destinations.
Während der Reparatur des Wagens waren wir auf öffentliche Verkehrsmittel angewiesen. Praktischerweise befand sich der Busbahnhof mit ähnlichem Stammklientel wie an deutschen Busbahnhöfen direkt gegenüber unseres Hotels. Hier gab es auf der Rückseite der normalen Fahrpläne noch solche für Analphabeten mit Fotos vom Zielort.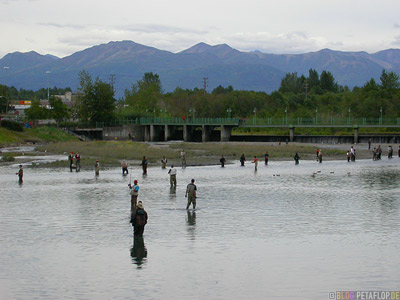 The Ship Creek in Central Anchorage. It is known for it's salmon wealth and every day hords of anglers try their luck.
Der "Ship Creek" mitten in Anchorage. Hier suchen täglich Horden von Anglern nach ihrem Abendessen. Der Fluss ist bekannt für seinen Lachsreichtum.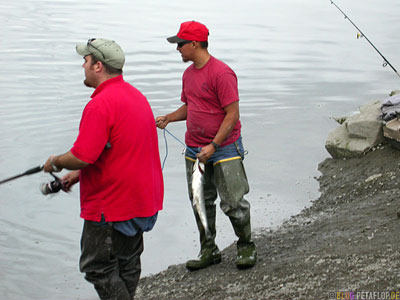 ---
20,000 Miles Canada/USA: Travel Overview
---