Thursday, 02. August 2007, Alaska, USA.
Mount McKinley view from our campground. We could see it yesterday and today which was great luck. Usually it's always clouded in summer.
Blick auf den Mount McKinley von unserem Zeltplatz aus. Wir hatten großes Glück, ihn gestern und heute sehen zu können, denn in dieser Jahreszeit ist er fast immer wolkenverhangen.
Morning coffee at 7°C after a very cold night.
Morgenkaffee bei 7°C nach einer durchfrorenen Nacht.

Strange plant besides our tent / Seltsame Pflanze neben unserem Zelt

Bear warning on our breakfast table / Bärenwarnung auf dem Frühstückstisch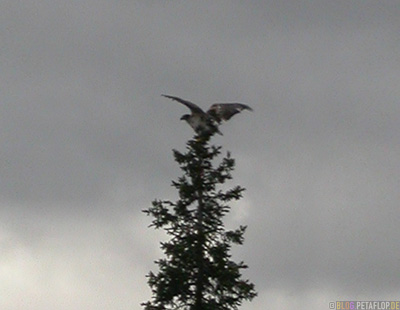 A young eagle tries to fly / Junger Adler bei ersten Flugversuchen

Fancy igloo motel / Originelle Motelform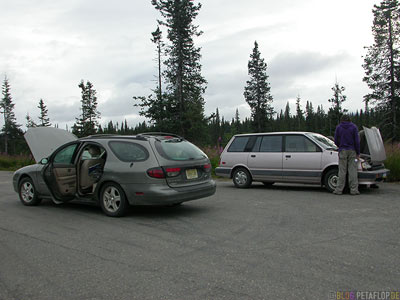 And then happened something we were afraid of to occure on rougher roads: car problems. First we thought the smell of burnt plastic came from outside. Then a control light on the dashboard indicated engine problems and when we stopped the smell came from our engine. 70 miles to the next town, 40 miles to the previous hicksville. We slowly drove on but the smell came back. We stopped again and met Tom in a rest stop. He broke down with his junk car he bought for 500 bucks a few hours ago and yet didn't try to stop another car to get help. He planned to think about what to do after fnishing the large pizza he was eating when we arrived. Together we decided to go 40 miles back to Cantwell in our car. Moving at 40 km/h (25 mph) on the shoulder we learned that Tom lives in a camper in Albuquerque. In Alaska he's searching for a piece of land to buy. He was hooked when he heard the Burning Man Festival in Nevada is on our route. He's got an own camp there with friends and they drive around in a pirate ship truck every year. He gave us lots of hints to survive Burning Man and we arranged to meet there. In Cantwell we wasted too much time to find a service station and didn't find one. After calling the car rental company several times it was clear: we had to drive slowly to a machanic in Anchorage, 360 km (225 miles) from here. Tom got his car running with oil he bought in Cantwell, but it sounded very bad. We hope he made some miles. We arrived in Anchorage after midnight.
Und dann passierte, womit wir eigentlich auf schlimmerer Strecke gerechnet hätten: der Wagen machte Probleme. Zuerst dachten wir noch, der Geruch von verschmorten Kabeln käme von außen, denn es stank, sobald wir bei der Fahrt das Fenster öffneten. Als dann aber noch die Kontrolllampe für den Motor aufblinkte und wir anhielten, merkten wir, dass der Gestank aus der Motorhaube kam. 70 Meilen zum nächsten Ort und 40 zum letzten Kaff. Zunächst fuhren wir langsam weiter, bis es wieder so schlimm stank, dass wir erneut anhielten. In der dortigen Haltebucht lernten wir Tom kennen, der mit seiner vor wenigen Stunden für 500 Dollar gekauften Schrottkarre ein ähnliches Problem wie wir hatte, aber in die entgegengesetzte Richtung wollte. Er hatte noch nicht versucht, jemanden anzuhalten, um Hilfe zu bekommen. Er wollte erstmal seine große Pizza essen. Wir besprachen die Lage und beschlossen, zusammen zum 40 Meilen entfernten Cantwell zurück zu fahren. Tom wollte dort Öl für seine Möhre kaufen und wir eine Werkstatt suchen. Die Fahrt bei 40 km/h auf dem Seitenstreifen wurde dann sehr lustig. Tom lebt eigentlich in einem Wohnwagen in Albuquerque, ist jetzt aber auf der Suche nach einem eigenen Stück Land in Alaska. Als wir erzählten, dass eines unserer Reiseziele auch das Burning-Man-Festival in Nevada sein wird, brach dass Eis. Er war sofort Feuer und Flamme und erzählte von seinem eigenen Camp dort und dem zum Piratenschiff umgebauten Truck, mit dem er und seine Kumpel jedes Jahr auf dem Gelände ihre Runden drehen. Er gab uns noch viele Tipps zum dortigen Überleben und wir verabredeten, uns dort wieder zu treffen. Nach ewigem, erfolglosem Rumgegurke und Telefonaten mit dem Autovermieter war klar: wir mussten mit dem Wagen nach Anchorage, um ihn dort reparieren zu lassen. Also fuhren wir die restlichen 360 km bis Anchorage ganz langsam und kamen deshalb erst nach Mitternacht an. Tom hat mit dem gekauften Öl seine Klapperkiste tatsächlich zum Laufen gebracht, wir hoffen, dass er damit noch ein paar Meilen geschafft hat, hörte sich nicht gut an.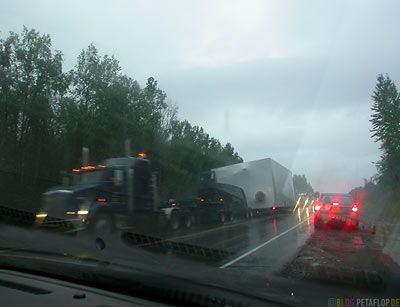 Truck with oversize load on the Highway / Schwertransport auf dem Highway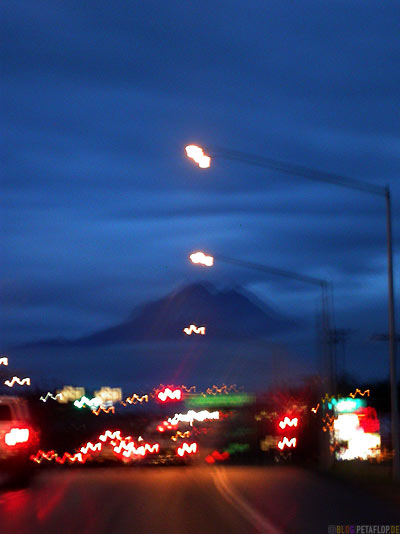 Driving into Anchorage with low hanging clouds. We felt like being in the movie "The Fog".
Einfahrt nach Anchorage zu später Stunde. Plötzlich zog von überall Nebel auf; erinnerte etwas an "The Fog".
Video (1:45 Min.): In Denali National Park: Mount McKinley from Savage River Campground and sled dog demonstration and so cute sled dog puppies!
Video (1:45 Min.): Im Denali-Nationalpark: Mount McKinley vom Savage River Campingplatz und Hundeschlittenvorführung und supersüße Huskybabys!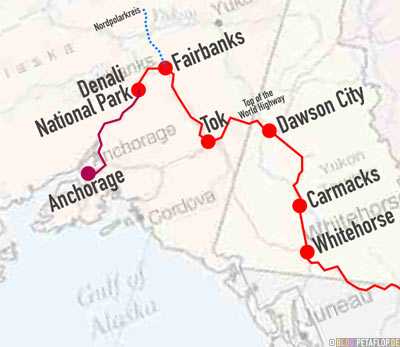 Click to open PDF / Klick öffnet PDF.
---
20,000 Miles Canada/USA: Travel Overview
---