Saturday, 21. July 2007, Alberta and British Columbia, Canada. Driven so far / bisher gefahren: 6746 km
In Valleyview our search for internet access led us to the library. Here we met Petra from Germany. She's the librarian here since three years. While blogging we had some interesting chats with her and learnt how it is to live here as a German dropout. Her husband is a beemaster and they run a little ranch. The have a llama as a pet. Llamas are held to herd droves and are more dangerous than dogs. They even can kill a coyote. Petra has her own blog in German language: >Gruß von P. aus C.
In Valleyview trieb uns die Suche nach Internet in die hiesige Bücherei. Hier trafen wir Petra, eine Deutsche aus dem Kölner Raum, die seit drei Jahren hier als Bibliothekarin arbeitet. Beim Bloggen führten wir mit ihr interessante Gespräche und erfuhren, wie es hier für deutsche Auswanderer ist. Ihr Mann ist Imker und sie betreiben eine kleine Ranch. Als Haustier haben sie ein Lama, welche man hier öfter auf Weiden sieht. Sie werden zum Hüten der Herden gehalten und sind gefährlicher als Hunde, können auch Coyoten töten. Petra hat auch ein Blog: >Gruß von P. aus C.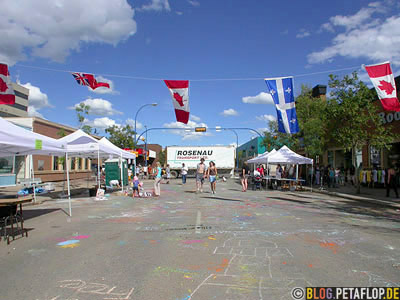 In the city of Grande Prairie we got into a large street festival.
In der Stadt Grande Prairie gerieten wir auf der Suche nach Nahrung in ein Strassenfest.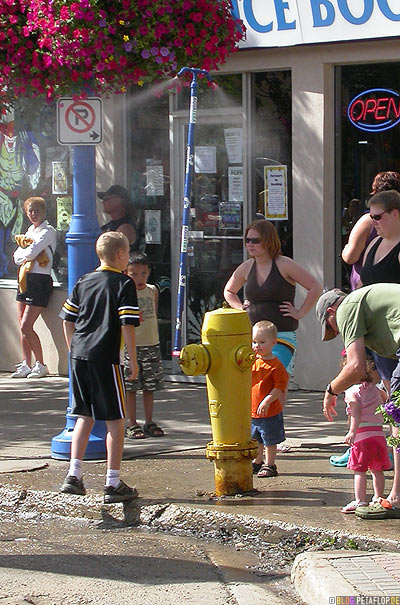 For refreshment at more than 30°C the hydrants spray water.
Zur Erfrischung bei über 30°C waren an vielen Hydranten solche Sprühnebelduschen installiert.
There were several very bad street artists, but the people were undemanding and thankful.
Es gab diverse unglaublich schlechte Kleinkunstdarbietungen, aber die Menschen waren anspruchslos und dankbar.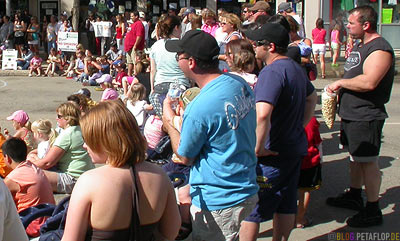 Highlight of the street festival: Freddy Mercury juggling – Video (0:50 min):
Highlight des Strassenfestes: Freddy Mercury als Jongleur – Video (0:50 min):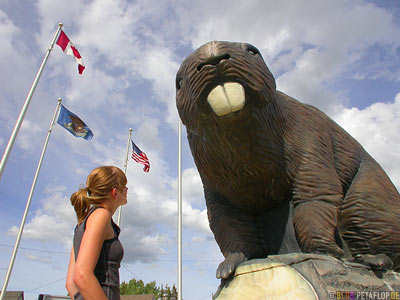 The little town of Beaverlodge hopes to catch tourists with this oversized beaver at the town's entrance.
Das Städtchen Beaverlodge hofft mit diesem kolossalen Biber am Ortseingang einige Touristen abzufangen.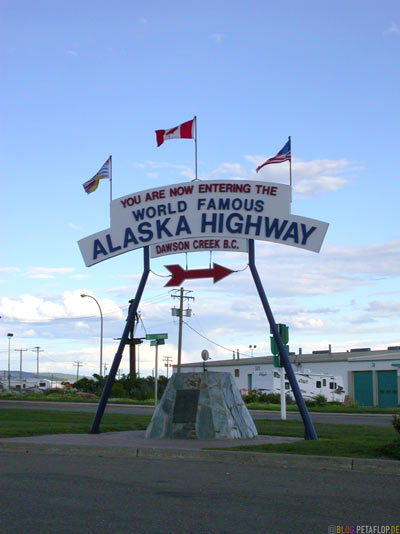 Start of the Alaska-Highway in Dawson Creek (Mile 0). We'll drive it till the end at mile 1422 (2288km).
Beginn des Alaska-Highways in Dawson Creek (Meile 0), den wir bis zum Ende bei Meile 1422 (2288 km) durchfahren werden.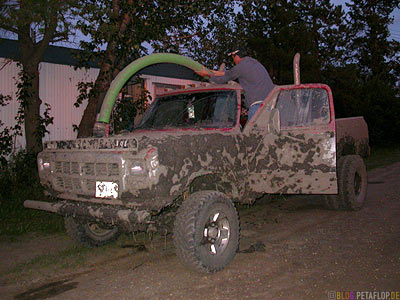 Our camp neighbours are mudracers. They proudly presented their mudracer and photos of their car pool on a cell phone. They came from a mudrace 400 km away, the mud has to be left on the car as a proof.
Unsere Camping-Nachbarn sind Mudracer und präsentierten stolz ihren Wagen. Uns wurden zudem noch diverse Handyfotos von noch größeren Big-Foots im heimischen Fuhrpark gezeigt. Sie kamen von einem 400 km entfernten Schlammrennen, der Schlamm muss als Trophäe für die Daheimgebliebenen dran bleiben. Extra für's Foto wurde der grüne Luftschlauch installiert, der Luft aus dem Wageninneren zum Motor führt, damit dieser keinen Schlamm abbekommt. Nebeneffekt ist ein ohrenbetäubender Krach in der Fahrerkabine.
Once again a phantastic sunset at our 'Northern Lights RV Park' campground (with Wi-Fi).
Mal wieder ein phantastischer Abendhimmel auf unserem 'Northern Lights RV Park' -Campingplatz (mal wieder mit W-LAN).
---
20,000 Miles Canada/USA: Travel Overview
---