Sunday, 22. July 2007, British Columbia, Canada.
Since yesterday in Dawson Creek we reached the Canadian province British Columbia. Along the Alaska Highway the scenery get's rougher and it's getting colder. Gas stations and traffic become rare.
Seit gestern, seit Dawson Creek, sind wir in der kanadischen Provinz British Columbia. Entlang des Alaska Highways wird es zunehmend wilder und kälter. Tankstellen und Verkehr werden rarer.
Under the 1978 Kiskatinaw River Bridge, Mile 19.9 of the Alaska-Highway.
Unter der Kiskatinaw River Bridge von 1978, Meile 19,9 des Alaska-Highway.
Peace River Valley, Alaska-Highway Mile 31.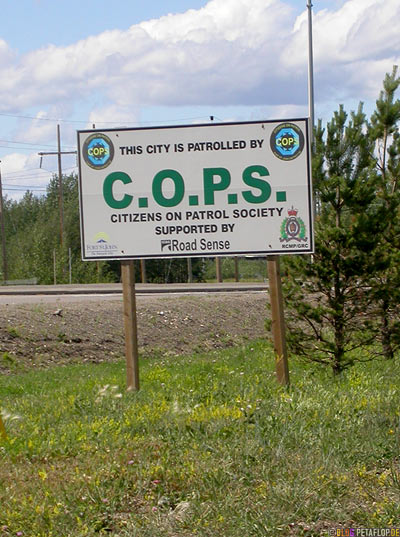 Citizens On Patrol Society. In many remote regions of Canada they have vigilante groups. In British Columbia they call themselves C.O.P.S.
Citizens On Patrol Society. Solche Bürgerwehren gibt es in vielen entlegenen Teilen Kanadas. In British Columbia nennen sie sich C.O.P.S.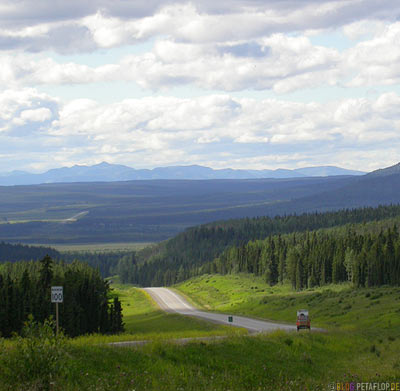 To the right we see an old VW van with Swiss number plates. It chugged at 40 km/h with us along the Alaska-Highway, keeping up just because we stopped over so often.
Rechts im Bild sehen wir einen alten VW-Bus mit schweizer Kennzeichen. Er tuckerte mit 40 km/h mit uns über den Alaska-Highway und konnte nur mithalten, weil wir so oft Halt machten.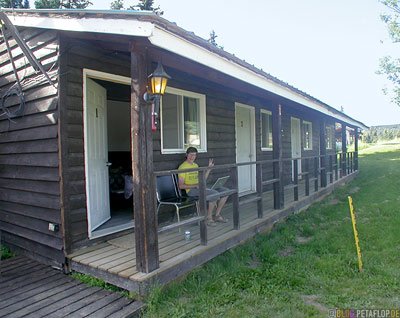 On the veranda of our lodge in Buckinghorse (Alaska-Highway Mile 175) where two rest areas with gas station and motel compete on both sides of the Alaska-Highway. We stayed at the prettier side, in return the other side had an often used helicopter landing site. In the middle of nowhere, but the strongest Wi-Fi signal of our whole journey. This part of the highway is the time zone border at the same time and since we spent the night on the western side of the road, we're already in the PDT zone (Pacific Daylight Time).
Auf der Veranda unserer heutigen Bleibe, einer Lodge in Buckinghorse (Alaska-Highway Meile 175), das aus zwei konkurrierenden Tankstellen,- Motel-, Rastplatzhälften auf jeweils einer Seite des Alaska-Highway besteht. Wir waren auf der schöneren Seite, dafür hatten die anderen einen oft angeflogenen Hubschrauberlandeplatz. Totale Pampa, bester W-LAN-Empfang der gesamten Reise. Hier durchläuft die Zeitgrenze den Highway und da wir auf der Westseite übernachteten, waren wir schon in der PDT-Zeitzone (Pacific Daylight Time, Deutschland -9h).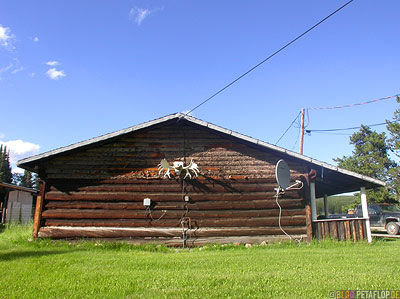 Moose antlers hang on many houses, often with remains of head fur.
An vielen Häusern hängen Elchgeweihe, oft noch mit Kopffell.
---
20,000 Miles Canada/USA: Travel Overview
---