Friday, 6. July 2007, Ontario, Canada.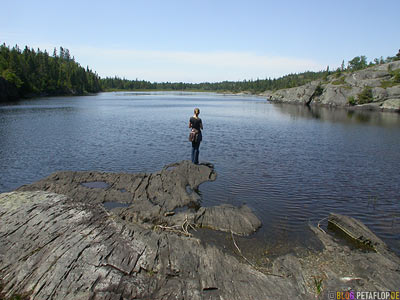 Pukaskwa National Park…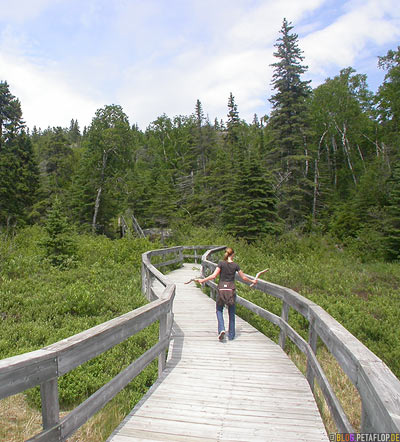 At the park entrance they told us to beware of the bears. Making noise would be the best way to keep them away. So we hiked around a lake like maniacs, clapping our hands and hitting two sticks. Luckily there were no other visitors, that could have seen us.
Am Parkeingang sagte man uns, wir sollten uns vor Bären in Acht nehmen. Lärm machen sei die beste Methode, nicht plötzlich auf einen Bären zu treffen. Also liefen wir wie zwei Irre durch den Wald und klatschten und schlugen mit Stöcken gegen alles, was Krach macht. Glücklicherweise waren wir scheinbar die einzigen Besucher auf unserem Wanderpfad um einen See. Und so haben sich höchstens die Bären über uns amüsiert.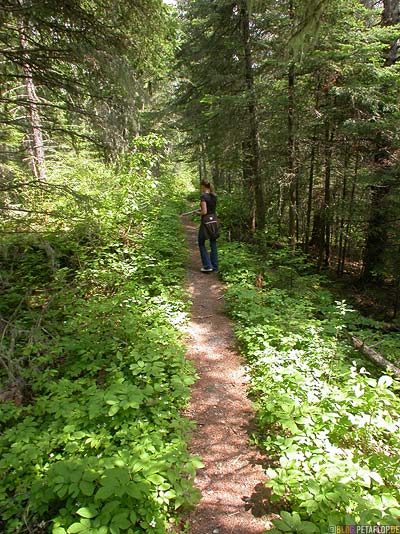 Driving through clouds rising from Lake Superior near Marathon.
Nach dem Nationalpark gings weiter über Marathon Richtung Nipigon. Unterwegs zogen plötzlich tiefe Wolken vom Lake Superior herauf über den Trans-Canada-Highway.
Falls between Terrace Bay and Schreiber.
Wasserfall zwischen Terrace Bay und Schreiber.
Old discarded cars at Gerlach's Service Centre, Nipigon. These are very rare to see on the streets here. After yesterdays horror we took a motel in Nipigon. The spacious mosquito-free motel room was like seventh heaven.
Alte ausrangierte Amischlitten bei Gerlachs Auto-Werkstatt in Nipigon. Sowas fährt hier kaum noch jemand. In Nipigon nahmen wir uns nach der letzten Horrornacht ein Motel. Das geräumige, moskitofreie Motelzimmer war wie der siebte Himmel.
---
20,000 Miles Canada/USA: Travel Overview
---