Thursday, 5. July 2007, Ontario, Canada.
Lake Superior, one of its many bays on todays route.
Lake Superior, eine von vielen Buchten entlang der heutigen Strecke.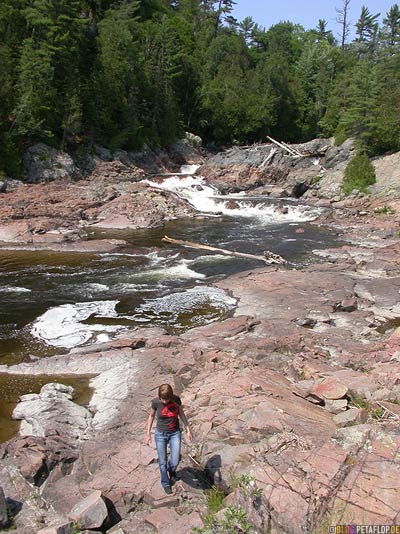 Chippewa River Rapids near Wawa. Every few kilometres on the Trans-Canada Highway there are such beautiful places. If we'd stop everywhere we wouldn't get anywhere.
Chippewa-River-Stromschnellen bei Wawa. Alle paar Kilometer finden sich solch wunderschöne Orte entlang des Trans-Canada-Highway. Würden wir überall aussteigen, kämen wir kaum voran.
Abandoned Motel on Trans-Canada-Highway near Wawa. When getting off the car we first noticed the dead silence. Nothing to hear, not even a bird. Just a rushing truck every few minutes. Many doors stood open, the furnishing was still there.
Verlassenes Motel am Trans-Canada-Highway bei Wawa. Schon beim Aussteigen fiel uns die absolute Stille auf. Man hörte nichts, nicht mal einen Vogel. Nur alle paar Minuten raste ein Truck vorbei. Fast alle Türen standen offen, die gesamte Einrichtung war noch vorhanden.
In one of the back rooms the wind slammed the door and it was dark. Luckily the axe murderer failed to appear.
In einem der hinteren Räume warf der Wind die Tür hinter uns zu und wir standen im Dunkeln. Der Axtmörder blieb glücklicherweise aus.
Behind the motel… / Hinter dem Motel…
Unfortunately we didn't find any dead bodies.
Eine Leiche haben wir leider auch nicht gefunden.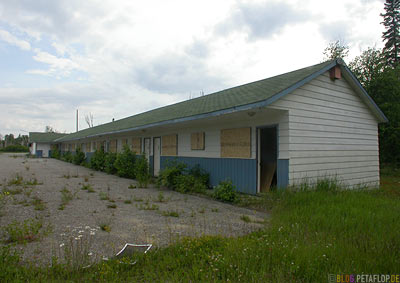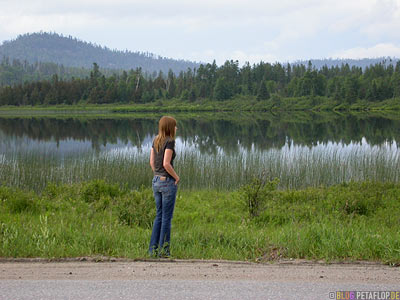 In White River on Trans-Canada Highway.
In White River am Trans-Canada-Highway.
White River is the hometown of Winnie the Pooh. In 1914 a Canadian Army Veterinarian purchased a black bear cub here. He named her Winnie after his hometown Winnipeg and left her in the care of the London Zoo. There she entertained visitors for more than 20 years. In 1919 the author A. A. Milne saw her there and created the character Winnie the Pooh in 1926 with illustrator Ernest H. Shepard.
White River ist die Heimatstadt von Winnie the Pooh. 1914 kaufte ein kanadischer Armeeveterinär hier ein Schwarzbärjunges. Er nannte es Winnie nach seiner Heimatstadt Winnipeg und überliess es dem Londoner Zoo. Sie war der Publikumsliebling und lebte dort über 20 Jahre. 1919 sah auch Autor A. A. Milne Winnie und schuf 1926 mit Illustrator Ernest H. Shepard die Figur Winnie the Pooh.
The White Lake Lodge north of White River. We camped here.
Die White Lake Lodge nördlich von White River ist eine von einem verschrobenen, aber sympathischen alten Indianer mit kurzen grauen Haaren geführte Tante-Emma-Tankstelle inklusive Beer-Store und Campingplatz. Der Laden ist groß und vollgestopft, hier kann man fast alles kaufen: Mit gelbem Wasser gebrühten Kaffee (schmeckt ganz ok), grün angelaufene Tiefkühlbratwürste, uralte Computerbücher: iBook Tipps und Tricks (erste 1999er Kloschüsselbaureihe) oder Windows 98 for Dummies. "Ten Bucks", Zehn Tacken kostet der Campingplatz, umgerechnet sieben Euro. Selbst die staatlichen Schrottplätze in Südfrankreich sind wesentlich teurer.
White River, behind the White Lake Lodge Campground.
White River, hinter dem White-Lake-Lodge-Campingplatz.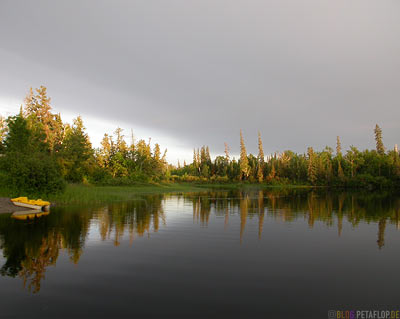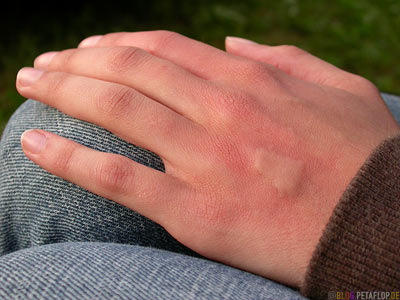 What you get from camping near water…
Die Nähe zum Wasser hat auch Nachteile…
In this area you often see signs like "campers beware of bears". That's why we tried to sleep in the car. It was a nightmare. Thanks to the shitty treehugger mosquito spray we were bitten all over by mosquitoes in minutes. The air mattress that came with our rented camping equipment was too huge for the cramped inside of the Ford Taurus, the Volvo 760 GLE offers way more space. When we had sealed one window with a mosquito net there were already around 100 blood suckers inside. Soon the sound of the slowly deflating matress joined in the buzzing of the mosquitoes outside. Germany battled an urge all night long, she didn't want to get off the car because of the bears. The next day the car was a battlefield. Dozens of swatted mosquitoes and small blood spots on all walls and ceiling that we have to clean up before returning the hired car.
Da in dieser Gegend überall Schilder hängen, die Camper vor Bären warnen, versuchten wir im Auto zu schlafen. Es war ein Albtraum. Dank des beschissenen Öko-Mücken-Sprays waren wir in kürzester Zeit übelst zerstochen. Die in der mitgemieteten Campingausrüstung enthaltene Luftmatratze war viel zu breit und hoch für den engen Ford Taurus Kombi, der Volvo 760 GLE bietet weit mehr Platz. Als wir ein Fenster halbwegs mit Moskitonetz verklebt hatten, waren bereits ca. 100 Viecher im Auto. Die, die es nicht geschafft hatten, summten die ganze Nacht vorm Fenster und stimmten ein mit dem leisen Pfeifen der sich langsam entleerenden Luftmatratze. Germany musste die ganze Nacht auf Toilette, traute sich der Bären wegen aber nicht. Am nächsten Tag glich der Wageninnenraum einem Schlachtfeld. Dutzende Kadaver totgeschlagener Moskitos und damit einhergehende kleine Blutflecken an allen Wänden, die wir vor Rückgabe des Wagens noch irgendwie entfernen dürfen.
---
20,000 Miles Canada/USA: Travel Overview
---