Wednesday, 4. July 2007, Ontario, Canada.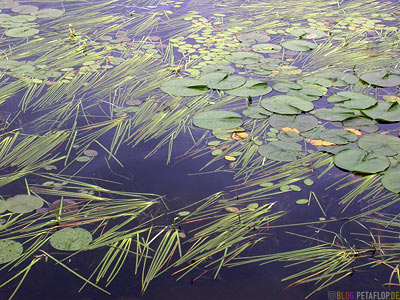 Water lilies / Seerosenformation / Blind River, Ontario, Canada.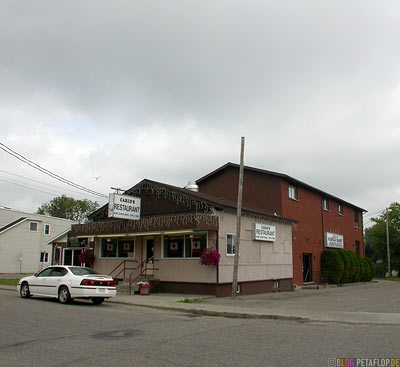 Don't go to Carlo's Restaurant in Blind River.
Um Carlo's Restaurant in Blind River sollte man einen großen Bogen machen.
It was awful.
Haben lange nichts Schlechteres gegessen als dieses faulige Roast-Beef-Sandwich, den trockenen Gammelburger, die ranzigen, undefinierbar stinkenden Pommes und die Pepsi-Cola mit Chlor-Eiswürfeln. Letztere bekommt man leider oft, Getränke bestellt man besser ohne Eis.
Along the road there are lots of rotten settlers houses.
Überall am Wegesrand sieht man solche verrotteten Siedlerhäuser.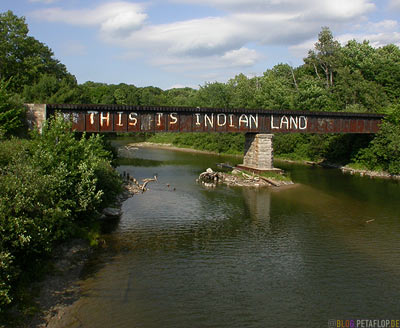 This is Indian land – Bridge over Garden River near Echo Bay, former Iroquois land.
"Das ist Indianerland" – Brücke über den Garden River bei Echo Bay, ehemaliges Irokesen-Gebiet.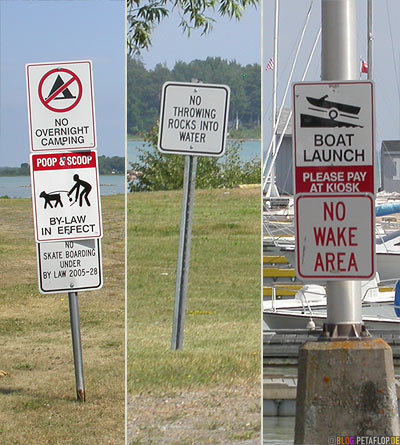 Prohibition Signs / Verbotsschilder / Marina pier, Bruce Mines.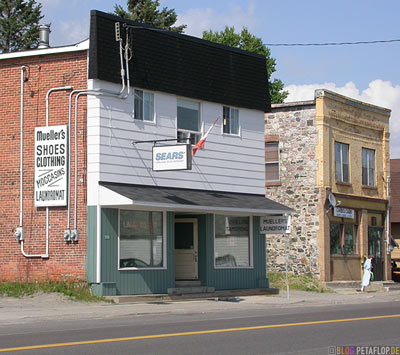 Sears Shop, Bruce Mines. Where villagers order everything, they can't buy in their village. Nearly every hicktown has one.
In jedem noch so murkeligen Kaff, auch wenn es so wie hier in Bruce Mines nur aus fünf Häusern besteht, gibt es einen Sears-Shop, in dem die Eingeborenen Bestellungen wie in deutschen Quelle-Filialen aufgeben können.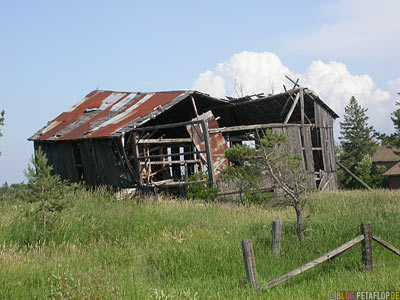 Rotting barn as often seen along the Trans-Canada Highway.
Eine von vielen verrottenden Scheunen am Trans-Canada Highway.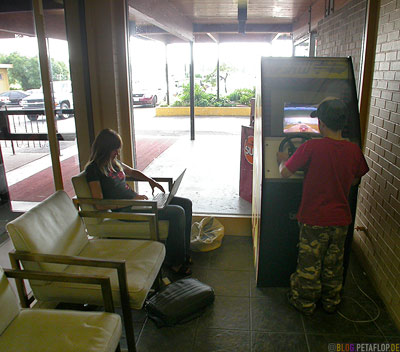 Unfortunately we have no Wi-Fi in our hotel room at Knights Inn in Sault Saint Marie. That's why we have to blog from the tiny lobby.
Leider haben wir im Knights Inn in Sault Saint Marie kein W-Lan auf dem Hotelzimmer. Deshalb müssen wir in der Mini-Lobby bloggen.
---
20,000 Miles Canada/USA: Travel Overview
---