Monday, 2. July 2007, Toronto, Ontario, Canada.
Dunn Avenue at King Street West. After shooting his old house in a typical Canadian side road we were suspected on spying on bombing possibilities by some moron with North American terror paranoia. After recognizing us as tourists he tried to make the best of a bad job, welcomed us in Canada and wished a pleasant Canada Day while shaking our hands.
Dunn Avenue Ecke King Street West. Nach diesem Versuch, ein altes Haus in einer typisch kanadischen Seitenstrasse aufzunehmen, wurden wir von einem Vollirren mit nordamerikanischer Terrorparanoia verdächtigt, sein Haus für's Bombenlegen ausspioniert zu haben. Nach Klärung der Situation versuchte er zu retten, was zu retten war, hieß uns herzlich in Kanada willkommen und wünschte uns händeschüttelnd noch einen schönen Canada Day.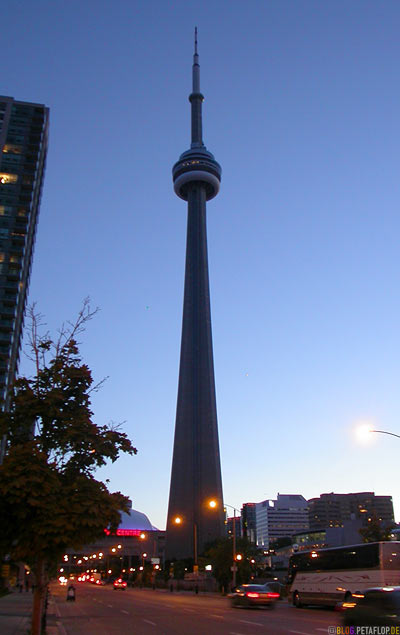 CN Tower, Toronto. The world's tallest freestanding building (553m).
CN-Tower, Toronto. Mit 553m das höchste freistehende Gebäude der Welt.
View from CN Tower / Blick vom CN-Tower
Downtown Toronto
Roy Thomson Hall, concert hall / Konzerthalle
CN Tower Glass floor / Glasboden im CN-Tower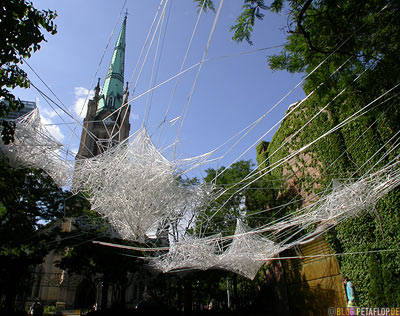 Art installation by Pole Ludwika Ogorzelec from Paris: "Mist" from the Space Crystallization Cycle.
Kunstinstallation der in Paris lebenden Polin Ludwika Ogorzelec: "Mist" (Dunst) aus dem Zyklus Space Crystallization.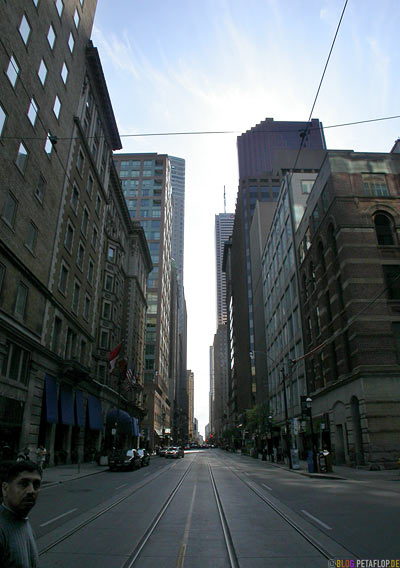 Downtown Toronto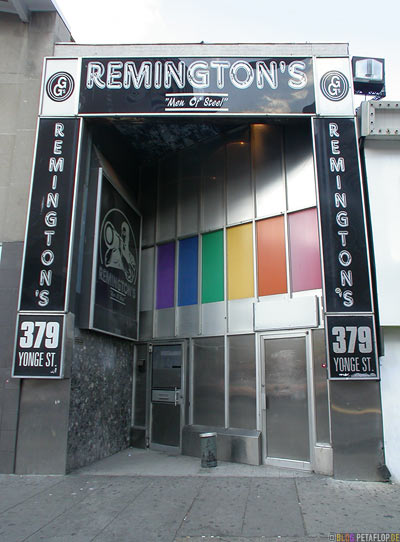 Remington's – Men of Steel, 379 Yonge Street.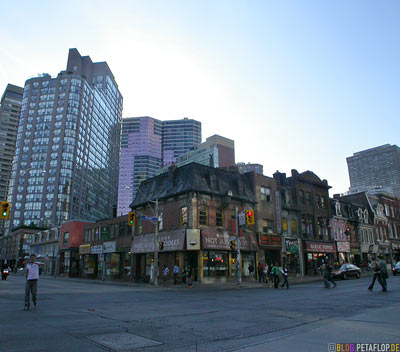 Yonge Street vis-à-vis.
—
Shopping for beer and other alcohol is very expensive in Ontario and you have to find a beer shop or a liquor store at daytime. Bars close at 2 a.m. and we don't see the fun of it. We were straying through the city driven by our German beer thirst, completing the day with a nip at the hotel room was our plan. Then we met a nice gay Polish baker who lived in Berlin for 15 years and now she tries her luck in Canada. She gave us tips on alcohol in Ontario and handling black bears and grizzlies. Finally we got our beer at our hotel's breakfast Thai bar for comparatively low priced 4$ per 0,33L "Canadian". Overall we felt more comfortable in Montréal than in Toronto, which has an astounding number of lunatics. In general the Canadians are very friendly and helpful. Take a look at a city map and someone comes up to you to help: "Are you lost?"
Bier und sonstige Alkoholika kann man in Ontario nur im Beer Shop oder im Liquor Store kaufen und es ist sehr teuer. Zudem machen die leider früh zu und so irrten wir lange durch die Stadt mit unserem deutschen Bierdurst, wollten wir doch noch auf dem Hotelzimmer einen süppeln. Wie halten das die Ontarianer nur aus? Die Kneipen machen auch um 2 Uhr zu. Als wir uns durchfragten, kamen wir mit einer netten, polnischen, lesbischen Bäckerin ins Gespräch, die 15 Jahre in Berlin lebte und seit sechs Monaten ihr Glück in Kanada versucht. Von Ihr wurden wir über die ontariologischen Alkoholgepflogenheiten aufgeklärt und bekamen hilfreiche Tipps zum Umgang mit Schwarz- und Grizzlybären. Unser Bier kauften wir dann bei unserem Frühstücks-Thai in unserem Hotel für vergleichsweise günstige 4$ je 0,33L "Canadian". Insgesamt fanden wir Montréal angenehmer als Toronto, wo es erstaunlich viele Wahnsinnige gibt, die nicht gerade für Entspannung sorgen. Die Kanadier sind allgemein sehr freundlich und hilfsbereit. Kaum faltet man einen Stadtplan auf kommt schon jemand und bietet seine Hilfe an: "Are you lost?" (Haben Sie sich verlaufen?).
---
20,000 Miles Canada/USA: Travel Overview
---