Sunday, 1. July 2007.
Breakfast at Days Inn, 14 Roncesvalles Ave, Toronto. The Hotel is poor, the breakfast in the hotel's Thai Bar is opulent.
Frühstück im Days Inn, 14 Roncesvalles Ave, Toronto. Auch wenn das Hotel sonst nichts zu bieten hat, ist das Frühstück in der im Hotel befindlichen Thai-Bar mehr als üppig.
Perhaps it wasn't a good idea to visit Niagara Falls on Canada Day. After 150 km traffic jam and stop and go, the city Niagara on the Falls had much more to offer than just the Niagara Falls and it was a very nice day…
Vielleicht war es keine gute Idee am Canada Day zu den Niagarafällen zu fahren. Nach 150 km Stau und Stop-and-Go überraschte uns die Stadt Niagara on the Falls, die weit mehr zu bieten als nur die Niagara Fälle und es wurde ein sehr schöner Tag.

The Niagara Falls, where the Niagara River connecting Lake Erie and Lake Ontario falls 50 metres, consists of three waterfalls… the river divides Canada from the USA.
Die Niagarafälle, bei denen der Niagara River zwischen Erie-See und Ontario-See rund 50 Meter in die Tiefe fällt, bestehen aus drei Wasserfällen… der Fluss trennt Kanada von den USA.
The rather unknown Bridal Veil Falls on U.S. American side. You get yellow raincoats there.
Die eher unbekannten Bridal Veil Falls (Brautschleierfälle) auf amerikanischer Seite. Dort trägt man gelbe Regenjacken.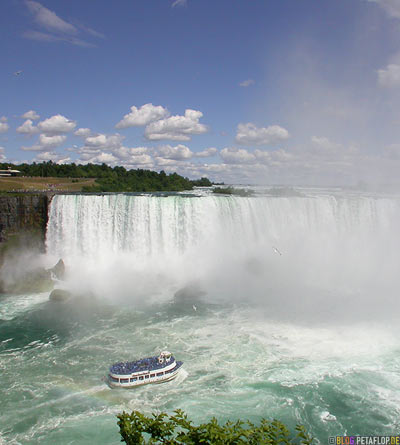 The largest: Horseshoe Falls, the border runs through it.
Der größte: Horseshoe Falls, durch den die Landesgrenze verläuft.
American Falls on U.S. American side.
Die American Falls auf amerikanischer Seite.
The Maid of the Mist boat trip goes riskily close to the Horseshoe Falls.
Die Maid of the Mist-Bootstour von kanadischer Seite führt bedenklich nah an die Horseshoe Falls heran.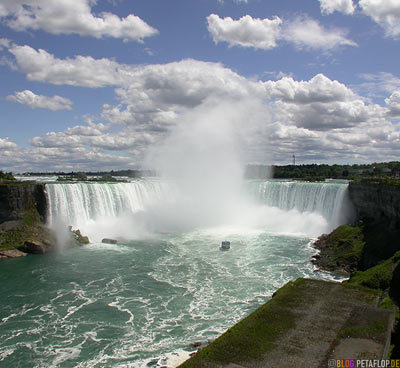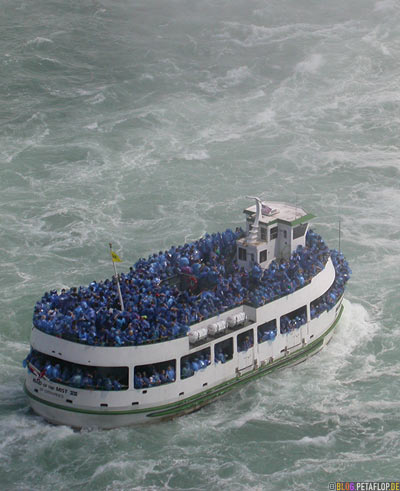 They wear blue here on the Canadian side. / Hier auf kanadischer Seite trägt man blau.
Back in Toronto. Backyard in our quarter Parkdale, Queens Street West.
Zurück in Toronto. Hinterhof in unserem Viertel Parkdale, Queens Street West.
In the front of a cheese wagon. / Vorne beim Schulbusfahrer.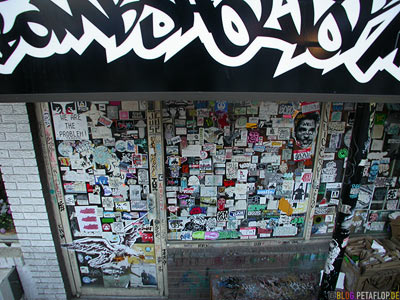 Bombshelter, Graffiti- and Street Art Shop, Spandida Avenue.
Downtown
---
20,000 Miles Canada/USA: Travel Overview
---