Lufthansa flight from Düsseldorf to Munich, 1:10h flight time. Bottom left: me. Others unknown.
Lufthansa-Flug Düsseldorf nach München, 1:10h Flugzeit. Links unten ich, den Rest kenne ich nicht.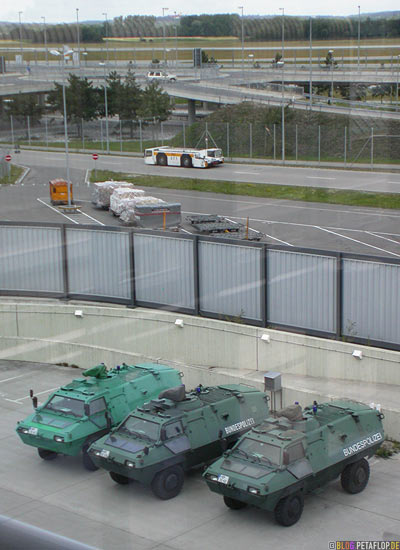 Water Cannons at Munich Airport / Bundespolizei-Wasserwerfer oder Amphibienpanzer oder was auch immer am Münchner Flughafen.
Munich > Montréal, 8:20h Flight Time / München > Montréal, 8:20h Flugzeit. Das Lufthansa-Bodenpersonal zeigte sich unflexibel und war außer Stande für uns trotz frühem Einchecken zwei Sitzplätze nebeneinander zu finden. Glücklicherweise waren die adretten Gay-Stewarts an Bord höchst professionell und schmierten einem frankophilen Single-Asiaten soviel Honig um den Mund, dass dieser seine Versetzung gar nicht ablehnen konnte.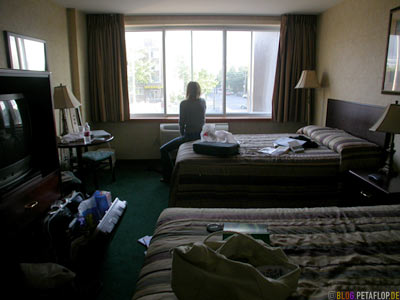 Hotel Room Best Quality Midtown, 6445 Boulevard Decarie, Montréal, Quebec, Canada. The Hotel is operated by Jews and they're swarming in and around the place.
Hotelzimmer Best Quality Midtown, 6445 Boulevard Decarie, Montréal, Quebec, Kanada. Das Hotel wird von Juden betrieben und in und um das Hotel scheint es nur so von ihnen zu wimmeln.
This is my Ethernet cable in the blue "Ultra Highspeed Internet" socket. Luckily I brought it with me, I expected wireless access.
Mein Ethernetkabel steckt in der blauen Buchse die das "Ultra Highspeed Internet" aus der Hotelwerbung darstellt. Zum Glück habe ich das Kabel mitgenommen, ich rechnete mit W-LAN.
A walk to the big a bit manky supermarket with mainly kosher food shows more Montréal Jewry on every corner.
Ein Gang zum großen schmörigen Supermarkt ein paar Blocks weiter, der größtenteils mit koscheren Lebensmitteln gefüllt ist, zeigt an jeder Ecke noch mehr Montréaler Judentum.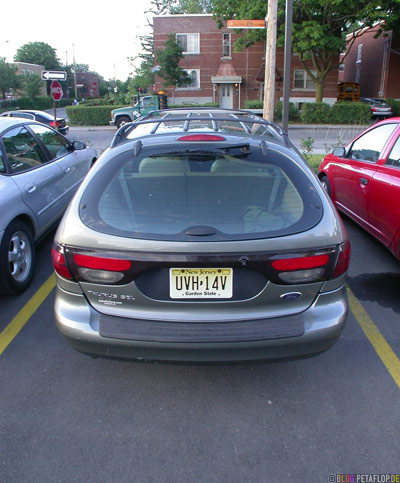 In this rented Ford Taurus station wagon we will move in the next four month. Driving feels quite good.
Dieser gemietete Ford Taurus Kombi ist für die kommenden vier Monate unser fahrbarer Untersatz. Fährt sich ganz gut.
---
20,000 Miles Canada/USA: Travel Overview
---