Thursday, 19. July 2007, Edmonton, Alberta, Canada.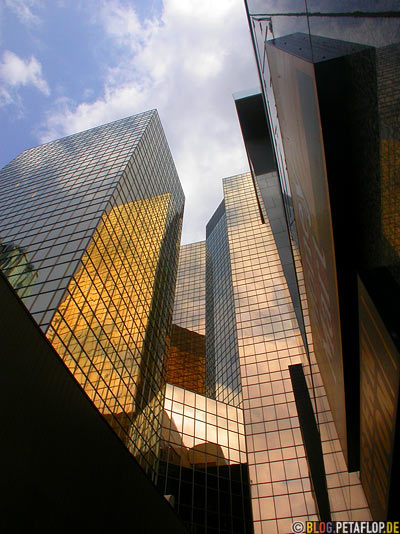 Downtown Edmonton. Edmonton is the capital of Canadian province Alberta. With 730,000 residents it's for one month the last really large city on our route.
Edmonton-Downtown. Edmonton ist die Hauptstadt der kanadischen Provinz Alberta und mit 730.000 Einwohnern für einen Monat die letzte wirklich große Stadt auf unserer Route.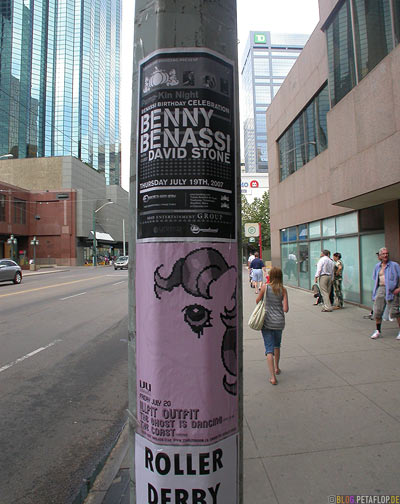 Party poster
Church in a former cinema. They didn't change much, just the movie title.
Kirche in einem ehemaligen Kino. Viel umgebaut haben sie nicht. Nur den Filmtitel ausgetauscht.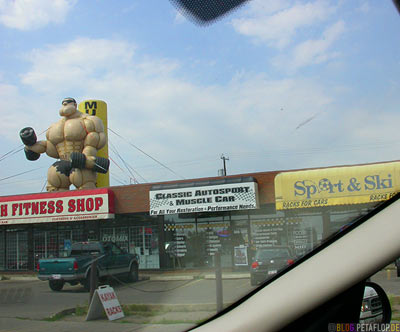 Promotion for a / Werbung für ein / Bodybuilding Studio.
In the afternoon we went to the West Edmonton Mall, the largest Mall in the world with 500,000 square metres sales floor. It was built by a Armenian Persian family clan. Besides over 600 shops there are way more absorbing things to discover like this indoor rollercoaster, part of an indoor amusement park called Galaxyland. All following photos were taken inside the mall.
Nachmittags waren wir in der West-Edmonton-Mall, der mit 500.000 qm Verkaufsfläche größten Mall der Welt. Erbaut wurde sie von einem armenisch-persischen Familienklan. Interessanter als die über 600 Geschäfte fanden wir allerdings das wahnwitzige Drumherum wie z.B. diese Achterbahn im Galaxyland, einem Hallenvergnügungspark. Der Park wie auch alles nachfolgende befindet sich in der Mall.
A Railroad goes through whole Galaxyland.
Eisenbahnlinie durch das gesamte Galaxyland.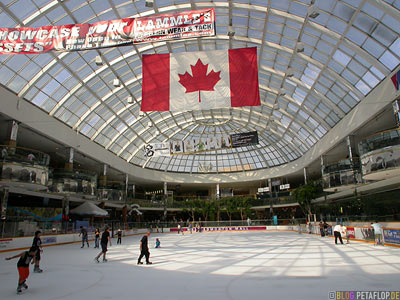 Centre of the mall: an icerink.
Mittelpunkt der Mall: eine Schlittschuhbahn.
Flamingos from a breeding farm in a 30 sqaure metre glass cage.
Flamingos aus einer Aufzuchtstation in einer 30-qm-Glasvitrine, mitten in der Mall.
Also in the mall: the world's largest indoor swimming pool…
Auch in der Mall: das weltgrösste Hallenbad…
… with the largest wave pool. / …und gleichzeitig das größte Wellenbad.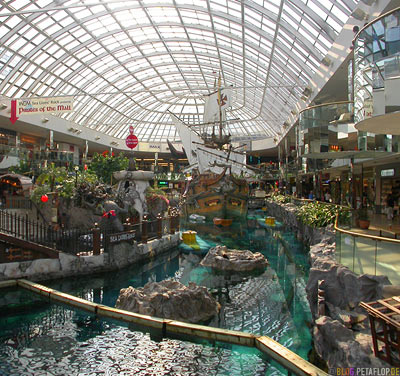 Pirate lagoon on a side arm of the mall.
Piratenlagune in einem Seitenarm der Mall.
You can rent this pirate ship for your party.
Das Piratenschiff kann man auch für Partys mieten.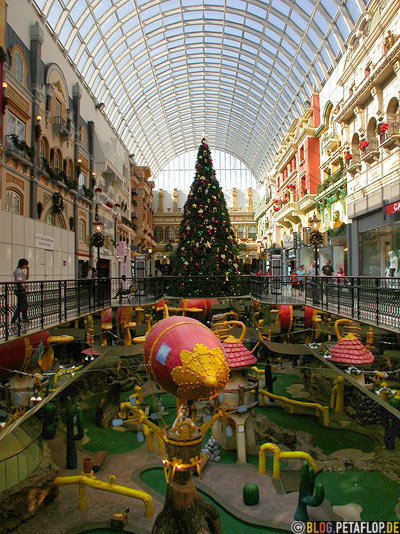 Top: European Boulevard with christmas decoration. Bottom: minigolf rubber playground.
Oben: European Boulevard mit Weihnachtsdeko. Unten: Minigolf-Gummispielplatz.
---
20,000 Miles Canada/USA: Travel Overview
---