Tuesday, 23. October 2007, Vermont, USA and Québec, Canada
The last part from Boston to Montréal (500 km / 310 mi) seemed to us as short as driving home from Cologne to Düsseldorf (40 km / 25 mi). Perfect parting weather, it rained in torrents all day. It was one of about three rainy days in four month.
Das letzte Stück von Boston zurück nach Montréal (500 km) kam uns vor wie mal eben von Köln nach Düsseldorf (40 km) nach Hause zu fahren. Perfektes Abschiedswetter, den ganzen Tag regnete es in Strömen. Es war einer von ungefähr drei Regentagen in vier Monaten.
At the U.S. border crossing, near the Canadian Philipsburg resp. St. Armand in Quebec
Am US-Grenzübergang, nahe dem kanadischen Philipsburg bzw. St. Armand in Quebec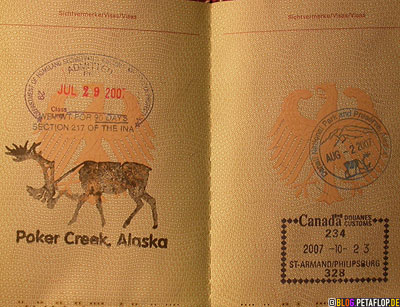 Again we elaborately had to explain to the friendly border official why and where Germans are driving a car with a U.S. license plate. She checked our passports and when she saw the moose stamp of Poker Creek, a far away Alaskan U.S. border control point, she "had to show it to her colleages" and moved away to the back for two minutes while a long line of cars was waiting behind us. They had never seen this stamp before here on the East Coast. We started our journey in Canada to enter the U.S.A. not until the second month of travel. Otherwise we would have had to go to Berlin to the U.S. embassy before to get visas for a stay longer than 90 days. Today we left the United States with a stamp 87 days old. Later at the Canadian border control they didn't want to search our Ford as always. We passed several cars being turned inside out. Our fully packed filthy station wagon seemed daunting.
Der freundlichen Grenzerin mussten wir wieder breit erklären, wieso und wo wir als Deutsche einen Wagen mit US-Nummernschild fahren. Als Sie in unseren Pässen den Elch-Stempel des entlegenen alaskanischen Grenzpostens Poker Creek sah, musste sie, trotz langer Auto-Warteschlange hinter uns, zwei Minuten "nach hinten, um das ihren Kollegen zu zeigen". Hatten sie hier noch nie gesehen, an der Ostküste. Die Reise fingen wir in Kanada an um erst nach einem Monat nach Alaska und damit in die USA einzureisen. So sparten wir uns die Beschaffung von zusätzlichen Visa in Berlin, die man für Aufenthalte von mehr als 90 Tagen braucht. Heute verliessen wir die USA mit einem 87 Tage alten Stempel. Später an der kanadischen Grenzstation wurden wir wie immer durchgewunken und fuhren an mehreren Wagen vorbei, die gerade gefilzt wurden. Der vollgepackte, versiffte Kombi wirkte wohl auch hier abschreckend.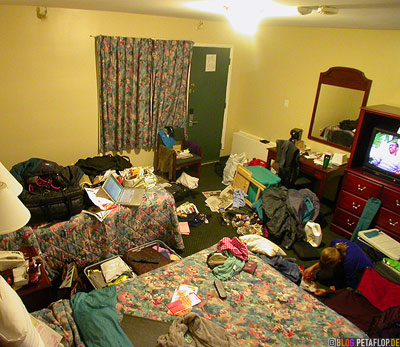 Trying to sort and clear out in our last motel room, Econolodge Montréal. The day after tomorrow we're flying back to Düsseldorf.
Totales Chaos beim Sortieren und Ausmisten in unserem letzten Motel, Econolodge Montréal. Übermorgen geht's zurück nach Düsseldorf.
Final map of our covered travel route, click to open PDF
Finale Landkarte der gefahrenen Reiseroute, Klick öffnet PDF
---
20,000 Miles Canada/USA: Travel Overview
---