Thursday, 23. August 2007, Washington, USA.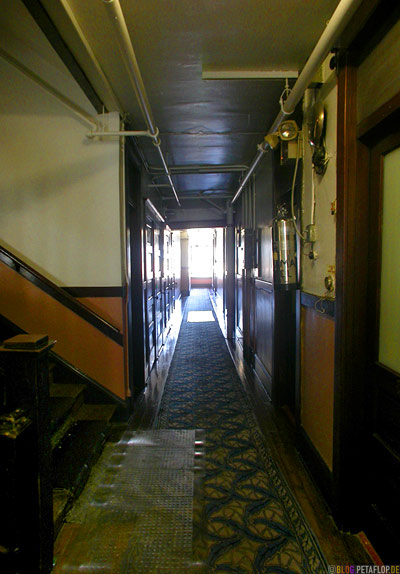 Hallway of the Panama Hotel, Seattle Downtown. A Japanese built it in 1910 as a guest house and today it provides the only intact Japanese bath house of the USA. After it's closure in 1950 the whole furnishing was left behind. Meanwhile it's a hotel again and the timeworn interior including the sanitary arrangements are still in use. They have an award-winning teahouse on the ground floor.
Flur im Panama Hotel, Downtown Seattle. Das Gebäude wurde 1910 von einem Japaner als Gästehaus erbaut und beherbergt das einzige noch intakte japanische Badehaus der USA. Nachdem es 1950 geschlossen wurde, verblieb die komplette Einrichtung bis heute im Haus. Mittlerweile ist dies wieder ein Hotel und die alte, abgenutzte Ausstattung an Möbeln und sanitären Anlagen noch immer in Gebrauch. Im Erdgeschoss befindet sich ein mehrfach ausgezeichnetes Teehaus.
Many steep stairs, no lift.
Jede Menge steiler Treppen, kein Aufzug.
Oldfashioned automat of the parking lot next to the hotel. Non-automatic, non-electric. You just throw money in the slit of your site number. A human being must be controlling this regulary, at least we had a ticket later. We didn't understand the graduation of fees. Parking is very expensive in Seattle.
Altmodischer Parkgebührenautomat neben dem Hotel. Das Parken war nicht im Hotelpreis inbegriffen und ist unglaublich teuer in Seattle. In die kleinen Kästchen mit den Nummern des Parkplatzes muss man sein Geld stecken. Keine Elektrik, keine Mechanik. Ein Mensch kontrolliert anscheinend regelmäßig, zumindest hatten wir später ein Knöllchen am Auto. Wir hatten wohl die Gebührenstaffelung falsch verstanden.
Downtown Seattle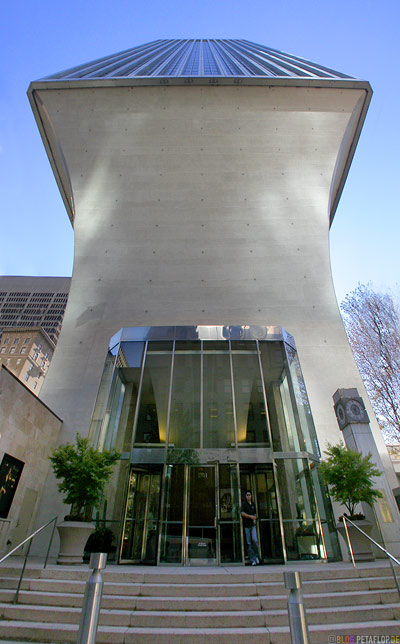 Rainier Tower from below, a skyscraper and a landmark of Seattle.
Blick von unten auf den Rainier-Tower, ein Wolkenkratzer und Wahrzeichen Seattles.
Pike Place Market…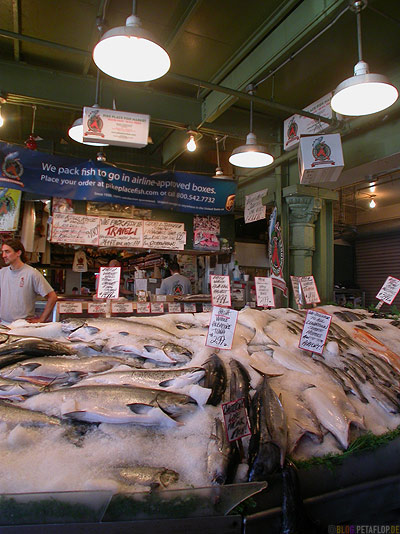 … a tourist magnet with hundreds of market stands, small shops and a lot of fresh fish.
… ein Touristenmagnet mit hunderten Marktständen und kleinen Läden, viel Tourikram und sehr viel frischem Fisch.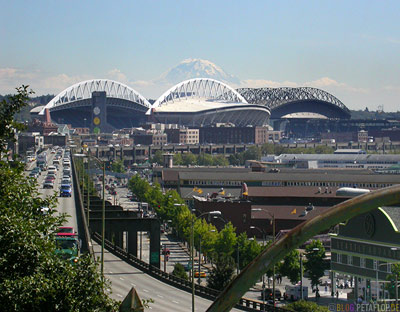 Seahawks Stadium and Safeco Field. Seattle is somehow like Germany's Hamburg. A lot of good music is produced here and normally it always rains. We were lucky with sunshine and a great view of Mount Rainier in the background.
Seahawks Stadium und Safeco Field, im Hintergrund der Mount Rainier. Seattle ist vergleichbar mit Hamburg: ständig Regen und Wiege guter Musik. Wir hatten Glück mit dem Wetter und deshalb einen hervorragenden Blick auf den Mount Rainier.

Sand dog competition in Downtown Seattle.
Sandhundebau-Wettbewerb in Downtown Seattle.
Of course we liked the poodle most.
Wir fanden natürlich den Pudel am besten.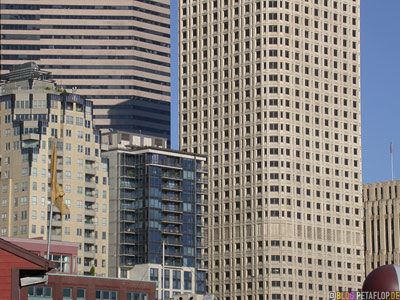 Mount Rainier from Highway 5 to southern Seattle. We had the great luck to stay with Ben and Angel here for the next two days. Our friend David learned to know them on a trip to Israel.
Mount Rainier, gesehen vom Highway 5 von Downtown Richtung Süd-Seattle. Hier hatten wir das große Glück, die restlichen zwei Tage Seattle bei Ben und Angel zu wohnen, die unser Freund David auf einer Israelreise kennengelernt hatte.
Video (0:56 Min.): Sparkling Barbecue in Ben's and Angel's yard.
Video (0:56 Min.): Funkensprühende Grillaktion im Garten von Ben und Angel.
---
20,000 Miles Canada/USA: Travel Overview
---