Wednesday, 22. August 2007, Washington, USA.
Today we went to the USA again. We had to wait two hours at the border between Vancouver and Seattle and were already afraid of our car being searched intensely. The unfriendly border guard looked a bit distrustful and irritated when we willingly provided information about our travel plans and why we're driving a car with US number plate. Then he waved us through and we passed many cars that had to stop for being searched while their drivers had to wait aside. Perhaps we didn't have to go through that because of the chaos in our station wagon.
Heute ging's wieder in die USA. Zwei Stunden mussten wir am Grenzübergang zwischen Vancouver und Seattle warten und befürchteten schon eine längere Autodurchsuchung. Der unfreundliche Grenzer guckte misstrauisch bis genervt, als wir bereitwillig unsere Reisepläne offenbarten und unser US-Kennzeichen erklärten. Dann winkte er uns durch, vorbei an vielen Autos, die durchsucht wurden und deren Insassen sich derweil weit weg von ihren Wagen aufhalten mussten. Vielleicht blieb uns das dank des unübersichtlichen Chaos in unserem Kombi erspart.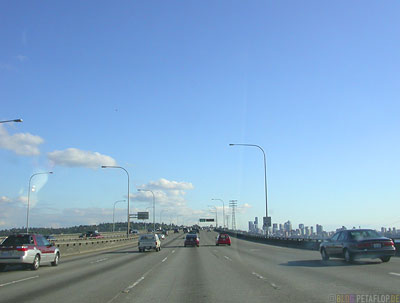 Driving into Seattle. The many highway lanes and much more traffic on US-American ground were quite a change for us.
Einfahrt nach Seattle. Die mehrspurigen Highways und der viel dichtere Verkehr auf US-amerikanischer Seite waren eine ganz schöne Umstellung.
Seattle Space Center. The Guggenheim-Bilbao-like building to the right is the Science Fiction Museum with an entering skytrain. The tower in the background is the Space Needle from the 1962 World's Fair.
Seattle Space Center. Das, was rechts aussieht wie das Bilbaoer Guggenheim ist das Science Fiction Museum mit einfahrender Magnetschwebebahn. Im Hintergrund die "Weltraumnadel", die zur Weltausstellung 1962 errichtet wurde.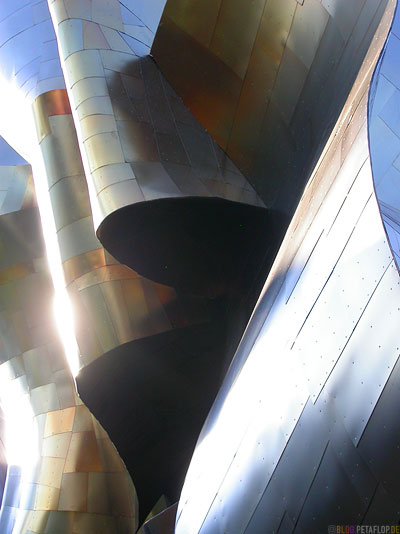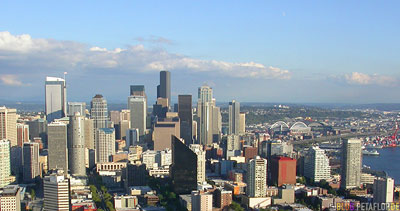 View from the observation desk of the Space Needle
Blick von der Aussichtsplattform der Space Needle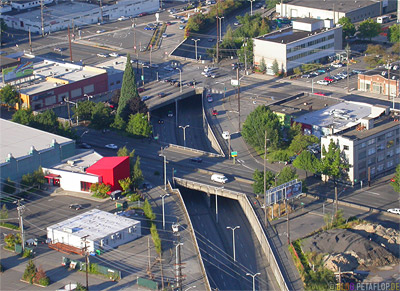 In the gift shop at the tower's ground floor. They had a huge collection of extraterrestrial sunglasses here.
Im Souvenirshop im Fuss des Turms. Hier gab es eine große Auswahl extraterrestrischer Sonnenbrillen.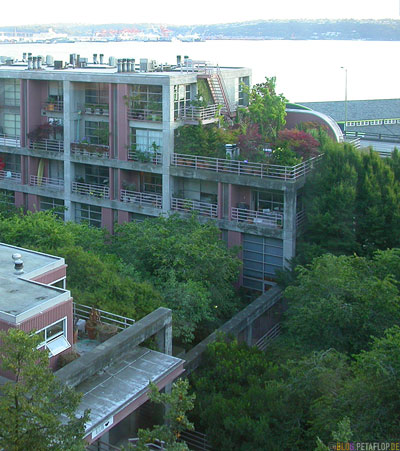 Leafy apartments in downtown at the waterfront
Begrüntes Apartmenthaus in Downtown an der "Waterfront"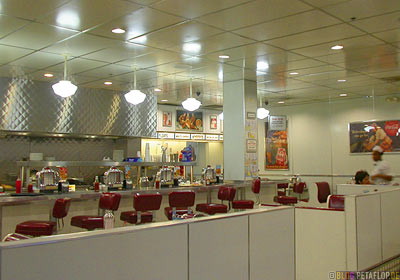 Johnny Rocket's Burgers, Pike Street. Authentic fifties interior.
Johnny Rocket's Burgers, Pike Street. Fünfziger-Jahre-Interieur durch und durch.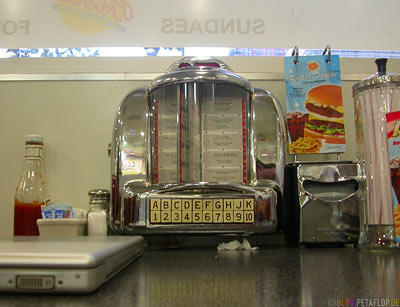 On every table they had such tiny jukeboxes. For five Cents you could change the restaurant's music.
Auf jedem Tisch stand eine Mini-Jukebox, mit der man für fünf Cent die Musik des Restaurants bestimmen konnte.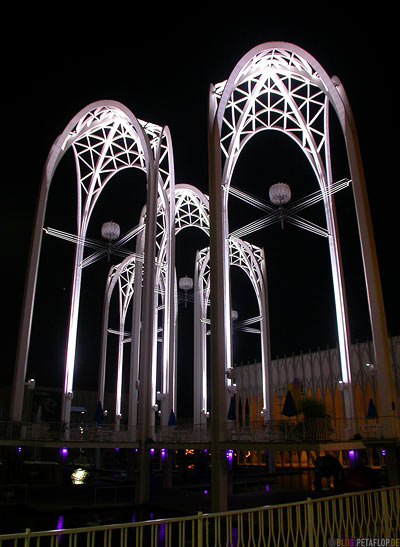 Arches of the Pacific Science Center, a science museum.
Die Bögen des Pacific Science Centers, einem Wissenschaftsmuseum.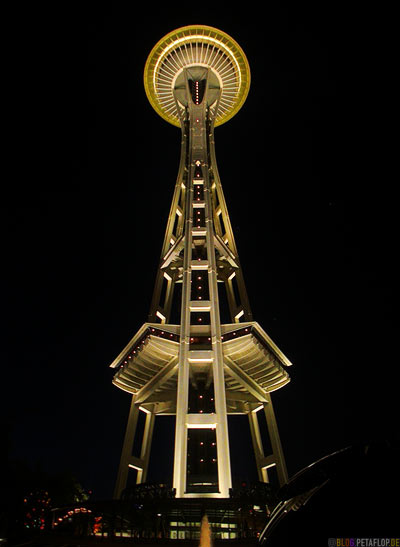 Space Needle at night / Die Space Needle bei Nacht
View from our hotel room window to the right, South Main Street, Seattle.
Blick nach rechts aus unserem Hotelzimmer, South Main Street, Seattle.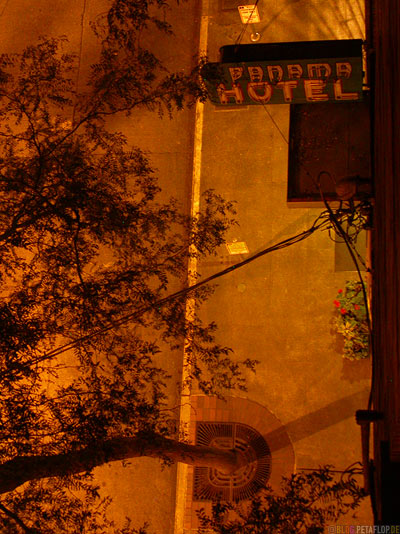 Panama Hotel, Downtown Seattle. A very old house and one of the few accomodations made of stone so far.
Panama-Hotel in Downtown Seattle. Ein Altbau und eine der wenigen aus Stein gebauten Unterkünfte, in denen wir bisher nächtigten.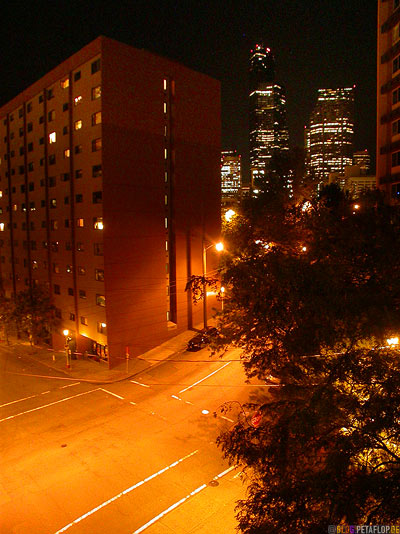 View to the left, corner 6th Avenue South
Blick nach links, Ecke 6th Avenue South
Video (1:07 Min.): Seattle Space Needle
---
20,000 Miles Canada/USA: Travel Overview
---