Tuesday, 14. August 2007, British Columbia, Canada.
Our hotel in Stewart, BC, Canada: The Ocean View, part of the Ripley Creek Inn across the street.
Unser Hotel in Stewart, BC, Canada: das Ocean View, gehört zum Ripley Creek Inn direkt gegenüber.

Ripley Creek Inn…
… where you can also find the owner's large collection of old toasters.
… beherbergt auch die riesige Toastersammlung des Eigentümers.
Fat fluffy chicken butt in the courtyard
Dicker Puschel-Hühnerhintern im Innenhof
Arbourlight Grocery, one of many original old houses in Stewart.
Arbourlight Lebensmittelladen, eines von vielen original erhaltenen Häsuern in Stewart.
Wooden Walk into the floodlands of the Portland Canal.
Holzsteg in die Sümpfe vor dem Portland Meereskanal.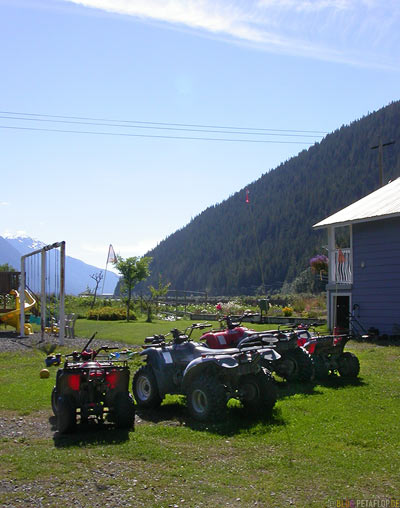 Four wheelers are a common means of transportation in all northern areas we've visited so far. Here we see one for each family member. In Germany you only see rednecks driving these vehicles.
Diese Allrad-Buggys sind ein völlig normales Fortbewegungsmittel in den von uns bisher besuchten nördlichen Regionen. Hier sehen wir einen für jedes Familienmitglied. In Deutschland sieht man nur Proleten damit herumfahren.
Bear Glacier on Highway 37a, coming out of Stewart.
Bear-Gletscher am Highway 37a von Stewart kommend.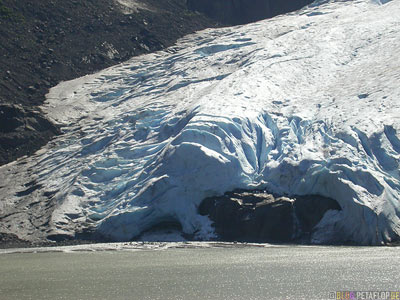 Here and after turning on Cassiar Highway 37 again we saw ten bears; we never saw that much on one day.
Hier und nachdem wir wieder auf den Cassiar-Highway 37 abbogen, sahen wir mit zehn Bären so viele wie noch nie an einem Tag.
Giant snowfield / riesiges Schneefeld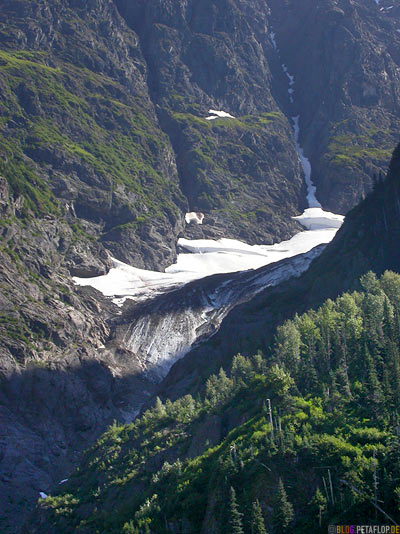 A climbing blackbear, see also video below
Kletternder Schwarzbär, siehe auch Video unten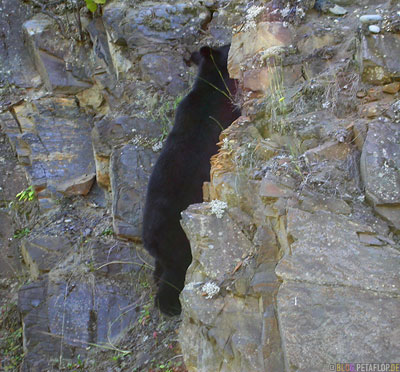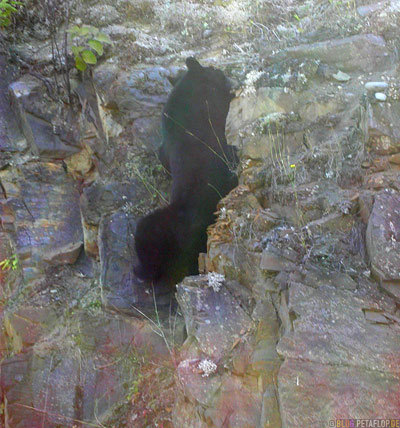 Ksan Native Village and museum in Hazelton with original Totem Poles and Longhouses which were brought here from several indian villages all across BC.
Ksan Indianerdorf und Museum in Hazelton mit original Totempfählen und Langhäusern, die aus verschiedenen Indianerdörfern in ganz British Columbia hierher zusammengetragen wurden.
Incidentally totem poles were only made by Indians of the North-American west coast.
Totempfähle wurden übrigens nur von Indianern an der nordamerikanischen Westküste angefertigt.
When the Cassiar Highway ends at the Yellowhead Highway the scenery abrubtly changes. Suddenly there was agriculture. It seemed as if we were leaving the northern wilderness, finally entering the civilization again.
Der Cassiar-Highway endet im Süden am Yellowhead-Highway. Hier änderte sich die Landschaft schlagartig, wir hatten den Eindruck die Wildnis der Nordens nun endgültig zu verlassen. Plötzlich gab es wieder Landwirtschaft. Die Zivilisation hatte uns wieder.
Video (2:28 min.): Highway 37a from Stewart, British Columbia, Canada: Bear Glacier and Meltwater Stream, Snow Fileds, Blackbears (one climbing), Roadworks on Highway 37 to Kitwanga, Totem Poles in Hazelton.
Video (2:28 Min.): Highway 37a von Stewart, British Columbia, Kanada: Bear Gletscher and Schmelzwasserfluss, Schneefelder, Schwarzbären (einer klettert), Baustelle am Highway 37 nach Kitwanga, Totempfähle in Hazelton.
---
20,000 Miles Canada/USA: Travel Overview
---