Sunday, 12. August 2007, British Columbia, Canada.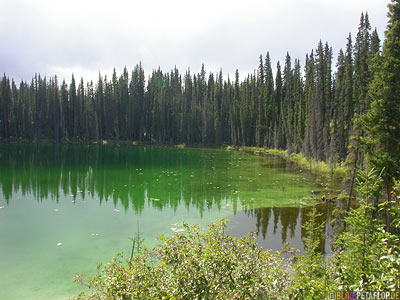 South-westwards from Watson Lake we took the Cassiar Highway after checking the road conditions and if it's actually opened. The highway is 874 km long and the shortest connection from north to south in Western Canada. It's a very scenic route with very few traffic. Long parts are old and rough and we passed milelong single lane road works following pilot cars in dusty motorcades.
Südwestlich von Watson Lake nahmen wir den Cassiar-Highway, nachdem wir uns erkundigt hatten, ob er überhaupt befahrbar und geöffnet ist. Der Highway ist mit 874 km die kürzeste Nord-Süd-Verbindung in Westkanada. Die Strecke ist wunderschön und kaum befahren, aber auch auf weiten Teilen ziemlich marode und von kilometerlangen, einspurigen Baustellen unterbrochen, die nur in einer staubenden Kolonne hinter einem "Pilot Car" durchfahren werden können.
Jade green lake on Cassiar Highway
Jadegrüner See am Cassiar-Highway
We discovered "Cassiar (abandoned)" on our map. That's why we left the Highway to visit the former town of Cassiar. For about ten kilometres we drove uphill through an idyllic, lonely valley.
Nachdem wir auf der Landkarte entdeckt hatten, dass die Stadt Cassiar – nahe dem Cassiar-Highway – "abandoned", also verlassen ist, machten wir völlig unbedarft einen Abstecher hierher. Ca. zehn Kilometer fuhren wir über eine Schotterstrasse bergauf durch ein idyllisches, einsames Tal. Am Ende lag dann Cassiar bzw. das, was davon übrig blieb.


In it's heyday around 1,500 people lived here. Today there are only about 15 houses left. Some still look inhabited…
Zu Hochzeiten lebten hier 1.500 Menschen, heute stehen nur noch ca 15 Häuser, die teilweise noch aussehen, als wären sie bewohnt..
The owners even left behind their furniture. They abandoned Cassiar over night.
In den Häusern standen sogar noch die Möbel, die Bewohner haben nur das Nötigste eingepackt und haben Cassiar Hals über Kopf verlassen.


Silver shimmering tailing pile of the Cassiar mine at the end of the valley road.
Silbrig glitzernde Abraumhalde der Cassiar-Mine am Ende der Talstrasse.


Old Volkswagen van, in a good condition except for the windscreen.
Alter VW-Bus; bis auf die Scheibe sah er eigentlich noch ganz gut aus.
House trailer, often seen here and in Alaska…
Wohncontainer, eine auch in Alaska oft gesehene Behausung…

… and the inside. / … und von innen.

Old pickup and a rainbow / Alter Pickup mit Regenbogen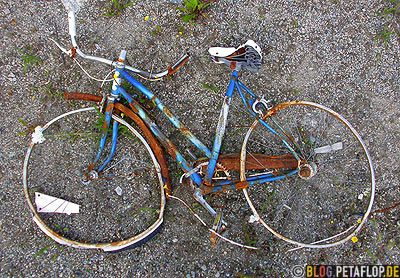 This flat bike… / Dieses plattgewalzte Fahrrad…
… lay besides this partly burned cabin…
… lag neben dieser halb abgebrannten Hütte…
… where we found these polaroid pictures. The upper one was wet, the water destroyed the photo surface.
… in dem diese Polaroids lagen. Das obere war feucht, das Wasser hat die Fotooberfläche in Falten geworfen.
This accident obviously occured on Oct 7/1984.
Dieser Unfall ereignete sich anscheinend am 7.10.1984.


We thought these were pallets of paper when we drove into Cassiar…
Diese Paletten hielten wir bei der Einfahrt nach Cassiar für Papier…


These were our last photos after recognizing the paper was in fact asbestos. And now we remebered what we already read about Cassiar. It was an asbestos mine until it was closed in 1992 because of the high health risk. The town was abandonded over night.
Es waren unsere letzten Fotos nachdem wir feststellten, dass es sich um Asbest handelt. Nun fiel uns auch wieder ein, was wir ja doch schon über Cassiar gelesen hatten. Die Mine war eine Asbestmine und die Stadt musste nach dem Abbauverbot 1992 wegen der Gesundheitsgefährdung sofort geräumt werden.
Wild flowers in Cassiar, as if nothing happened… We spent the night in the Northway Motor Inn in Dease Lake, the only noteworthy town with more than ten houses on Cassiar-Highway.
Wilde Blumen in Cassiar, als wäre nichts gewesen… In Dease Lake, dem einzigen nennenswerten Ort am Cassiar-Highway mit mehr als zehn Häusern, übernachteten wir im Northway-Motor-Inn-Motel.
---
20,000 Miles Canada/USA: Travel Overview
---