Saturday, 11. August 2007, Yukon, Canada.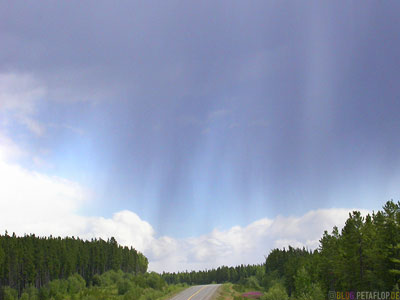 Rain showers ahead / Regenschauer voraus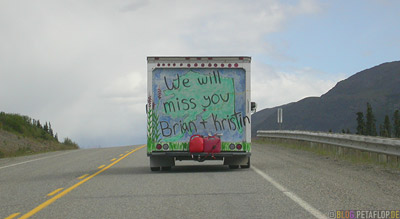 These Alaskan emigrants from Anchorage startet with us from Whitehorse. Later we saw them several times on the highway.
Diese Alaska-Auswanderer aus Anchorage fuhren mit uns in Whitehorse los. Später sahen wir sie noch mehrmals auf dem Highway.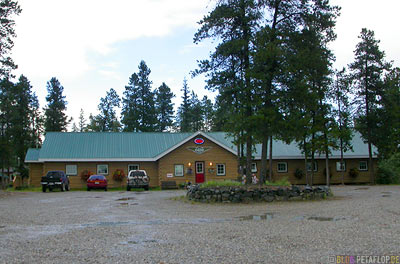 Our second stay in Watson Lake. This time not on the campground, where they switch off the wireless internet at night and I have no idea why. Now we stayed at the historic Air Force Lodge from 1942. Elisabeth and Michael were the Austrian and German hosts of the hostel-like lodge, you even have to put off your shoes at the entrance. And again: German speaking operators mean spick and span rooms.
Unser zweiter Aufenthalt in Watson Lake. Diesmal nicht auf dem Campingplatz, auf dem sie unsinnigerweise nachts ihr Funk-Internet ausschalten, sondern in der hostel-artigen, historischen Air-Force-Lodge von 1942, einem vom österreichisch-deutschen Paar Elisabeth und Michael geführten Gästehaus, in dem man sogar am Eingang die Schuhe ausziehen muss. Kaum sind die Inhaber wieder deutschsprachig, ist alles blitz-blank-sauber.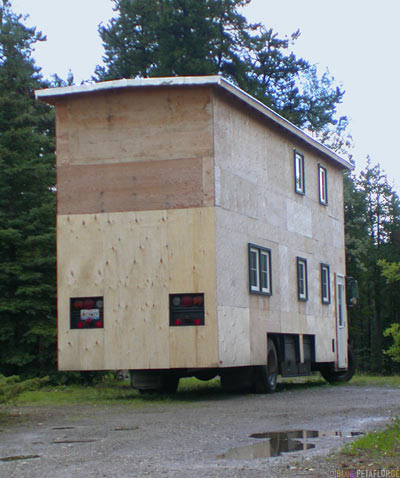 Tow-storey house on an old but driving school bus. With nearly five metres height the highest Canadian vehicle with traffic permission and it has no problems at 70 km/h on winding roads. As almost everything in and around the Airforce Lodge it was built by Michael, with whom we had a long talk at night, especially about northern lights. He had seen them here the night before. We had no luck this night although we endured the nightly coldness for quite a while. So we have to come back one day, Watson Lake was our last real chance to see northern lights.
Zweistöckiges Wohnhaus auf einem alten aber voll funktionsfähigen Schulbus. Mit knapp fünf Metern das höchste für den Strassenverkehr zugelassene Vehikel Kanadas. Fährt problemlos auch sehr kurivige Strassen mit 70 km/h. Gebaut wie fast die gesamte Airforce-Lodge mit Drumherum von Michael, mit dem wir uns nachts noch lange über alles Mögliche und Nordlichter in Speziellen unterhielten, am Vorabend hatte er noch welche gesehen über seiner Lodge. Wir haben nachts lange in der Kälte ausgeharrt, aber nichts gesehen. Watson Lake war leider unsere letzte wirkliche Chance auf Nordlichtsichtungen. Müssen wir wohl nochmal hier hin.
---
20,000 Miles Canada/USA: Travel Overview
---