Thursday, 09. August 2007, Yukon, Canada.
Blogging from the laundromat in the office of the campground in Beaver Creek, Yikon, Canada. The orange cable leads to a power strip with eight devices, adaptors and battery chargers connected to it in the bag. The bag is useful and inconspicuous when stealing power. Immediately after this photo one hand was bitten twice by a nasty insect…
Bloggen in der Waschecke des Campingplatzbüros in Beaver Creek, Yukon, Kanada. Das orange Stromkabel versorgt einen Mehrfachstecker mit acht Geräten, Netzteilen und Akku-Ladern in der Tasche. Die Tasche hat sich beim Stromklauen schon als sehr praktisch und unauffällig erwiesen. Kurz nach diesem Foto gab es zwei fiese Insektenstiche in eine Hand…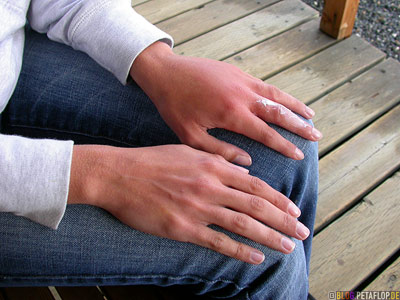 … Flying away it looked like a giant black Mosquito. In the room we also saw a wasp before. In the Health Center they thought it were wasp bites. They just gave us tips to ease the swelling because a treatment starts at 360 Canadian Dollars and you can't do much more than waiting. We had our own pain reliever and allergy pills, after 36h the pain and the swelling were gone.
… Das wegfliegende Vieh sah aus wie eine riesige schwarze Mücke. Vorher sahen wir aber auch eine Wespe im Raum. Im Health Center gingen sie von Wespenstichen aus und gaben nur verbale Tipps zur Linderung der Schwellung, weil jegliche Behandlung im geringsten Fall 360 kanadische Dollar kostet und man eh nicht viel mehr machen kann als auf das Abschwellen zu warten. Schmerztabletten und Allergiepillen hatten wir selbst, Schwellung und Schmerz hielten 36h an.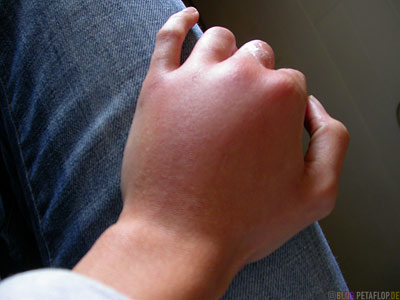 Balloon like inflated hand / Ballongleiche Blähhand
View from our room at Stardust Motel, Haines Junction, Yukon, Canada. The cleanest accomodation so far. The secret: the motel is operated by a Swiss. There were a lot of German speakers in Haines Junction and they even had real bread in the supermarket. Normally you only get soft American mushy bread. Many products call themselves "European Style", but they aren't.
Aussicht aus unserem Zimmer im Stardust-Motel in Haines Junction, Yukon, Kanada. Die sauberste Unterkunft bisher. Das Geheimnis: Das Motel wird von einem Schweizer geführt. Es sprachen auch sonst viele Deutsch in Haines Junction. Es gab sogar richtiges Brot im Supermarkt. Normalerweise bekommt man nur amerikanisches, weiches Labberbrot. Viele Produkte werden mit der Unterzeile "European Style" beworben, was leider nie der Wahrheit entspricht.


Large Fly Agaric at Haines Junction cemetary, across the highway from our motel.
Grosse Fliegenpilze auf dem Friedhof von Haines Junction, gegenüber unseres Motels auf der anderen Highway-Seite.
---
20,000 Miles Canada/USA: Travel Overview
---