Friday, 27. July 2007, Yukon, Canada.
In the last days a town in our map usually did not consist of more than three houses and a gas station when we came through it. Whitehorse, the capital of Yukon, was a surprise with it's 20,000 inhabitants.
Nach all dem, was uns in den letzten Tagen in der Karte als Stadt angezeigt wurde und sich dann als nicht mehr als drei Häuser und eine Tankstelle entpuppte, war Whitehorse eine kleine Überraschung. Whitehorse, Hauptstadt von Yukon, ist tatsächlich so etwas wie eine Stadt mit immerhin über 20.000 Einwohnern.
This is the "SS Klondike" from the times of the gold rush. Today it's the landmark of Whitehorse and used as a logo even on garbage cans in town.
Der trockengelegte Schaufelraddampfer "SS Klondike", zu Zeiten des Goldrauschs Hauptverkehrsmittel auf dem Yukon-River. Heute ist er Wahrzeichen des Stadt Whitehorse und sogar auf den Mülltonnen als Logo abgebildet.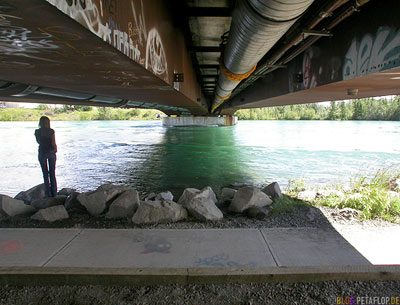 The Yukon, yet jade green and at the start of it's 3,000 km journey to the Bering Sea.
Der Yukon, der hier noch jadegrün ganz am Anfang seiner rund 3.000 km langen Reise in die Beringsee ist.
You see these red grasses all along the Yukon.
Diese roten Gräser sieht man überall am Yukon.
Montague Roadhouse on Klondike Highway. This is how ruins look like in the new world. It was a guesthouse for prospectors at the beginning of the twentieth century. After Whitehorse we didn't follow the Alaska-Highway. We're going north on the savaged Klondike Highway with very few other travellers.
Montague Roadhouse am Klondike Highway. So sehen in der neuen Welt Ruinen aus. Dies war Anfang des zwanzigsten Jahrhunderts ein Gasthaus für Goldschürfer. Nach Whitehorse haben wir doch den Alaska-Highway verlassen und haben in nördlicher Richtung den noch seltener befahrenen, verwilderten Klondike-Highway eingeschlagen.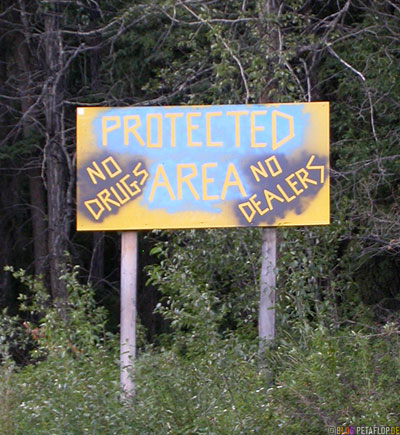 With these cute, hand-painted signs the small town of Carmacks tries to keep away the evil drug dealers.
Mit diesen niedlichen, handgemalten Schildern versucht sich das Städtchen Carmacks vor bösen Drogenhändlern zu schützen.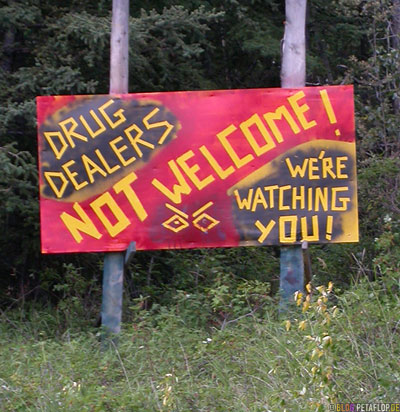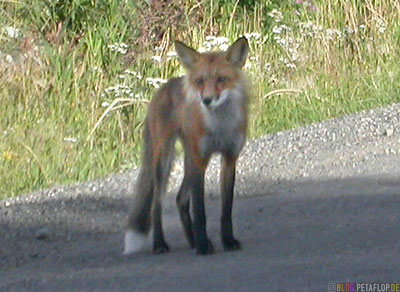 Confiding fox on a street in Carmacks.
Zutraulicher Fuchs auf der Strasse in Carmacks.
Video (2:05 min.): Fox + Yukon. We tented a few metres from the edge of the Yukon, at the Coal Mine Campground in Carmacks. Amazing how such gigantic amounts of water can pass that fast without making any sound. We only heard birds sing.
Video (2:05 Min.): Fuchs + Yukon. Gezeltet haben wir direkt am Ufer des Yukon, auf dem Coal-Mine-Campingplatz nördlich von Carmacks. Erstaunlich, wie solch riesige Wassermassen so lautlos und schnell an einem vorbeigleiten können. Man hörte hier nichts ausser Vogelgezwitscher.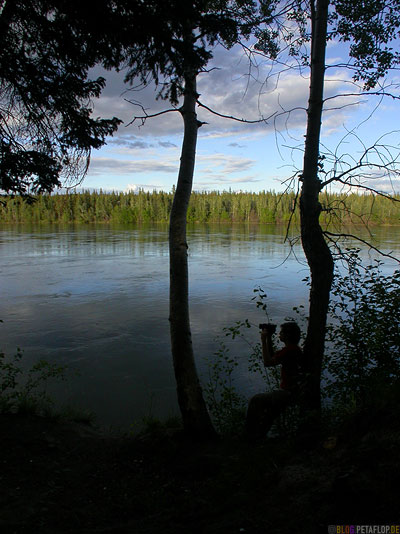 ---
20,000 Miles Canada/USA: Travel Overview
---