Worringer Platz, Düsseldorf-Zentrum
Toyota-Auris-Werbung auf jeder 18/1-Plakatwand und Litfaßsäule, die ich heute und gestern in Düsseldorf sah. Nur die Haltestellen-CityLights haben se nicht. Keine weltbewegende Optik, aber in dieser Konsequenz auffällig.
Toyota Auris ads on every roadside hoarding and advertising column I saw today and yesterday in Düsseldorf. No noteworthy graphics, but massive and therefore conspicuous.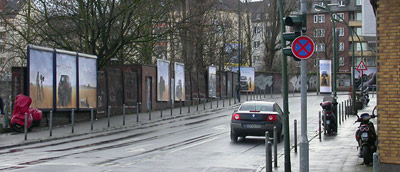 Gerresheimer Strasse, Düsseldorf-Zentrum
Update: Gegenüber dem Handelsblatt äußerte Toyota Marketingchef Vilhelmsson: "Wir haben in größeren Städten so ziemlich alles gebucht, was auf der Straße sichtbar ist." (>mehr). Mit 200.000 Werbeflächen ist es Deutschlands größte Plakatkampagne aller Zeiten. Verantwortlich zeichnet sich Toyotas Werbeagentur BMZ+more aus Düsseldorf.
Update 27.2.: Heute auch alle Haltestellen-CityLights. Allerdings haben mir jetzt schon mehrere Leute gesagt, sie hätten die Plakate nicht bemerkt, wenn sie es hier nicht gelesen hätten. Fielen die nur mir auf? Es fehlt ganz offensichtlich ein vernünftiger Eye-Catcher, was bei einer solchen Kampagne wirklich fatal ist. Allgemeine Aussage war: "Hätte ich nicht gesehen, langweilige Motive".