Thursday, 25. October 2007, Québec, Canada, Munich and Düsseldorf, Germany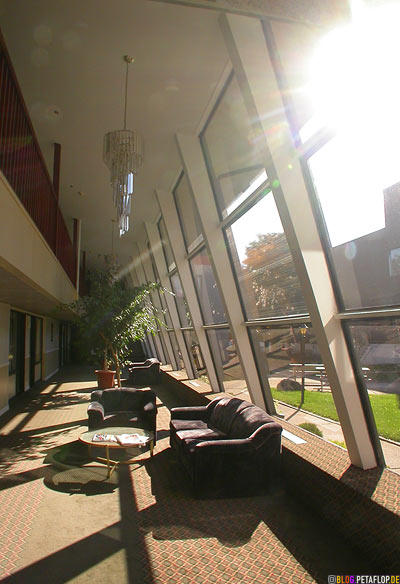 Departing morning sunlight in the lobby of …
Morgensonne am Rückflugtag in der Lobby des …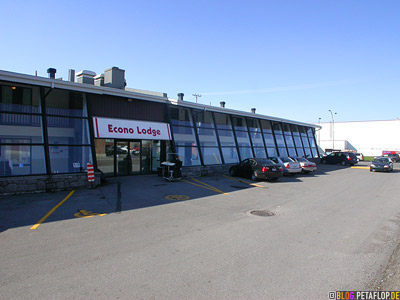 … Econolodge Airport Motel
The cleaning woman hated us for leaving tons of trash in the motel room. But with her eagle eyes she fished out our unopened food cans (left).
Die Putzfrau hasste uns für den im Motelzimmer hinterlassenen Müllberg, aus dem sie mit Adleraugen unsere ungeöffneten Konserven herausfischte (links).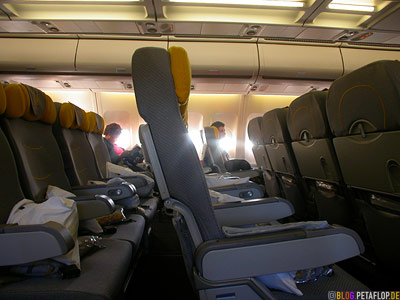 On our flight from Montréal to Munich the plane was empty. Nevertheless the harsh Lufthansa check-in woman was adamant and we had to pay 180$ for three overweighting suitcases on a vacant plane.
Der Flug Montréal > München war kaum besetzt. Trotzdem war die barsche Lufthansa-Trulla beim Check-In sehr unnachgiebig und berechnete uns 180$ für drei übergewichtige Koffer in einem leeren Flugzeug.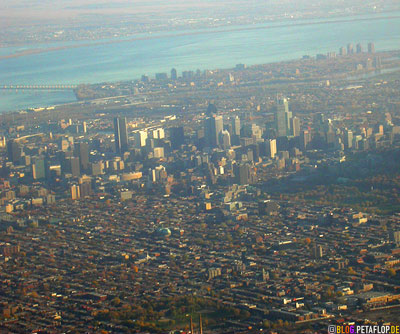 Flying over Montréal
Letzter Blick auf Montréal
The Montréal Olympic Stadium from 1976 again, this time from above.
Nochmal das Montréaler Olympiastadion von 1976, ein letzter Blick von oben.
Montréal Harbour
Hafen Montréal
So long, North America, and thanks for all the great, unforgettable, unique and bizarre places, people and moments; it was a fantastic journey. But after four months we are also happy to come home again.
Looking forward to, back in Germany:
German bread and beer
clean and palatable tap water
an opulent and very diverse breakfast (not exactly the same every day: eggs + toast + hashbrowns + sausage or bacon)
drinking coffee from cups made of china, with spoons made of metal
no more Oreo cookies (we ate tons of them when we were on the road)
broad Autobahn lanes with sleek asphalt you can drive fast on
no more driving slalom around trash and shredded truck tires on the highway
sleeping longer than 11 a.m. check out time
uncommercial TV channels
cell phone reception everywhere
the safe feeling knowing that other clients in e.g. a gas station very likely wear no guns
the safe feeling walking through a forest, not having to watch out for bears and moose
no mosquito hords in summer
non-air-conditioned rooms with fresh air thanks to openable windows
Back home we will miss from North America:
the wide wilderness of Canada and Alaska
the amazing and manifold national park sceneries of the U.S.
the open, friendly and helpful way we were treated everywhere (not a matter of course in Germany, we try to take these good manners with us)
the cheap gas and the cheap Dollar
not one single traffic jam in Canada (except for Toronto to Niagara Falls on Canada Day)
the indication of the point of the compass direction on highway signs (in Germany they just display the names of larger cities, so you have to know the location of cities to find the right direction)
the many unlocked Wi-Fi spots
the feeling of being completely on your own with no cell phone reception in a radius of 1,000 km
the thrill of coming across a dangerous bear or moose in the woods
Oberto Beef Jerky, a delicious dried meat snack, available at any gas station
the bearable music on the radio (don't switch on the radio when you go to Germany)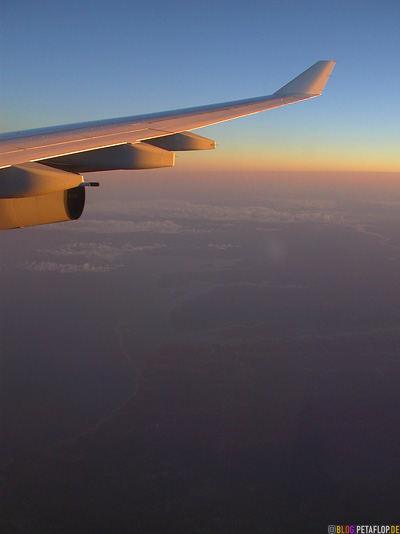 Adieu Nordamerika und vielen Dank für all die großartigen, unvergeßlichen, einzigartigen und skurrilen Orte, Menschen und Momente; es war eine fantastische Reise. Aber nach vier Monaten sind wir auch froh, wieder nach Hause zu kommen.
Worauf wir uns zu Hause freuen:
deutsches Brot und Bier
sauberes, geniessbares Kranwasser
ausgiebig und abwechslungsreich zu frühstücken (nicht jeden Tag genau dasselbe: Spiegelei mit Toast, Bratkartoffeln und Würstchen oder Speck)
Kaffeetrinken aus Porzellantassen, mit Metalllöffeln
endlich keine Oreo-Kekse mehr (hatten wir immer für Hungersnöte im Auto und aßen Tonnen davon)
breite Autobahnfahrstreifen mit schnell befahrbarem Asphalt
kein Slalomfahren um zerfetzte LKW-Reifen auf der Autobahn
Länger als bis 11 Uhr schlafen (Motel-Check-Out-Zeit)
unkommerzielle Fernsehsender wie Arte und WDR gucken (aber auch das liebevoll dilettantische Center-TV Düsseldorf)
wieder überall Handyempfang zu haben
das sichere Gefühl, dass andere Kunden in z.B. einer Tankstelle höchstwahrscheinlich keine Waffe tragen
das sichere Gefühl, im Wald nicht auf gefährliche Bären und Elche treffen zu können
keine Moskitohorden im Sommer
nicht-klimatisierte Räume mit Frischluft dank zu öffnender Fenster
Was wir aus Nordamerika vermissen werden:
die weite Wildnis Kanadas und Alaskas
die unglaublich vielfältige Natur der US-Nationalparks
die offene, freundliche, hilfsbereite Art, mit der wir überall empfangen wurden (keine Selbstverständlichkeit in Deutschland, wir wollen versuchen, diese positive Eigenschaft mitzunehmen)
das billige Benzin und den billigen Dollar
kein einziger Verkehrsstau in Kanada (außer von Toronto zu den Niagarafällen am Kanada-Gründungsfeiertag)
die Angabe der Himmelsrichtung auf Highway-Schildern (sinnvoller als die deutsche Lösung nur Städte als Richtungsangabe auf Autobahnschildern zu listen und vorauszusetzen, dass jeder deren geografische Lage kennt)
die vielen offenen W-Lan-Netze
das Gefühl, völlig auf sich allein gestellt zu sein, weil man keinen Handyempfang im Umkreis von 1.000 km hat
den Nervenkitzel, im Wald einem gefährlichen Bären oder Elch begegnen zu können
Oberto Beef Jerky, einen leckeren Snack aus getrocknetem Fleisch, den man an jeder Tankstelle kaufen konnte
die weitaus erträglichere Musik im Radio (haben schon wieder Angst vor dem Müll auf 1Live & Co.)
But most of all we will miss our new friend Angel from Seattle. In August 2007 we stayed with her and her husband Ben. Since November they fought against her cancer. We are so sad, she didn't make it. You can read their story in Ben's blog. We'll keep Angel in our minds as a very kind, funny, caring, relaxed, cool and open minded person.
Am meisten vermissen werden wir jedoch unsere neue Freundin Angel aus Seattle. Im August 2007 wohnten wir bei ihr und ihrem Mann Ben. Seit November kämpften sie gegen Angels Krebs. Wir sind sehr traurig, sie hat es nicht geschafft. Ihre Geschichte kann man in Bens Blog nachlesen. Wir behalten Angel als liebevollen, offenen, zuvorkommenden, humorvollen, coolen und entspannten Menschen in Erinnerung.
---
20,000 Miles Canada/USA: Travel Overview
---