Thursday, 18. October 2007, New York, USA
Crossing Broadway / W72nd Street seen from the second floor of an Urban Outfitters shop. We've seen nearly all of their branches in Canada and the US. In Germany we unfortunately don't have any, the next one is in Antwerp, Belgium. The H&M chain from Sweden on the other hand seems to be pretty hip in America with few shops only in the largest capitals, they are quite new here. In Europe H&M are ten a penny and have a cheap and bulk image.
Kreuzung Broadway / 72ste Strasse West, fotografiert aus dem ersten Stock einer Urban Outfitters-Filiale. Wir waren in fast jeder Niederlassung in Nordamerika. In Deutschland gibt es leider keine, die nächste ist im belgischen Antwerpen. H&M hingegen gibt es in Europa ja wie Sand am Meer und wirklich cool findet sie niemand. In Kanada und den USA gibt es H&M erst seit kurzem, aber nur vereinzelt in den wirklich großen Metropolen. Hier sind sie noch relativ hip.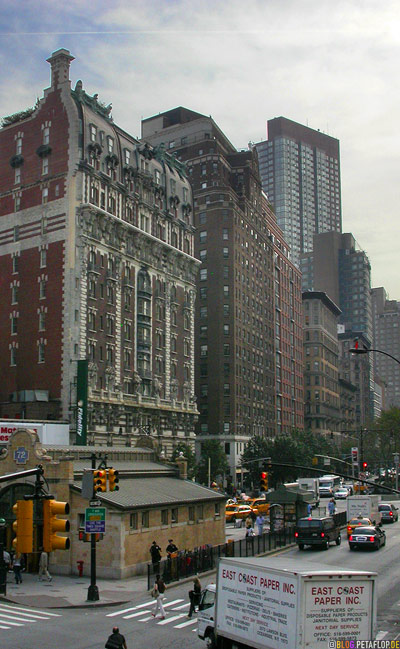 Same crossing, a bit closer
Dieselbe Kreuzung, ein wenig näher
Amsterdam Avenue crossing W72nd Street from the same window
Kreuzung Amsterdam Avenue / West 72ste Strasse aus demselben Fenster
Times Square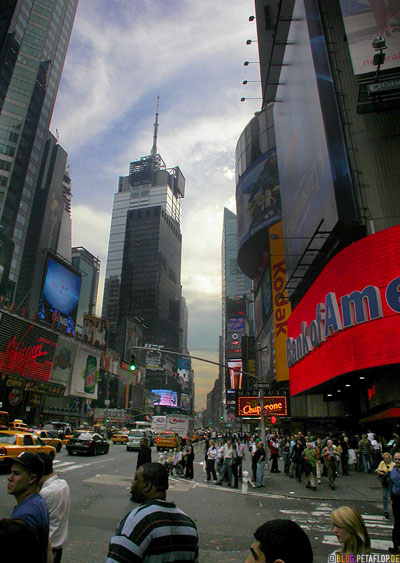 Times Square again / Und nochmal Times Square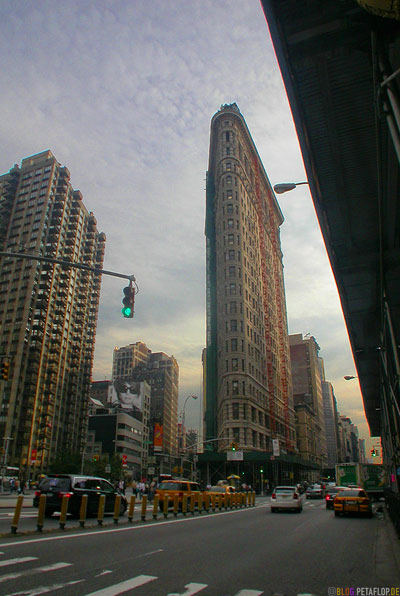 Flatiron Building from 1902, 175 Fifth Avenue at W 22nd Street near Madison Square Park
Das Flatiron (Bügeleisen) Building aus dem Jahre 1902, 175 Fitfh Avenue Ecke West 22ste Strasse in der Nähe des Madison Square Park
Metal trees art sculpture "Conjoined" by Roxy Paine, Madison Square Park
Metallbaum-Kunstskulptur "Conjoined" von Roxy Paine, Madison Square Park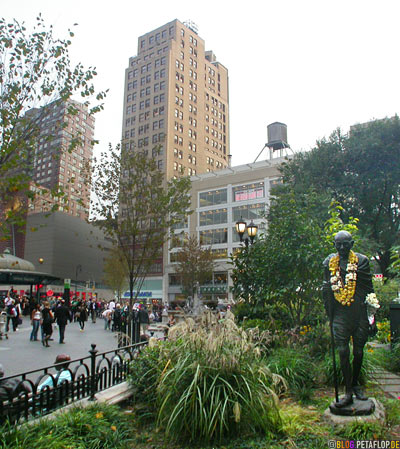 Mahatma Ghandi statue with flower leis on Union Square
Mahatma-Ghandi-Statue mit Blumenketten auf dem Union Square
Empire State Building seen from Union Square
Empire State Building gesehen vom Union Square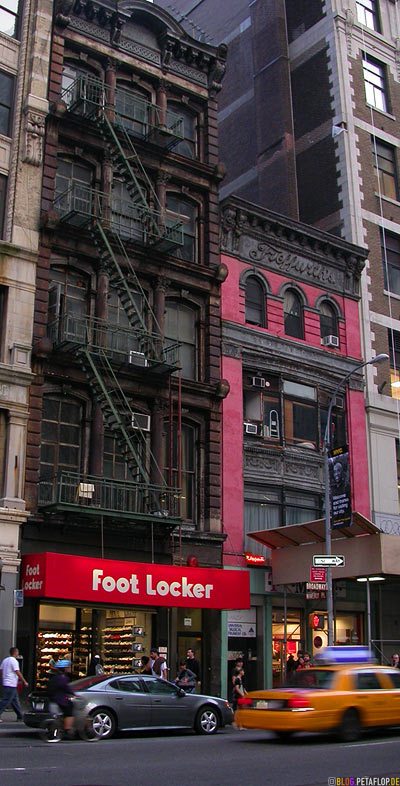 Decades ago the red house from 1882 was the location of the noted cafe and restaurant "Treffurth's". Broadway 732 / Washington Place, Greenage Village / NoHo (= North of Houston Street). Now there's a shop of German cellphone giant T-Mobile on the ground floor. Treffurt is a city in Germany.
Im roten Gebäude von 1882 war vor Jahrzehnten ein bekanntes Café und Restaurant names "Treffurth's" untergebracht. Broadway 732 / Washington Place in Greenage Village bzw. NoHo (= North of Houston Street). Jetzt ist ein T-Mobile-Laden drin. Treffurt ist eine Stadt in Thüringen.
---
20,000 Miles Canada/USA: Travel Overview
---