Monday, 01. October 2007, Oklahoma, USA.
This sucks: a flat tire as a morning surprise. After all these rough gravel roads in Canada and Alaska…
Blöde Überraschung am Morgen: Reifen platt. Nach all den schlimmen Schotterpisten in Kanada und Alaska…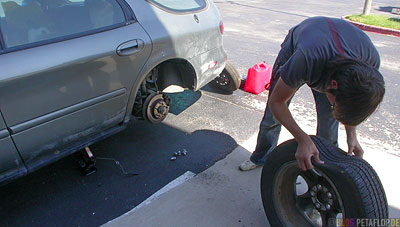 … the first tire passes away through a screw on the parking lot of a motel in Oklahoma City. The son of the indian motel owner recognized us as Germans. He said he saw this "style" in magazines.
… geht uns der erste Reifen wegen einer Schraube auf dem Motelparkplatz in Oklahoma City kaputt. Der Sohn der indischen Motelführung erkannte uns übrigens als Deutsche. Er sagte, er kenne den "Style" aus Magazinen.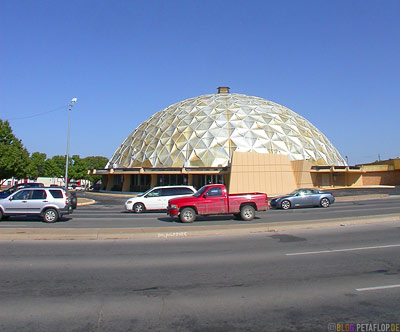 We brought the car to a tire repair shop (also for the second oil change after about 25,000 km / 15,000 miles). For the first time in ages we moved solely on foot. We didn't even make it to downtown, the distances are just too big for pedestrians here. Particularly when it's 33°C (92°F) in the shadow. During our holiday we had to amend our prejudice against the lazy yankees that go 10 feet to the trash can by car. The spaces are just much bigger here, soon we got our coffee from the gas station on the other side of the road by car, too. Pedestrian crossings are rare, there are no pedestrians outside the city centres. It's much easier to cross the street by car.
Den Wagen gaben wir zur Reifenreparatur (und fälligem zweiten Ölwechsel nach ca. 25.000 km) in eine Werkstatt. Nach Ewigkeiten waren wir mal wieder ausschliesslich zu Fuß unterwegs. Leider schafften wir es nicht bis in die Innenstadt; die Entfernungen sind hier für Fußgänger einfach zu groß, vor allem bei 33°C im Schatten. Unsere Vorurteile gegen die "faulen Amis", die drei Meter zur Mülltonne mit dem Wagen fahren, haben wir in diesem Urlaub übrigens revidiert. Alles ist viel weiter auseinander und weitläufiger angelegt, so dass auch wir bald den Kaffee an der Tankstelle gegenüber mit dem Auto holten. Fußgängerübergänge sind rar, denn es gibt kaum Fußgänger ausserhalb der Innenstädte. Das Überqueren einer Strasse ist mit dem Wagen viel einfacher.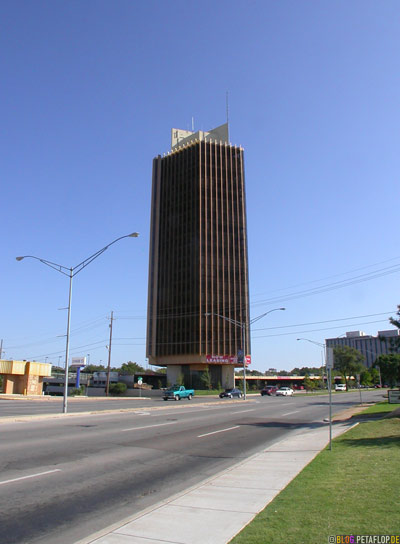 Eastern Bloc style building in Oklahoma-City
Ostblock-Charme in Oklahoma-Schitti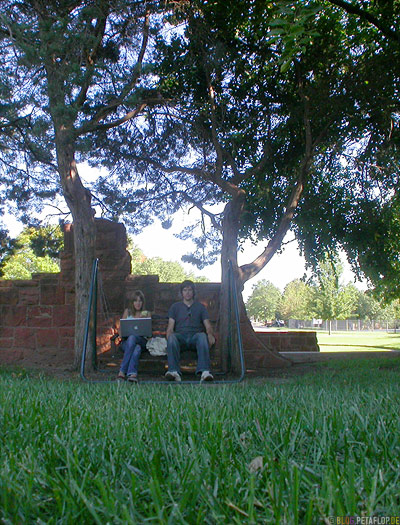 A little rest for the feet in a swing hammock in a tiny park on Class Drive, somewhere between the repair shop and downtown. Once again malicious midges left mean substances in the holes they bit.
Füße schonen in einer Hollywood-Schaukel eines kleinen Parks am Class Drive, irgendwo zwischen Autowerkstatt und Innenstadt. Heimtückische Mini-Mücken hinterliessen hier mal wieder überdurchschnittlich fiese Substanzen in den Löchern, die sie stachen.
But there were good insects, too…
Es gab aber auch liebe Insekten hier…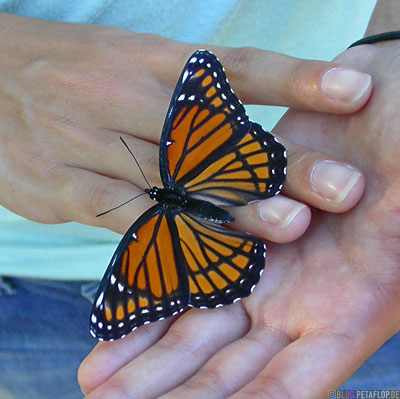 … like this Monarch Butterfly.
… wie z.B. diesen Monarchfalter.
Funny birthday cakes in a supermarket next to the car repair shop
Gar lustge Geburtstagstorten im Supermarkt neben der Autowerkstatt
Flyer in front of the tire repair: "Gun lost at McDonald's – 200$ Reward – No questions asked". In everyday thinking you forget it, but when you read something like this you get aware of every spaz on the street being allowed to carry a gun. On the radio we heard a talk show about firearms in schools and a teacher admitted to carry her own gun in class, as all her colleagues do. You have to defend yourself, she said. Later she suggested to place a security guard at the school entrance to search everyone for weapons. The host of the show had the great idea to bring a prohibition of guns to schools as practised in state buildings. None of the participants came up with changing the gun law to make it harder for morons to buy a weapon in a shop around the corner. This possibility is totally neglected.
Vor der Autowerkstatt: "Pistole bei McDonald's verloren – 200 Dollar Belohnung – Keine Fragen". Im Alltag denkt man nicht drüber nach, aber wenn man sowas liest wird einem bewusst, dass jeder Vollspacken auf der Strasse eine Knarre dabei haben darf. Im Radio verfolgten wir eine Talkshow, in der eine Lehrerin zum Waffengebrauch in Schulen befragt wurde. Sie gab zu, sich ohne Schusswaffe nicht in die Schule zu trauen, wie all ihr Kollegen. Man müsse sich ja verteidigen können. Sie schlug vor, einen Sicherheitsdienst am Schuleingang zu postieren, der dann alle nach Waffen kontrollieren könnte. Die Moderatorin hatte die tolle Idee, ob ein generelles Waffenverbot wie in Gerichtsgebäuden nicht auch an Schulen sinnvoll sei. Keiner der Beteiligten fiel ein, dass man durch eine Änderung der Waffengesetze dafür sorgen könnte, dass nicht jeder Kleingeist problemlos eine Waffe im Laden um die Ecke kaufen kann. Die Möglichkeit wird anscheinend völlig ausgeblendet.
---
20,000 Miles Canada/USA: Travel Overview
---