Sunday, 16. September 2007, Arizona, USA.
We stayed at the Yavapai Lodge in Grand Canyon Village in the middle of the Grand Canyon National Park: too expensive, 3 snowy TV channels, no internet. We recommend to stay in one of the small towns around the national park when visiting the Grand Canyon.
Wir übernachteten in der zu teuren, Internet-losen, dafür aber mitten im Grand-Canyon-Nationalpark gelegenen und mit drei verschneiten Fernsehsendern ausgestatteten Yavapai-Lodge im Grand Canyon Village. Wir empfehlen Grand-Canyon-Besuchern eher in den kleinen Ortschaften um den Nationalpark abzusteigen.
The Colorado River floats hundreds of metres below, down in the enormous Grand Canyon.
Der Colorado River hunderte Meter tief im gewaltigen Grand Canyon.
World-weary action for the family album.
Etwas lebensmüde Aktion für's Familienalbum.
Here on the south rim you can walk on trails everywhere close to the abyss and down into the canyon. You should be free from giddiness, guard-rails are rare.
Über weite Teile des Canyon-Südrandes führen Wanderwege direkt am Abgrund und in die Schluchten hinunter. Schwindelfrei sollte man sein, fast alles ohne Geländer hier.
Navajoland at the Grand Canyon, to north west. Along the roads we saw huge fenced Navajo properties with mountains and small huts with a pickup in front of it.
Navajo-Land am Grand Canyon, weiter nach Nordwesten. Entlang der Strassen reihen sich riesige, eingezäunte Navajo-Grundstücke aneinander. Mit Felsbergen in der Mitte und einer kleinen Hütte mit Pickup davor.
Incidental stop with a nice outlook. Contrary to most signposted vista points that have no good view because they are full of Navajo shacks where you shall buy indian jewellery.
Zufälliger Halt mit schöner Aussicht. Die meisten ausgeschilderten Aussichtspunkte hingegen sind leider mit Navajo-Buden vollgebaut, in denen man Indianerschmuck kaufen soll.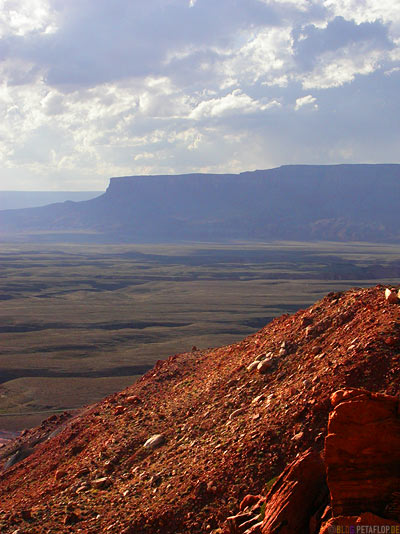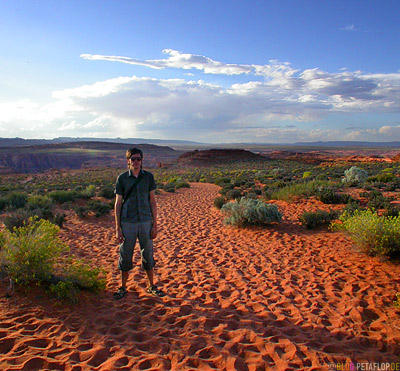 Trail to the "Horseshoe Bend", 100 more miles to north west…
Auf dem Fusspfad zum "Horseshoe", nochmal 150 km weiter nordwestlich…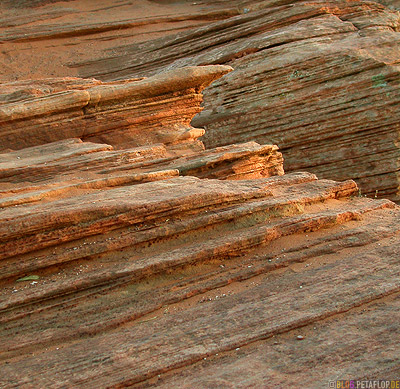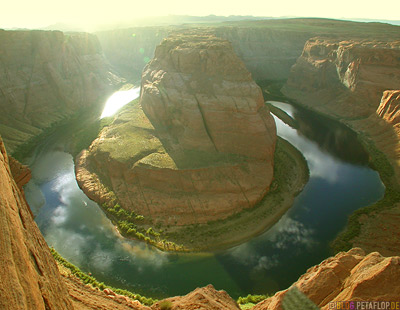 … where the Colorado River bends like a horseshoe, close to the city Page. Over the half of approximately 50 tourists here spoke German.
… wo der Colorado-River kurz vor der Stadt Page in einer hufeisenförmigen Biegung fliesst. Über die Hälfte der ca. 50 anwesenden Touristen sprach Deutsch.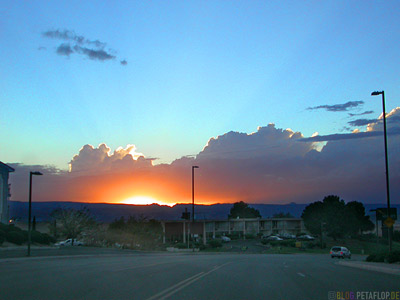 In Page we stayed at the Rodeway Inn, managed by people from India. We had positive experiences with motels run by Indians on our whole trip. We had dinner in their attached India restaurant and it was a delicious, sorely needed relief from all the (deep-) fried grub.
In Page quartierten wir uns im von Indern geführten Rodeway-Inn ein. Mit Motels in indischer Hand haben wir auf der Reise durchweg gute Erfahrungen gemacht. Im angegliederten Restaurant haben wir Indisch gegessen und es war eine leckere und bitter nötige Abwechslung nach dem ewigen Frittier- und Burgerfrass.
---
20,000 Miles Canada/USA: Travel Overview
---