Thursday, 13. September 2007, Nevada, USA.
Las Vegas seen from Highway 160.
Blick auf Las Vegas vom Highway 160, von Westen kommend.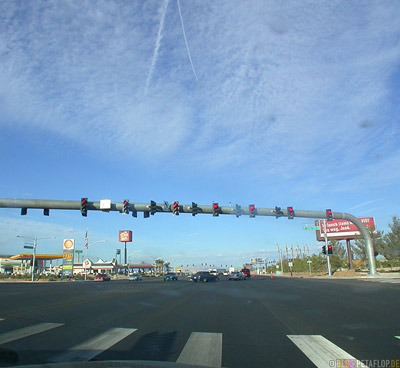 Stormproof traffic lights / Sturmfeste Ampelanlage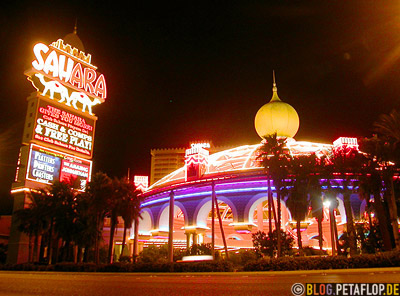 Our doss for two nights: the Sahara casino and hotel at the north end of the Las Vegas Strip. They have a roller coaster!
Unsere Bleibe für zwei Nächte: das Hotel-Casino Sahara am nördlichen Ende des Las Vegas Strip. Mit Achterbahn!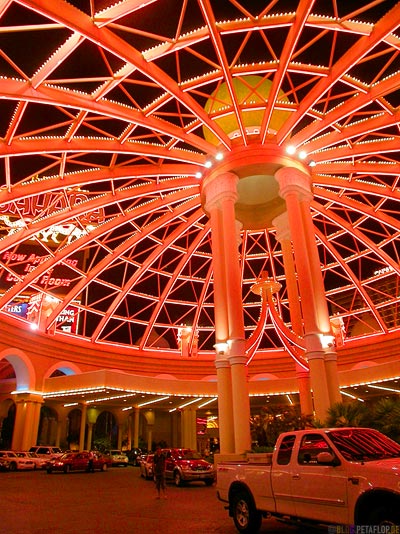 Sahara Driveway / Sahara-Zufahrt
Some steps down the Strip: the big broken clown screen…
Ein paar Meter den Strip runter: der große, kaputte Bildschirm-Clown…
… of the Circus Circus, also a hotel and casino…
… des Circus Circus, auch ein Hotel und Casino…
… like the Riviera. Nearly every hotel has it's own casino or every casino is a hotel, too. The gamblers shall waste their money in one place without going somewhere else.
… wie auch das Riviera. Fast jedes Hotel hat sein eigenes Casino bzw. umgekehrt, damit die Spieler ihr gesamtes Geld zum Fenster hinausschmeißen können, ohne einen Fuss vor die Tür setzen zu müssen.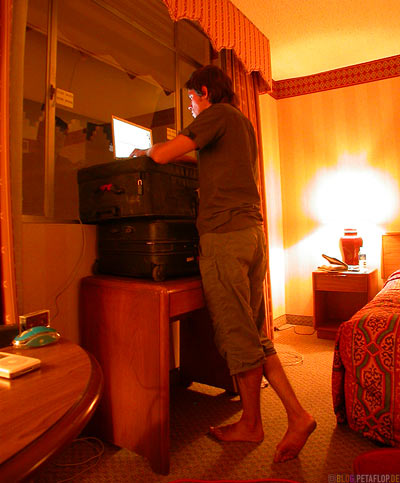 Failing try to find a free WiFi network in our room on the tenth floor. The promised "internet access" from our online reservation certainly required extra payment, like everything in this city. To the room rate they also added daily fees for telephone and for power, regardless if used or not. Reputedly every hotel in Vegas does that.
Auf der erfolglosen Suche nach freiem W-LAN in unserem Zimmer im zehnten Stock des Sahara. Der bei der Internetbuchung genannte Internetzugang kostet extra, wie alles in dieser Stadt. Zum Zimmerpreis kommen noch täglich berechnete Bereitstellungsgebühren für Telefon und für Strom, egal ob gebraucht oder nicht. Angeblich macht das jedes Hotel in Vegas.
Maybe video will be added later, the cam is not working properly.
Video folgt evtl., Kamera macht seit Burning Man weiterhin Probleme.
---
20,000 Miles Canada/USA: Travel Overview
---