Saturday, 18. August 2007, British Columbia, Canada.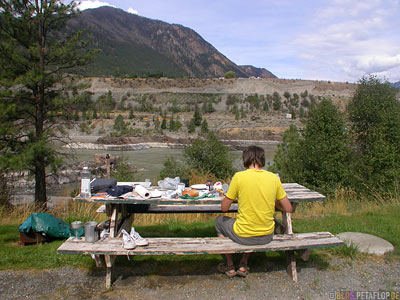 Our campground in Lillooet, on a cliffy hillside next to Fraser River. When we arrived yesterday, it was completely dark. That's why we didn't recognize the beautiful view until this morning.
Unser Campingplatz in Lillooet, an einem ziemlich steilen Hang direkt am Fraser River. Wir kamen gestern in völliger Dunkelheit hier an und haben erst heute die wunderschöne Aussicht bemerkt.
There was no host on the campground, we self-registered at the wooden info board.
Hier gab es kein Campingplatzpersonal. Beim hölzernen Infoschild meldeten wir uns selber an.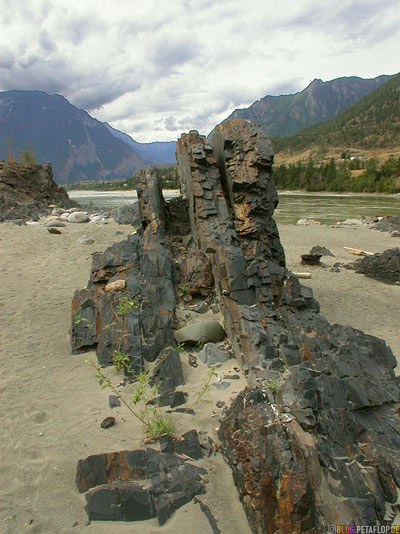 Down at the river, here they have tent sites, too.
Unten am Fluss, wo man auch zelten kann.
On the other side of Fraser River / Am gegenüberliegenden Ufer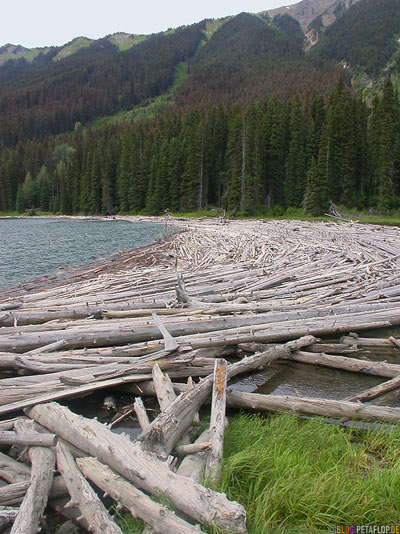 Natural dam of flotsam at Lillooet Lake or any other between Lillooet and Whistler. We forgot it.
Natürlicher Treibgutstaudamm am Lillooet Lake oder irgendeinem anderen zwischen Lillooet und Whistler. Haben wir vergessen.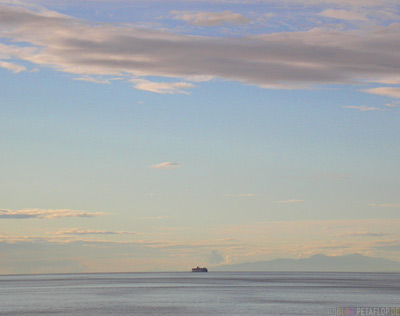 In Vancouver we decided to cross over to Vancouver Island immediately from Horseshoe Bay. It's a very large offshore island to the west of Vancouver City in the Pacific.
In Vancouver entschlossen wir uns, direkt mit der Fähre von Horseshoe Bay nach Vancouver Island überzusetzen. Die Insel liegt vor der Stadt im Pazifik und ist fast so groß wie Nordrhein-Westfalen.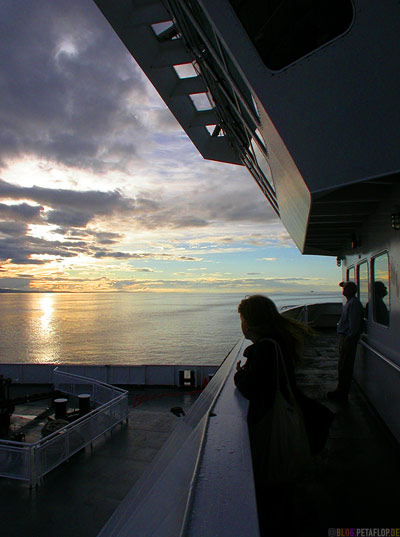 Luckily we took a ferry in the evening…
Zum Glück nahmen wir eine der letzten Fähren…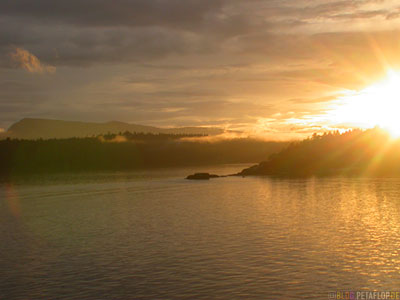 … and had two hours of the prettiest sunset skies.
… und konnten so zwei Stunden lang einen spektakulären Abendhimmel geniessen.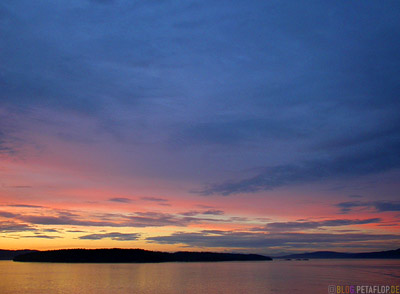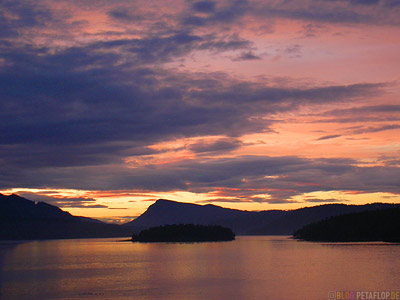 We arrived in Victoria, Vancouver Island's largest city with a population of 80,000. It is the capital of British Columbia. Every motel and valuable hotel was completely sold out, the managers had no idea why. We drove around for hours until we tried it outside of Victoria. In the middle of the night we stopped at the very first campground next to a fun park. In drenching rain we parked under a tree and slept in the car.
Doch die Ernüchterung kam schnell, als wir in Victoria ankamen, der mit 80.000 Einwohnern größten Stadt auf Vancouver Island. Zugleich ist es die Hauptstadt der Provinz British Columbia. Ausnahmslos alle Motels und preiswerteren Hotels waren komplett ausgebucht. In den Hotels wussten sie selber nicht, warum. Bei strömendem Regen kurvten wir den halben Tank leer, bis wir es ausserhalb Victorias versuchten und uns mitten in der Nacht auf dem erstbesten Campingplatz neben einem Vergnügungspark einfach unter einen Baum stellten und im Auto schliefen.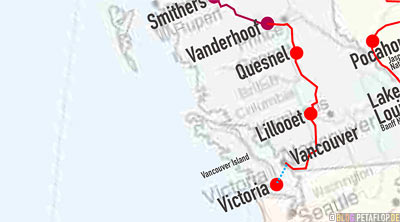 Click to open PDF / Klick öffnet PDF
---
20,000 Miles Canada/USA: Travel Overview
---