Wednesday, 25. July 2007, British Columbia and Yukon, Canada.
Next morning in Muncho Lake. Nature and cars get rougher while getting to the north.
Der nächste Morgen in Muncho Lake. Nicht nur die Natur, auch die Autos werden wilder, je weiter wir nach Norden kommen.
At Muncho Lake / Am Muncho Lake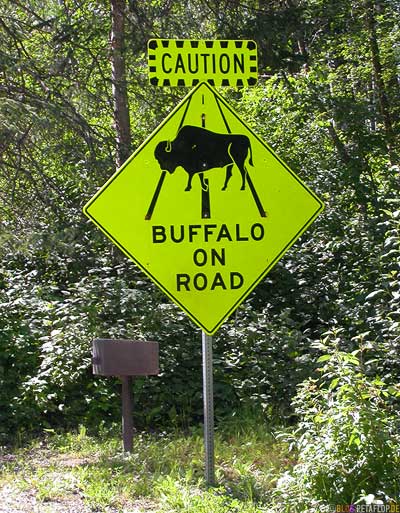 When we saw such a sign for the first time, we had to smile…
Als wir ein solches Schild zum ersten Mal sahen, mussten wir schmunzeln…
… and didn't actually expect a real buffalo on the highway.
… und haben nicht wirklich mit einem echten Bison am Strassenrand gerechnet.
Video (2:12 min): Buffalos on the Alaska-Highway in BC, Canada… and the road is getting worse. Lots of loose gravel patches give a foretaste of Alaskan highways.
Video (2:12 Min): Bisons auf dem Alaska-Highway in British Columbia, Kanada… und die Strasse wird schlechter. Viele Schotterstücke geben einen Vorgeschmack auf das, was uns in Alaska erwartet.
Way to the Liard River Hot Springs.
Der Weg zu den Liard River Hot Springs, heisse Quellen auf halber Strecke nach Watson Lake.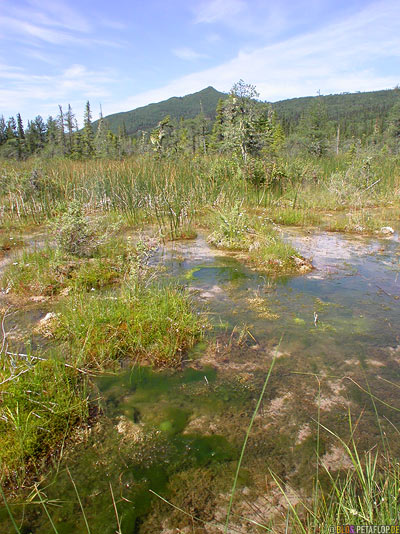 A warm wetland fed by 50°C hot springs…
Ein ungewöhnlich warmes Feuchtbiotop, dessen Tümpel und Naturpools von 50°C heißem Quellwasser gespeist werden…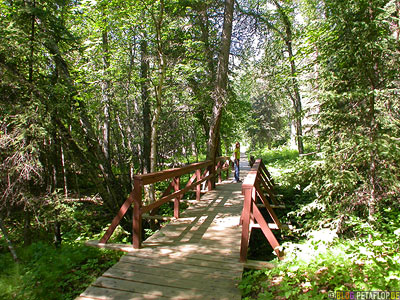 … the vegetation was lusher than in the rest of the area.
… wodurch auch die Vegetation viel üppiger ist als sonst in dieser Gegend.
In a beautiful surrounding we swam nearly alone in the second, more distant so called "Beta Pool". The calcium sulphate in the water made it hard to bring ourselves to jump in the pool, it smelled like addle eggs. Not quite a refreshment at 30°C outside temperature.
In wunderschöner Umgebung hatten wir den weiter entfernten, zweiten "Beta-Pool" fast für uns allein. Doch das, was hier so schön aussieht, kostete einiges an Überwindung, denn das Kalziumsulfat im Wasser stank penetrant nach faulen Eiern. Keine wirkliche Erfrischung bei 30°C Aussentemperatur.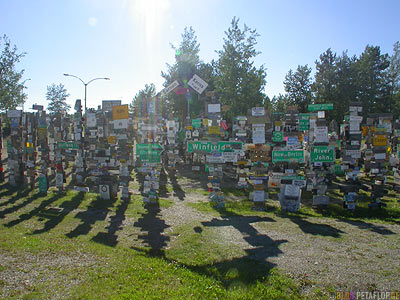 The famous signpost forest in Watson Lake, our first stop in the Canadian province Yukon.
Der berühmte "Signpost"-Schilderwald in Watson Lake, unser erstes Ziel in der kanadischen Provinz Yukon.
They have more than 47,000 signs here. People from all over the world brought and fixed them since 1942.
Seit 1942 wurden hier über 47.000 Schilder von Menschen aus aller Welt angebracht.
Unbelievable: even someone from Wesel was here.
Nicht zu fassen: sogar aus Wesel war schon jemand hier.
Unprepared tourists that didn't bring their own sign have to find creative alternatives to eternalise themselves here: stamped baking pans…
Unvorbereitete Touristen ohne mitgebrachtes Schild greifen zu kreativen Alternativen, um sich zu verewigen: gestanzte Backformen…
… cutting boards, salad bowls, frisbees, sand buckets and pylons.
… Küchenbretter, Salatschüsseln, Frisbeescheiben, Sandeimern und Pylonen.
After long discussion we found the perfect place for our own sign…
Nach langer Diskussion fanden wir die ideale Stelle für unser eigenes Schild…
… we brought the old number plate of our beloved, temporary deregistered Volvo, just to fix it here.
…das alte Kennzeichen unseres geliebten, temporär abgemeldeten Volvos haben wir extra für diesen Zweck mitgebracht.
Done! / Erledigt!
Northern Lights over Watson Lake. Unfortunaly a projection in the IMAX-like cinema of the Northern Lights Center in Watson Lake.
Nordlichter über Watson Lake. Leider ist es nur eine Projektion im IMAX-ähnlichen Kino des Northern Lights Centers in Watson Lake.
Evening at our campground besides the Alaska-Highway, which ist the main street of Watson Lake at the same time.
Abendstimmung vor unserem Campingplatz am Alaska-Highway, der auch als Hauptstrasse durch Watson Lake führt.
Last failing try to repair the air mattress with bike repair kit.
Erneuter und letzter missglückter Versuch, die Luftmatratze mit Fahrradflickzeug zu reparieren.
---
20,000 Miles Canada/USA: Travel Overview
---