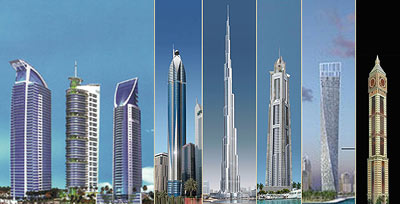 The world's tallest skyscrapers are being build in the desert around the artificial Jumeirah Lake of Dubai, United Arab Emirates' second-largest city after Abu Dhabi. Wired has a >photo gallery with more info.
Bauwahn in Dubai. Die höchsten Wolkenkratzer der Welt entstehen zur Zeit in der Wüste rund um den künstlichen Jumeirah-See in Dubai, der zweitgrößten Stadt der Vereinigten Arabischen Emirate nach Abu Dhabi. Bei Wired gibts eine >Fotogalerie mit mehr Infos.
The theme park 'Dubai Land' will be twice the size of Disneyland, with a Ski Dome featuring 6,000 tons of snow.
Der Vergnügungspark 'Dubai Land' wird doppelt so groß wie Disneyland, unter anderem gibts einen Ski-Dome mit 6.000 Tonnen Schnee.
Images/©: Wired, Khatib & Alami, Skidmore, Owings & Merrill, Dubai Land [via Memomo].